A Beginner's Guide to Red Dot Shooting: All You Need to Know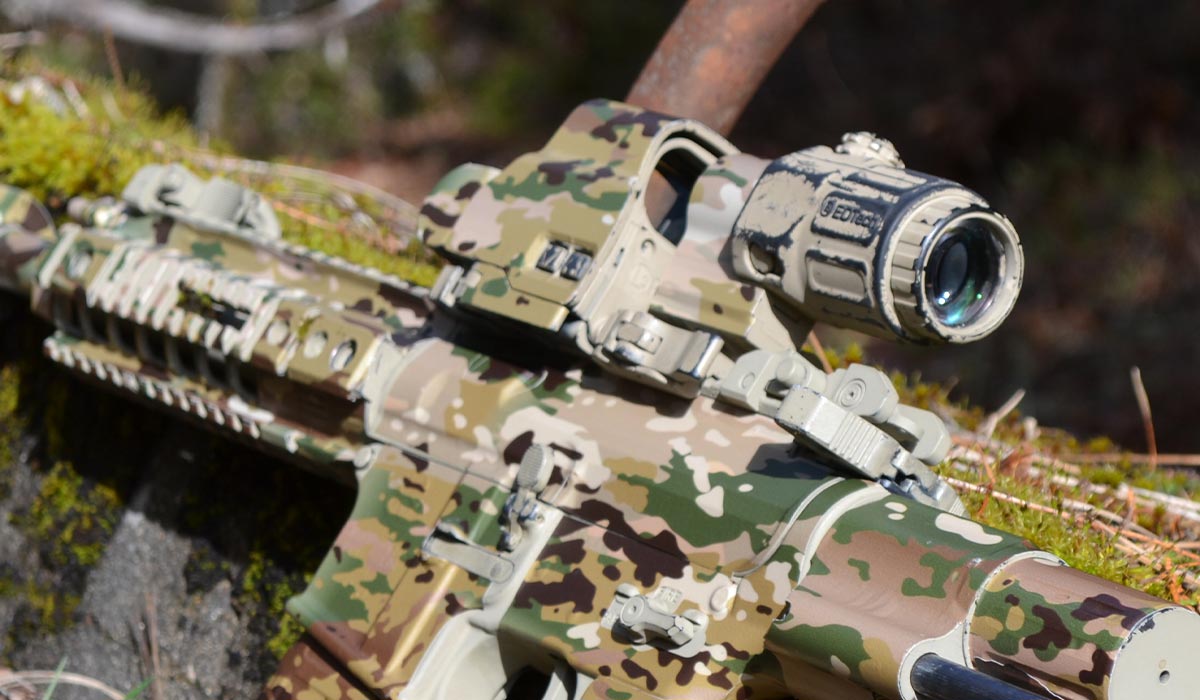 In red dot shooting, individuals use a projected reticle, often just a single dot, as their aiming tool. Red dot sights are mostly either one-power or zero-power, meaning they do not have any magnification. You can take a look at Hunting Mark's picks to learn about the best red dots for AR-15 rifles.
Compared to iron sights, red dot sights help in giving you a better sight picture, which aids you in keeping your focus on the target and not on the front sight. Although a red dot sight often gets used in precision shooting, it is best for really fast or close shooting.
People in the military use red dot sights in their smaller guns as it provides a high hit percentage, which is the same reason why competitive speed shooters use it in their handguns. While some use red dot sights for hunting animals, others use them for skeet shooting or sporting clays.
Red dot sights can either have an open or closed design. In an open design, the location of the single lens is at the forepart of the emitter, and in a closed design, it is found at the back of the emitter. Let us delve deeper into what you need to know about red dot shooting.
What to Know About Red Dot Shooting
Here are some of the crucial features to know about red dot shooting:
Reticle Sizes
Red dot sights are also called reflex sights. Whereas one can find a laser diode in holographic sights, you can find an LED emitter with red dot sights.
Red dot sight reticles are not as sharp and defined as in riflescopes. You need to look at the reticle one eye at a time because they appear different in each eye.
Dots often have a fuzzy appearance, which is normal since you cannot expect them to have a sharp contrasting outline. Therefore, do not fret about finding a crisp reticle when selecting a red dot sight.
The tiniest dot is 1 MOA (Minute of Angle). Red dot sights are mostly 4 MOA, which means that the dot can cover 2 inches at 50 yards and 4 inches at 100 yards. When the dot size is smaller, it helps with precision shooting. Larger dots help with target acquisition.
Batteries
A crucial point to know about red dot sights is that they run on battery power. While bright reticles are seen as black in riflescopes without power, you cannot see anything in a red dot sight that does not have power.
Cold weather can suck out battery power, so it is always wise to carry backup batteries, especially when hunting. The battery life of red dot sights is quite long, and you do not have to turn them off when they are not in use. However, replacing the battery frequently is a good practice.
The battery life of several red dot sights is over 10,000 hours, which equates to five years. Therefore, change the battery once every year or after two years, and it should be fine.
Accessories and Traits
Of the many traits, you would want your red dot sight to have, ensure it has the night vision feature if you plan to use it. This feature entails that the dot gets adjusted while you place a night vision monocular at its back without letting the bloom affect your vision.
Bloom is the event of light explosion when a night vision device multiplies a present light source by a hundred. If you want your red dot sight setup to have magnification, you should get a red dot sight magnifier. This is useful for shooting small targets and targets placed at far-away distances.
Conclusion
Irrespective of the range you are shooting at, red dot sights help amplify its accuracy and are especially effective when the target is more than 10 yards away. It also makes it simpler to shoot targets that are moving.
If you are older and have trouble with your vision, red dot sights are incredibly helpful as they aid in focusing on the front sight. Read the article to learn everything you need to know about red dot shooting.