9 Best AR-15s on the Market for the Money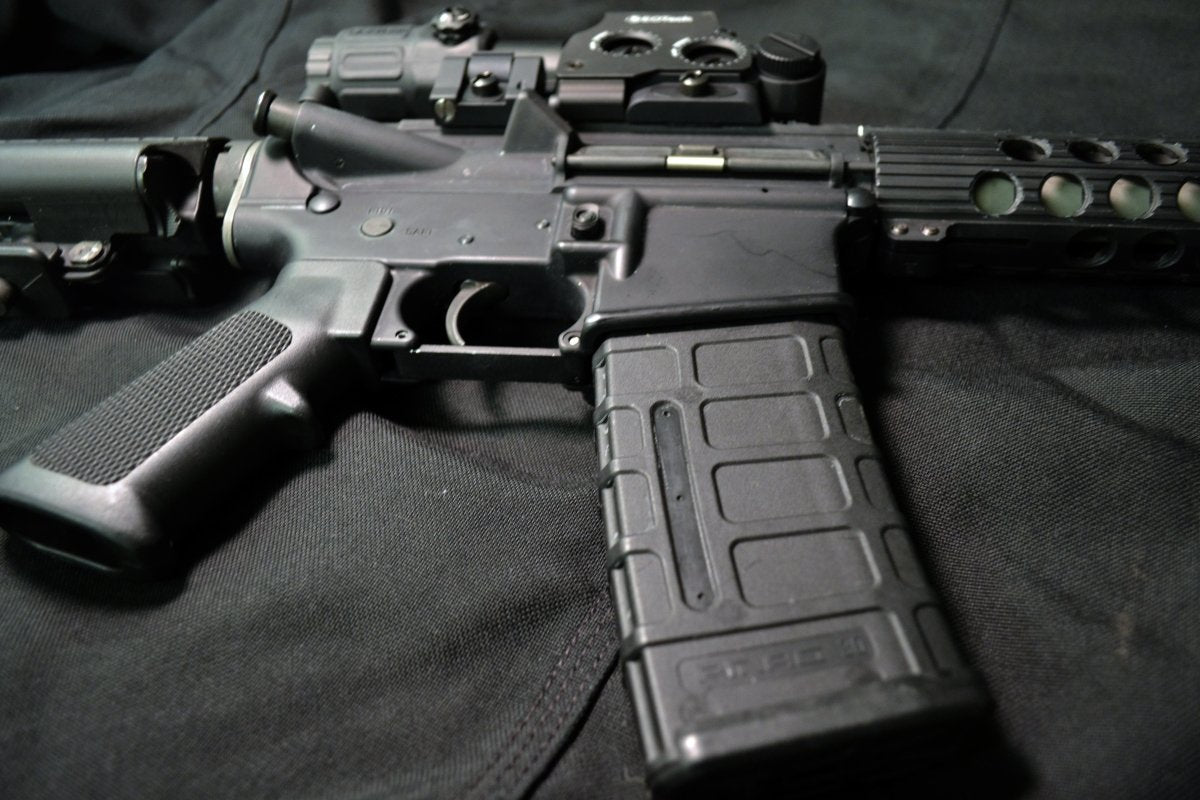 Whether you're looking for a rifle to amp up the excitement on the range, something to protect your family and for home defense, take on your next hunting trip or you just enjoy collecting awesome guns, AR-15 rifles have likely crossed your mind. 
It's reliable, well designed, versatile, and is one of the top-selling rifles in America today. But if you've already tried to look for one, odds are you've noticed something: just about every gun manufacturer has their own version of the AR-15 and there are hundreds of options. 
As we're sure you guessed, most of them aren't worth a second glance. While every gun manufacturer has their own take on the classic, 1960's era military-style weapon, only a handful of them truly stand up to the name.
What Exactly Is an AR-15?
The AR-15 is a weapon that has garnished a lot of reputation, both good and bad. It's known positively as "America's Gun" while at the same time being the focus of gun control conversations and bans due to its use by shooters as an assault weapon. 
But the AR-15 title should be thought of less as a specific gun and more as a style of modular firearm. Originally designed by a company called Armalite, from which the gun gets the "AR" in its name, the weapon was made to be a lightweight, selective-fire rifle for the military. Armalite was facing a difficult financial period and sold the patent for the design and the trademark for the name, AR-15, to Colt in 1959. 
Five years later, in 1964, Colt began producing and selling the first civilian option of the firearm, the semi-automatic Colt AR-15. Unfortunately for them, but not for us, their patent expired 13 years later, and due to the popularity, the rifle already had many other companies began to produce their versions of the AR-15. Today, nearly every major firearm manufacturer carries its own take on the AR-15.
What makes the AR-15 style rifle stand out is its modularity. Rifles before the AR-15 (and most still today) have a single piece that holds the trigger and reloading components, but the AR-15 has them separated into two parts. 
Held together by two pins, the lower and upper receivers mean that the AR-15 design can be changed depending on the need of the owner, earning it the name of the "Swiss Army Knife of Rifles." It's truly the complete rifle. 
The main difference between the AR-15 that the military uses and the AR-15 available to civilians is the select fire function. Civilians are only allowed semi-automatic rifles, meaning that the gun only shoots one bullet per pull of the trigger. Military rifles have the ability to switch from this setting to fully automatic or burst fire, which unloads multiple rounds on a single pull and then stops. 
What Makes the AR-15 Special?
You more than likely don't need a sales pitch on the AR-15, especially if you're already looking for which one to pick up. But the lightweight, multi-use firearm is more than just a well-known weapon. It has earned the title of one of the most popular semi-automatic rifles on the market for numerous reasons.
Versatile
Because the AR-15 is really two different pieces, the lower receiver and the upper receiver, it's possible for an AR-15 owner to feel like they really have multiple guns without taking up all the extra space by having different upper receivers with different strengths.
This means that you can have multiple different upper receivers with different strengths to swap between, as long as you maintain your lower receiver. The AR-15 can be a powerful, long-range rifle or excel in close-range combat situations, depending on which upper receiver you have set up. 
While before the AR-15 was popular you would need a different gun for different scenarios, the AR-15 provides the ability to cover a wide variety of needs. 
Reliable
Whether you're in sand, mud, snow, or dirt, an AR-15 is going to have you covered. There is debate as to whether the AK models are more reliable than the AR-15, and while the AK is still another great rifle, there isn't much that can do better than a well-crafted AR-15. 
The AR-15 will typically keep up with you just fine. Make sure to know how cold weather will affect your rifle if hunting during the winter seasons, but generally AR-15's are an incredibly reliable weapon. 
Reputation
Let's be honest, there's something that's just attractive about the AR-15. It's got a great design, it feels and looks like a military weapon, and just has that "wow" factor. 
Beyond just being a fantastic rifle for just about any needs, it's ok that the AR-15 is a rifle that you just want. 
Tips for Purchasing Your First AR-15
If you already have your first AR-15 then, by all means, move ahead. But if this is your first time venturing into the AR world, there are some valuable things to keep in mind. 
Firstly, you'll want to check with your state regulations on the barrel length. Some states require at least a 16-inch barrel, and while this can be navigated with barrel extensions and silencers, that isn't the case for every state and you'll need the full 16" from the barrel. 
Secondly, one of the benefits we've mentioned of this rifle is that you can swap out parts on it pretty easily. You can buy just a top or bottom from most companies and there is a certain satisfaction that comes with buying separate parts and creating your own personal AR-15. However, if it's your first rifle then we recommend buying a complete AR-15 to reduce any questions or hassle. 
It might cost you a little more as certain states have taxes on sales for full weapons, but it'll be worth it to know what you're working with before you really get to customize it with parts and accessories.  
Top 9 AR-15s on the Market
Remember, the AR-15 is more of a style than it is the actual firearm. Only Colt owns the trademark for the name, so none of these contenders will actually have the term "AR-15" in the name. But in our opinion and experience, these are the best picks available today. 
1. Bravo Company Manufacturing Recce-16
The Bravo Company Manufacturing Recce-16 is a top-of-the-line rifle that combines a high-quality build with a stellar design, all without breaking the bank too hard. 
BCM thought of everything creating this weapon. The outer finish of the barrel is covered in a manganese phosphate before setting the front sight base that easily absorbs oils, reducing overall corrosion over time.
Each piece fits snugly together with no wiggle or wobble while wielding it, and the Mod 0 Compensator pulls recoil down to a controllable minimum, as well as reduces muzzle flash. Coming in with a 16" barrel you won't have to worry about any legal issues, not to mention it'll handle the next 15,000 rounds that you shoot off with ease.
2. Smith & Wesson M&P 15 Sport II
Smith & Wesson have stood the test of time as a gun manufacturer, and while they're mostly known for handguns, their rifles aren't anything to overlook. 
A perfect match for a beginner rifle owner, the M&P 15 Sport II is notably under the budget of some other rifles on our list. And while it doesn't quite have the same high points as others, it also doesn't really have any low points. It's an excellent, middle-of-the-road, no-nonsense, low-profile AR-15. 
The build quality is excellent and the stats on the M&P are impressive for how much you're paying. One negative note we might have is that the barrel gets a bit on the hot side. Could be a thin barrel buffer, but a good after-market handle or even a set of gloves will fix this problem. While it might not blow your socks off, the amount of gun you get for the price tag is incredible. 
3. Lead Star Grunt
While Lead Star has been a powerful name in the competition world for years, its AR-15 design is built for action. The Grunt is a top-tier rifle that comes ready for action straight out of the box. Every part on this rifle is good as is (though you could customize it if you really wanted to.)
It doesn't jam, it doesn't wobble, it doesn't disappoint. While being a solid value and you won't need a small fortune to get it, all of the parts feel high quality no matter what you put them through. The barrel comes with Lead Star's Ravage linear compensator, fitting the slightly longer than average 17" barrel perfectly (no shorter barrel here). 
The main selling point of the Grunt is that you really won't need to add or change anything. Lead Star knocks it out of the part on every component, and while you certainly can pick up new parts if you want, you'll be happy with this rifle from the second you take it out of the box. 
4. Faxon ION Ultralight
When Faxon named their ION Ultralight rifle, they did so very intentionally. You'll be hard-pressed to find a lighter-weight AR-15 than what Faxon has brought to the table. Just shy of five pounds the ION doesn't have any excess to trim, making it extremely easy to carry and wield. 
With a 16" barrel and a 13" carbon fiber handguard that looks just fantastic, you can attach just about any sight that you prefer up top. The lightweight build doesn't compromise the recoil mitigation either, so your arms won't get tired from holding or firing the ION. 
They'll take any magazine that you could fit and the accuracy is hard to beat, but if we had to mention any drawbacks then we would have to mention the volume. This thing is loud, and we mean loud (even for a rifle). But at the range that won't be much of an issue as long as you aren't right next to anyone, so take it as you will. 
5. Aero Precision Upper M4E1
We know, we said that for beginners you should mostly be looking at full package AR-15's. But if you're considering picking up just one piece to customize your first rifle, or add to your collection, then the Aero Precision Upper M4E1 is definitely worth your time. 
The 16" barrel employs Aero Precision's mid-length Pencil Barrel. It's thin, but not in a cheap way. Did we mention that Aero Precision also got their start making aerospace equipment? They know how to make strong and light materials (including the barrel material). Reducing weight and stiffness, the Pencil Barrel makes a positive difference in your carry-ability and accuracy. 
The barrel top offers a lot of room for customization thanks to a great M-Lok attachment system from Magpul, as well as a super aggressive billeted top that just looks awesome and is built for high-pressure situations. 
6. Palmetto State Armory PA-15
Palmetto State Armory offers up their take on the AR-15 for what may seem to be too reasonably priced to be a quality firearm. But don't let the price tag fool you, the PA-15 is anything but cheap. 
The reason Palmetto can offer such low prices for quality guns is that they do everything in-house. Everything. From the raw metals (stainless steel) to the rifle in your hand, they do it. The M-Lok free-floating barrel is a little front-heavy, but otherwise, we honestly don't have much to complain about. 
The highly customizable, mid-length Magpul polymer handguard feels great in your hands and provides great recoil mitigation. They set the platform high when it comes to high-quality guns.
Palmetto offers a wide variety of options that fit just about any wallet size, even if you're looking to spend around $750 on your AR-15, which is a great deal. But again, you might be paying a cheap price, but you aren't getting a cheap gun. 
7. Anderson Arms AM15-M4
Anderson Arms might be a smaller manufacturer, but you wouldn't be able to tell while holding the AM15-M4. It's all American-made and was designed to shoot down targets on the field, not your dreams of owning one with its price tag. Durability and performance were prime focuses when building this rifle, and Anderson Arms did a superb job. 
The proprietary treatment they have on the rifle is nanotechnology, created to reduce friction by up to 85% without the use of any lubricant, ever. The AM15 is as good as it gets for a budget rifle and would be a fantastic first addition to your collection. 
8. Armalite M-15 A4
Remember Armalite? The company that originally designed the AR-15 and the one whose name is literally in the name of the gun? You probably won't be surprised to know that they have their own model, the M-15 A4, and it doesn't let down. 
The lower receiver has a collapsible buttstock for storage and the upper receiver has a mid-length handguard and low profile gas blocks, a 16" barrel lined with chrome, and an A2 flash hider. The flash hider doesn't smack the others at the range with the extreme noises of a muzzle brake, and honestly, the recoil on the M-15 is so mild that you wouldn't need one anyway. This rifle is sturdy, and while a little on the heavy side it holds strong. 
9. Daniel Defense DDM4 V7
The Daniel Defense DDM4 V7 is certainly not our recommendation for a first-time buyer because of its high sticker price, unless you really wanted to spend the extra cash. But for gun owners looking to add an extremely high-quality rifle to their collection, or new gun owners that just want to get it right and start strong, the DDM4 is worth every penny. 
The barrel is cold hammer-forged, coming in at 16" with 1/2x28 threading and a mid-length gas system. The big draw of the DDM4 is that it takes the classic AR-15 build and incorporates new add-ons that can really amp up the experience of shooting this rifle. Flash suppressor, angled pistol grip, and Grip-N-Rip Charging handle, to start. 
The 15" M-Lok MFR handguard has a bounty of M-Lok slots for whatever you want to attach. The rifle comes equipped with a set of DD iron sights, which work great but can be swapped out if you want. The mag well has a small beveling on the inside that creates a guide effect for your clip, meaning that the magazine slides in with ease. 
On hunting trips, this rifle excels. This isn't something you spend a lot of cash on and barely notice the difference from the cheaper models, as the DDM4 V7 stands out in accuracy, reliability, and ergonomics. Boost your stealth out in the field by adding a camouflage vinyl wrap that not only looks great but protects your gun as well. 
The one pullback on this rifle (besides the price tag) is that the ability for add-ons like pistol grips and flash suppressors makes the rifle non-compliant in the state of California, which is disappointing considering California has some excellent hunting opportunities. However, Daniel Defense does have a specific model for residents of California, the only change being a mag lock.
The law requires the rifle to either be featureless with no additional options that may make the firearm more dangerous, or a mag lock that limits the clip capacity to 10 and actually locks it within the rifle, forcing the user to pull the entire thing apart to remove it. Daniel Defense decided that instead of compromising on the features that they've developed for the DDM4, shooting a few fewer rounds was the preferred compromise. 
Conclusion
Hopefully, you now have a better understanding of AR-15s, how they work, and the types available. When you're ready to add some personality to yours, check out GunSkins. 
Sources:
A Brief History Of The AR-15 | NPR 
America's rifle: Why so many people love the AR-15 | NBC