The Best Types of Hunting Rifles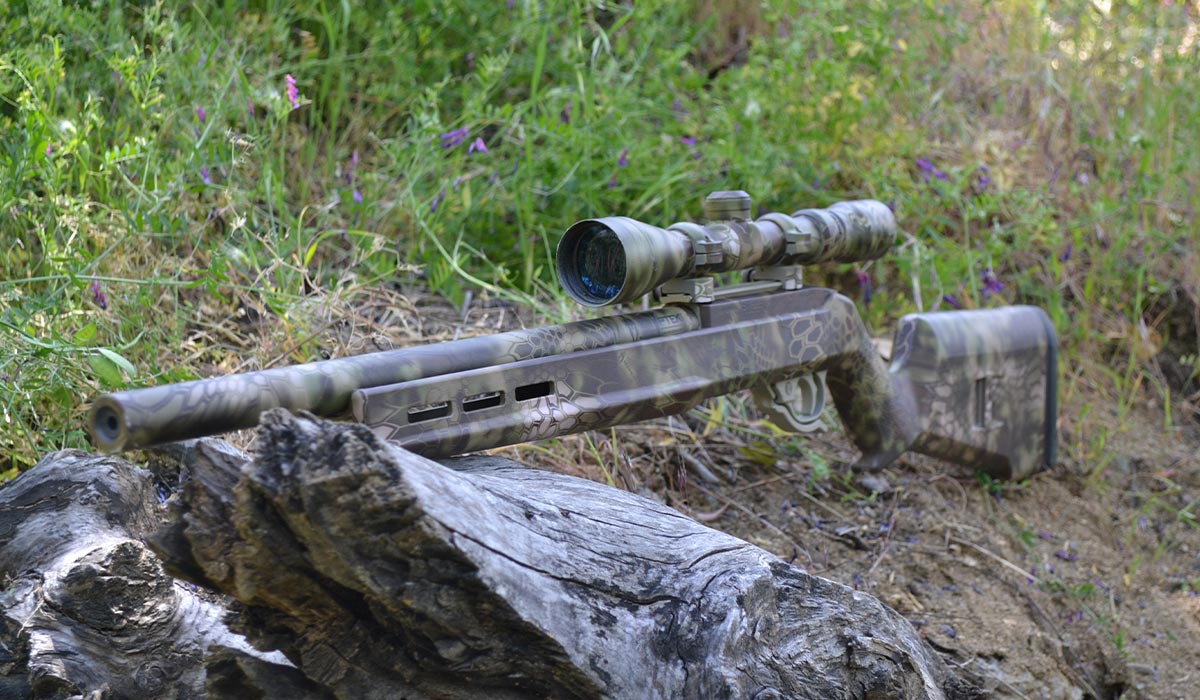 When conjuring up images of modern-day hunting, most of us come up with the same scenario – a hunter, decked head-to-toe in camo, stalking silently through the bush, a hunting rifle pulled tight to their shoulder as they look down the sight. 
In our modern culture, rifles have become almost synonymous with hunting game, and for good reason. The rifle is an incredibly versatile firearm and is arguably the most reliable gun money can buy. 
Finding your perfect hunting rifle is a sure bet, with new models hitting the shelves each year and endless styles and options to choose from – and some types of rifles consistently rank as the best of the best. 
Let's break down what makes a great rifle and then delve into some of the best models on the market. 
Rifles 
A rifle is basically a long-barreled firearm that fires one projectile per strike of the hammer. 
Before you grab the first rifle you see, you should explore the differences and potentials of each rifle to find what fits your needs. 
Stock Materials 
One of the biggest differences between rifles is the look and feel of the stock.
Over time, the material used to manufacture gun stocks has been improved to be more durable, lightweight, and affordable.
Wood
Wood is aesthetically pleasing and provides the feeling of more traditional rifle hunting. For many hunters, wood has a natural beauty that is unbeatable. Different grains or species of wood are known for their vividness and color. 
Wood requires a certain level of care because sun and moisture damage can break down the grain over time. Proper sealants and oils protect the wood but will require re-application periodically.
When damage occurs, you can send it to the manufacturer for resealing or take the modernized approach to sealing and protecting your rifle with GunSkins wraps. This means no risk for further damage, no risk of scratches, and no risk of deterioration. GunSkins wraps use professional-grade thermally activated adhesives to block and lock out moisture, dirt, and grime. 
Synthetic
Synthetic or plastic mold stocks have developed a lightweight gun stock at a low cost. Injection molding fills a basic design with melted plastics, making a solid but limited stock. These stocks often have a solid color throughout. 
However, though synthetic material is cheaper and less costly for firearm production, it has some issues. Synthetic materials are prone to air bubbles within the molding, with slight differences from stock to stock. When a synthetic stock is scratched, the solid color construction ensures the damage will be less noticeable, but that doesn't mean it hasn't been damaged. 
GunSkins wraps are designed to adhere to synthetic stocks to increase durability and scratch resistance by adding a layer of protection. These skins can wrap your guns in a range of camouflage patterns, matching your gear for the hunting season. 
Fiberglass
Fiberglass is a similar style of plastic to synthetics but with a different compositional structure. To create fiberglass, manufacturers utilize a wide range of fibrous materials and pair them with different resins. Fiberglass is placed under a vacuum and all air pockets are removed to shrink the material into a material similar in look and feel to glass, but with the durability of plastic. Fiberglass can be formed and molded into accurate and highly detailed components. 
Depending on the fiber and resin, fiberglass can be extremely rigid or highly flexible. It can be durable and scratch-resistant or soft and pliable. 
The true secret to fiberglass's utilitarianism lies with the ability to stack it into layers. This means the manufacturer can customize and choose paired materials for the exact need. 
Stock Shape 
Trying different rifle stock shapes will help you determine what best fits your personal preferences. 
When choosing a stock, you should focus on:
Rear hand placement

Cheek rest

Eye alignment to sights and scopes

Front hand placement
Some rifles are designed with solid piece stocks, while others are created with adjustable, customizable stocks that can be molded to the shape of your shoulder. 
Ammo
It's important to check your local hunting regulations before purchasing a rifle.
Some states heavily regulate round size or type for hunts due to potential risks with polluting waterways, striking houses or people, and other factors related to safety and environmental concerns. 
When choosing the best round for your hunt, you should consider:
Round drop distance or idea range 

Round size 
A bigger round isn't always a better round. A large heavy round will tend to roll or lob when outside its normal range. This involves the round slowing down to speeds where it begins rolling end over end, no longer carrying the same force or potential penetration. 
The Best Rifles For Hunting 
Now that you have an idea of what you should be looking for in a rifle, it's time to break down some of the best rifles on the market. 
Choosing the best rifle for you comes to personal preference and what you enjoy. Each rifle has a different feel and operation. When that trophy buck or bear is standing in front of you, the last thing you want is to grab, aim, and try to fire an uncomfortable rifle. 
With that said, these rifle models have become tried-and-true go-to hunting rifles that consistently score high marks with hunters of all stripes.
Remington Model 700 
Known for its versatility, the Remington Model 700 began production in 1962 and has been a reliable rifle for various purposes, from military use to hunting. 
The Remington Model 700 comes with a wood or synthetic stock and a wide range of round options. The traditional wood stock uses a high-gloss walnut, showing the depth and beauty of the American-grown wood. The synthetic stocks can be found in a range of colors, from traditional black to greens and greys to match your terrain. 
This bolt action rifle's solid piece stock has been developed to fit the hand and cheek comfortably. 
Browning BAR 
Undoubtedly a favorite of big game hunters worldwide, the Browning BAR is a military-inspired semi-automatic hunting rifle available in various stocks and round calibers.
The Browning BAR Mark 2 is a thin, long-barreled rifle with advanced patented technology to reduce barrel vibration and increase accuracy. The Browning BAR Mark 3 is a lightweight, piston-operated, large-caliber smooth operating rifle. 
With the option of synthetic and hardwood walnut stocks, the Browning BAR may be the perfect rifle for your next big game hunt. 
Remington 7600 
Do you prefer the look, feel, and operation of a shotgun? The Remington 7600 is a pump-action long-range rifle based on the classic favorite Remington 870 shotgun. This rifle was designed to maintain a familiar feel for waterfowl and grassland hunters as they chased big bucks and other large game. 
The Remington 7600 comes in a walnut hardwood stock with iron sights and the option to mount a scope. This rifle is a must-have for any hunter. 
Sig Sauer Cross 
Designed on competition precision marksmanship rifles such as those shot during the Olympics, the Sig Sauer Cross is a hunting rifle like no other. It is fully customizable and adjustable to fit your body, allowing for next-level accuracy. 
The Sig Sauer Cross–which won the 2020 Industry Choice Award–can be found in .308 Winchester, 6.5 Creedmoor, and .277 Fury. This is the hunting rifle of the future, with the ability to replace every component and create the gun you need. 
Henry Lever Action Model X
For hunters craving that Western lever-action rifle, the Henry Lever Action Model X checks all the boxes. 
This synthetic stock comes in a 30-30, .45, and even a 410 shotgun, which remains a great choice for hunting rabbit and dove and slug hunting mid-range big game.
The Model X is more than just a beautiful rifle–its durable construction and smooth action could be a game-changer for your hunt. 
Savage Arms MSR 10 
If you're a fan of military rifles and want to take that technology to your hunt, consider the Savage Arms MSR 10. This M16-styled hunting rifle utilizes a synthetic stock and lightweight design, firing a .308 Winchester with insane accuracy and speed. 
With its adjustable buttstock and rail attachment system, you can customize this rifle to masterfully target big game of all shapes and sizes. 
The Best Rifle For You 
Each hunt and terrain comes with its own challenges. By finding the best rifle for your hunt, you can venture out into the field with confidence. 
Finding the "perfect" rifle is about needs and personal preference. Find a local range where you can handle and fire different types of rifles. This experimentation will help you choose the best rifle for you. 
Once you've found the best rifle for you, you'll want to protect it from the elements. GunSkins wraps add a protective layer to your gear, resistant to scratches, moisture, impact, and other potential damage. 
Match your gear to your favorite clothing with a wide range of camo. 
Sources
Top 25 Rifles for Hunting in the Last 50 Years | Petersen's Hunting
The 10 Most Accurate Rifles We've Ever Tested (Plus, the Most Accurate Rifle Cartridges) | Field and Stream