Camo Gifts for Dad: The Complete Guide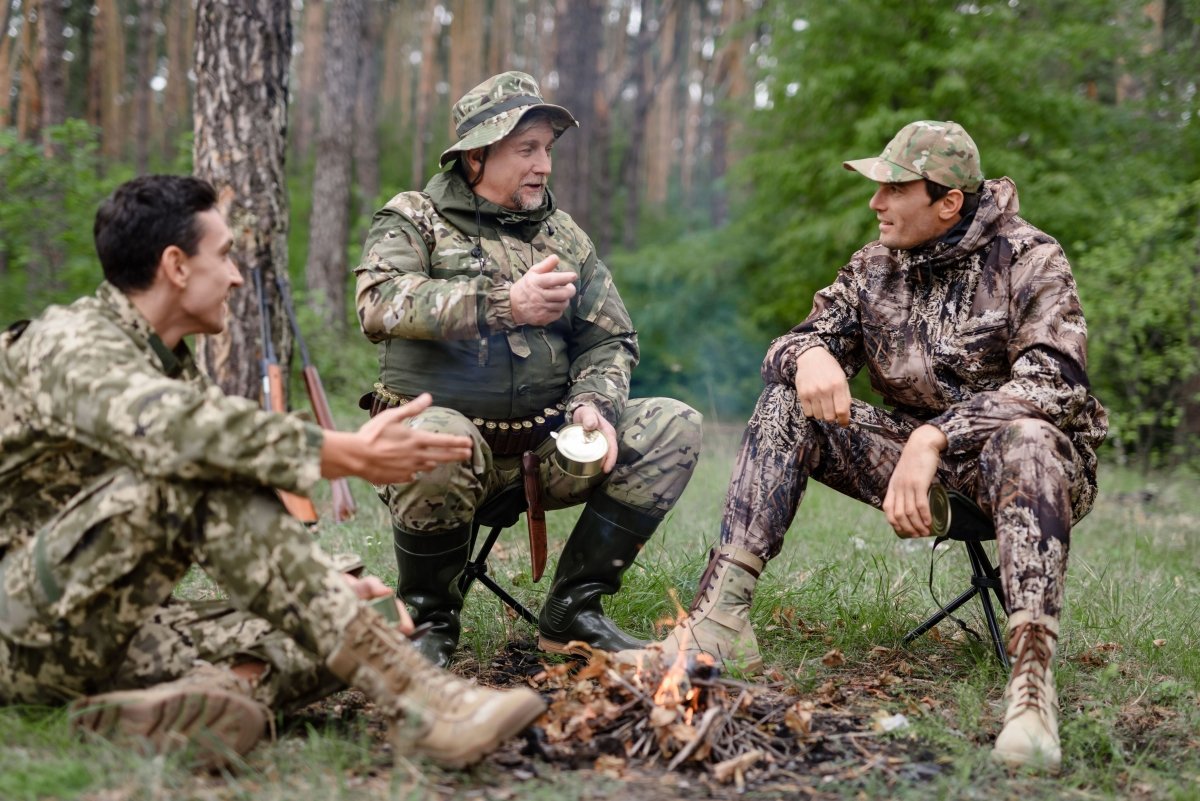 There are so many gift-giving opportunities for dads throughout the year, from birthdays to Father's Day to Christmas. What better way is there to show appreciation for your old man than by purchasing them something camouflage-related?
Here are some of the best camo gifts for dads who love to hunt and want to express it wherever they go.
What Is Camouflage and Why Do We Use It?
Camouflage is mainly used to mimic the patterns and colors of the environment. Common problems can arise from existing camo products, for example, having too low of contrast.
Animals see camo differently than humans. Lousy camouflage has low contrast that melds as one color to buck and most other prey, making it easy for them to distinguish you from the rest of the environment. 
For example, deer see most of the world through a 2D lens and a flat mass of colors. High contrasting colors and small pixel patterns will help you blend into your environment when hunting deer.
Animals also cannot see red tones, unlike most humans. This is why neon camo is so useful for various hunting expeditions – it makes you stand out to other humans while camouflaging you to animals. Through the use of these well-made camouflage patterns, humans can go completely unnoticed by their animal prey.
Getting Dad the Best Camo
Now that you have a general understanding of the need for camouflage when hunting, you're off to a good start. Don't just immediately jump the gun on buying dad any camo you find online – do some research beforehand.
All hunters are a bit different, and your dad knows what type of game he prefers to hunt. Buy him the correct camo for his endeavors to let him know you pay attention to the type of hunting he enjoys.
Turkey Hunting Dads
If your dad is really into the sport of turkey hunting, a great camouflage pattern for his liking could be the NWTF Obsession. This pattern has true-to-nature elements that blend excellently with the turkey woodland areas during the spring and early fall seasons. This pattern is also the official design of the National Wild Turkey Federation to top things off!
Duck and Goose Hunting Dads
If your dad enjoys duck and goose hunting, there are separate patterns for that as well. Duck Blind is a specific camo pattern designed for amphibious environments. It is meant for different water habitats. Whether your dad spends most of his hunting time in marshes, reeds, riverbanks, or cornfields, he will be effectively blanketed from the vision of his prey by using the Duck Blind. 
If you want your gear and firearm camouflaged as well, then GunSkins premium vinyl wraps would make another great gift for your dad. They come in various officially licensed camo patterns, including the TrueTimber DRT. 
Deer Hunting Dads
As you can imagine, deer hunters benefit most from using a different camouflage than the previous patterns mentioned. GunSkins' partnership with Realtree Camo offers one of the best camouflages for deer hunting, including Realtree Xtra, Realtree Edge, Realtree Max-1 XT, Realtree Max-5, and Realtree Timber.
The Realtree EDGE is the first camo to disrupt the human form, naturally concealing hunters in the woods. So, if your dad is an avid deer hunter, we can't stress the importance of getting him a GunSkins Realtree EDGE Camo pattern. The Realtree EDGE skin provides unmatched camouflage in the deer hunting category, but any of GunSkins' Realtree photo-realistic patterns will make deer hunting a breeze.
Another really popular pattern from the same brand is the Realtree Xtra, also from GunSkins. This pattern is the go-to option for densely wooded areas with a design reminiscent of forest scenery. This pattern softens your silhouette and blends your figure into the terrain.
Realtree's Timber pattern is another great option for deer hunting dads, taking inspiration from a great oak tree. The twigs, leaves, and vertical bark base of the Timber pattern create a 3D illusion that will help your gun disappear into any wooded background.
Fisherman Dads
If your dad spends most of his time in a fishing boat instead of hunting in the woods, you might want to consider a different kind of camo for him — boat camos and blinds. 
GunSkins vinyl wraps are the perfect way to keep your cruiser low-key. Whether you choose a wrap specifically made for the marsh like our waterfowl options or you want to tailor your camo to the changing weather with our Realtree Xtra Snow sheet, GunSkins vinyl wraps adhere to any plastic, wood, or metal while sealing your ride away from scratches, moisture, and contaminants.
Instead of painting your shiny fishing boat to blend with the scenery, using GunSkins sheets lets you alter your boat's appearance for fishing and change it back whenever you want. It's cheaper than a paint job—and much more durable—and it lets you change your boat's appearance with the seasons.
This handy guide tells you everything you need to know about wrapping your boat with GunSkins vinyl wraps. All you need is a sharp craft knife, a heat course, a plastic card, and your vinyl sheet, and your dad's boat will be fishing ready in no time.  
Additional Camouflage Gift Ideas
Not every camo gift idea needs to be something your dad has to use while hunting. He might enjoy wearing it in more casual settings.
Camo Hoodies for Dad
Just because your dad loves his hunting camo, that doesn't mean you can't purchase him something camo-related that he can wear daily. Take a camo hoodie, for example; this could be a wonderful gift idea to your father that he might enjoy. In general, hoodies are some of the most versatile pieces of clothing that one can own.
Made from 100% cotton, an old-fashioned camouflaged hoodie can keep your dad warm in colder weather. Its newer fabrics allow for more breathable materials that serve to wick moisture away from your skin and dry more quickly than other clothing might. 
Camo hoodies made with both polyester and cotton provide you and your dad with a great tradeoff. You can spend a little less money on a hybrid-style hoodie, and your dad doesn't have to sacrifice performance and durability.
Camo Shirts for Dad
Taking it one step closer to warmer clothing, maybe a camo shirt might be the way to go when it comes to buying your dad a proper gift. You can buy one that's either long or short-sleeved and also distinguish the perfect one for your dad by whether you get a button-up style or a very casual-worn design.
These t-shirts and hoodies aren't subjected to just one camouflage pattern design either; take a deep dive into the various styles you can find! Make sure when you're looking for dad, you take into account his favorite camo styles and try to match your choice to something that he would best enjoy rather than shopping for your self-interests.
Camo shirts like hoodies don't necessarily have to be worn while hunting only; they can be worn casually. Your dad can wear his new camo shirt while he's having a nice cold beer watching football, playing poker with his friends, or even going out for a casual night with his family. However, if he's planning on using his camo shirt for a more formal setting, there might be more appropriate camo apparel you can find elsewhere.
Camo Cargo Shorts for Dad
Camo lovers who want to show off their love of the hunt should be the recipients of a pair of camo cargo shorts this gift-giving season. If your dad prefers wearing camo at all times, this might be the best way for him to show off his favorite patterns.
Cargo shorts are very "dad-like" to begin with. Don't subject yourself to picking out just one camo pattern for these shorts – camo clothing comes in many different designs and patterns. Be sure to pick something that you know your dad will love based on the design.
Camo cargo shorts are extremely durable and can be worn in various situations. If your dad enjoys doing work around the house or running errands on the weekend, these shorts could be the perfect thing for him to wear for comfort. Additionally, cargo shorts provide tons of pocket room for your dad to store loose belongings.
Gift Cards
When your dad's a hunting enthusiast, it can be hard to find the perfect camo gift because he seems to have it all already. If you're not sure exactly what type of camo your dad needs, grab a gift card for his favorite camo supplier, like GunSkins. 
A gift card lets your dad get exactly what they need, no matter how niche. Choose between gift card values from $25 to $300, and send your dad his new gift card immediately with just one click. This is the perfect gift for a long-distance dad or a great add-on to any existing present. They have no expiration date, so he can use it whenever he needs it.  
Camo Gun Skins
When getting the correct camouflage for your dad based upon the type of hunting he does, it's important to remember that not just his body needs to be hidden from animals' view. His weapon should also be properly camouflaged to blend him into the environment when hunting.
If your dad needs a proper vinyl wrap for his weapon, check out the entire skin selection over at GunSkins. Not only will you find a wonderfully designed camo wrap for your dad, but his gun will be better protected from the outside elements that might scratch at the outer material of his rifle. GunSkins makes wraps for all types of weaponry; be sure to match the skin design with the gun that your dad knows.
If you're unsure of what particular gun he does own, you could always ask him or just let him pick out the design/gun size himself. GunSkins also has available gift cards so that he can choose the correct one, as well as a plethora of other camo-themed items that your dad might enjoy. He might also prefer some of their winter apparel items for this upcoming season. 
Sources:
Spring wild turkey hunting tips | Mass.gov
Waterfowl | Vermont Fish & Wildlife Department