How to Camo Your Duck Boat, Canoe, or Kayak with Gear Skins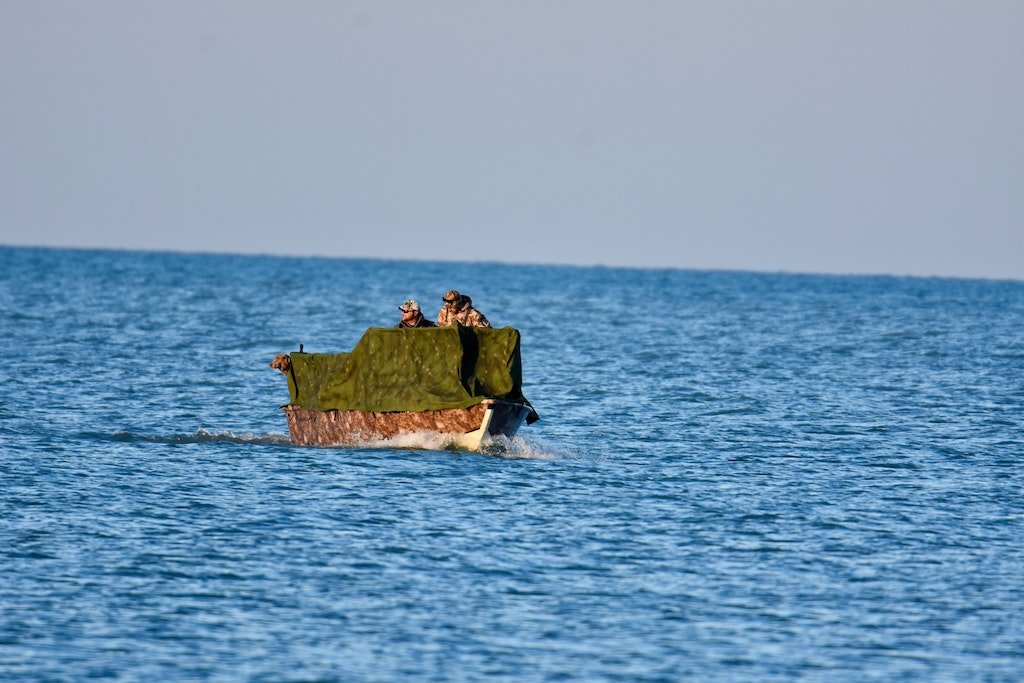 While your favorite hunting shows often follow the chase of a trophy buck or that world record big game, there's something action-packed about one form of quick shooting hunting found coast to coast. 
Waterfowl hunting.
While you can drop flocks in the fields and grasslands, there's nothing quite like an early morning on the water. 
With such a fast-moving, high excitement form of hunting found around the U.S., why aren't the waterways packed with boats and blinds? 
Chasing ducks and geese through the rivers, marshes, swamps, and wetlands is a must for any adventurous hunter, but you'll need an important piece of equipment before you get going.
You guessed it: A boat. Whether it's a duck boat, a canoe, or a kayak doesn't matter. You just need something to carry you, your gear, and your bags.
These specialized boats put you up close to the action. These tips and tricks will take your everyday duck boat and transform it into a bird-busting champion.
The Excitement of Waterfowl 
What could possibly be so exciting about a hunt that draws hunters into the rain, sleet, snow, hail, and wind? 
Waterfowl refers to a range of duck and goose species found around the world. Not only will waterfowl make a great addition to your stews and grill, but they're also some of the fastest flying game. 
While most hunters would stray away from shooting a deer running a max of 30 mph, the idea of shooting a bluewing teal flying the same speed at just 1/200th of the size is too tempting to pass up. 
The average Canadian goose can fly up to 1,500 miles in a single day at speeds of up to 40 mph. This 14-pound bird is a must-have on the grill. 
Mallards are one of the largest duck species, with the males or drake mallards commonly identified by their metallic green heads. The females or hens are a range of browns and tans. Mallards are dabbling ducks, which primarily feed on grains found along the surface, unlike diving ducks, who feed on underwater greens. Mallard ducks are known to fly between 40 and 60 mph and can be found along inland waterways and the coasts and bays.
Wood ducks are known for their vast beauty and range of colors such as blacks, reds, greens, blues, tans, and whites with a bright orange beak.  The hens are tan and brown, allowing them to blend in with nature and remain safe. With a straight-line flight speed averaging around 46 mph, these beauties have been making their way onto trophy walls for years. 
When considering the most difficult waterfowl remains the green-winged and blue-winged teal. These tiny ducks weigh just 13 ounces and can fly at speeds up to 30 mph. They are known to fly very low to the waterline, making them a challenging game to hunt. 
Why The Boat? 
While waterfowl could be pursued from land, shores, and banks, they are more likely to remain within inlets where the water flow calms down or remains still. 
Within rivers, ducks and geese often stay near the shore, where water remains calm. 
Waterfowl spend most of their time near their food source and away from humans and predators, and the best place to find their food source is secluded marshes and waterways. 
Stay Invisible
Unlike hunting within the woods and grass, you may find it a bit more difficult to blend in. While in the woods, nature becomes a major aspect of your camouflage. You tuck yourself behind branches, leaves, grass, and much more. 
When hunting from the waterways, you have less natural camouflage. This means you can't rely on the grass and sticks around you. Instead, you'll have to show up at your hunting spot with everything you need. 
Boat Camos and Blinds
One of the goals when adding camo to a boat is to eliminate the shine. It's common for boats to have a high gloss or even metallic finish covered in chrome trim. These bright colors look great on a weekend cruiser or fishing boat, but they're not so ideal when considering a hunting boat. 
While you could attempt to paint your hunting boat, spray paints and cheap options are unable to hold up to the harsh weather conditions and use. High-end paint jobs, while more durable, come at a much higher cost. 
To make the paint situation more severe, you're stuck with the design year-round once a boat is painted. 
There's a better option.
By wrapping your boat, you're able to not only remove the shine but add the needed patterns in a manner that is cost-effective and can be removed and changed over time. 
GunSkins vinyl wraps are designed to be applied by you from the comfort of your home. 
All you need is: 
GunSkins vinyl wraps

A sharp razor blade or craft knife

A heat gun, hairdryer, or other heat source

A small squeegee card or other plastic card
When purchasing GunSkins Vinyl, you first want to choose your design or pattern. GunSkins has partnered with the top companies in the industry to bring you the best camo and designs on the market. The X-large Gear Skins sheets are 24" x 50," allowing you to wrap everything from a duck call to your entire boat. 
When items are wrapped with GunSkins, they are completely sealed from moisture, scratches, and other potential contaminants. Even your old beat-up gear can be wrapped to a like-new finish. 
Wrapping Gear 
Before you wrap your gear, you'll need to prep the surface. GunSkins is specifically designed to adhere to plastics, metals, and woods. These surfaces need to be degreased or the oils stripped away. This can be done with dish soaps, alcohol, acetone, mineral spirits, or prepping sprays. 
For older gear--especially that made of old wood or peeling paint--you'll need to scuff the surface. This can be done with a scrub pad or 220 grit sandpaper. 
Next, you'll want to pull the backing paper off the vinyl and begin aligning it on your project. It may feel tacky, but it's not quite sticky or permanent yet. 
Once you have the vinyl stretched, pulled, and in place, you'll want to use your heat gun or hair dryer to heat the vinyl. As it's heated, the glue on the backside will become more fluid, bonding to your surface. During this time, you'll want to continue to squeegee and press the vinyl tight around your gear. 
Using a sharp razor blade, carefully trim around the edges. If the razor blade is dull, it could snag and rip the vinyl. 
After the vinyl is trimmed, you'll want to do one more heating process, especially along the edges, to help the vinyl seal tight, locking out water. Learn more about the GunSkins process by watching our Installation Video.
Wrapping Your Boat 
When wrapping a boat, you need to consider what could cause possible lifting along the vinyl edges. Since you'll rarely be driving in reverse at speed, you'll want to wrap the boat in a manner that avoids lifting. 
This means you'll start wrapping from the back of the boat and move toward the front (or the bow). 
Unlike your other gear, you'll want to allow a slight overlap between sheets of vinyl. This overlap will cause the vinyl to press down tight as you drive. 
Blinds 
For many hunters, camo wrapping your boat is just the beginning. 
Hunting blinds use nature and shape to disappear. A common approach is to first add burlap around the bow and over the motor drapes to the water. This will reduce the sharp shape of the boat, which can stand out among the organic shapes of nature. 
Remember, waterfowl will be looking at you from above the boat. To camouflage from above, consider cutting corn stalks or grasses and lay them across the top. If pulling your boat along a shore, it's good to pull from nature around you. 
A great option is to find large tree branches along the shore and stab them into the mud along the outer edge of the boat. This will create a blind that you can physically pull in and out of, especially as you retrieve game.
Flyby or Decoy Hunting
There are two primary forms of waterfowl hunting.
Flyby hunting allows you to sit along waterways and shoot at passing flocks. When ducks and geese fly between marshes, they prefer to stay low to the water. When they approach treelines or dikes, they tend to pass through gaps within the trees. 
Calling will bring flocks in your direction and is a great method for hunting on most waterways. 
Decoy hunting involves placing a decoy spread along the land or the waterway. This visual creates trust for incoming flocks, increasing the chance they will attempt to land within range. Decoy restrictions may occur along public waterways, and local regulations should be checked. 
Summary 
With the draw towards fast-moving, action-packed hunts, more and more hunters will be finding themselves hitting the waterways to bag some waterfowl. 
But remember--without proper camo, you'll be easily spotted by each passing flock, potentially ruining your hunt. 
By wrapping your gear in GunSkins vinyl wraps, you can ensure your guns, ammo boxes, calls, gear, and boat match your hunt. 
It's time to disappear into the brush with GunSkins. 
Sources:
Difference Between Matte and Glossy: Which Should You Choose for a Planner?.