How Durable are GunSkins? Less of a Sticker and More Like Armor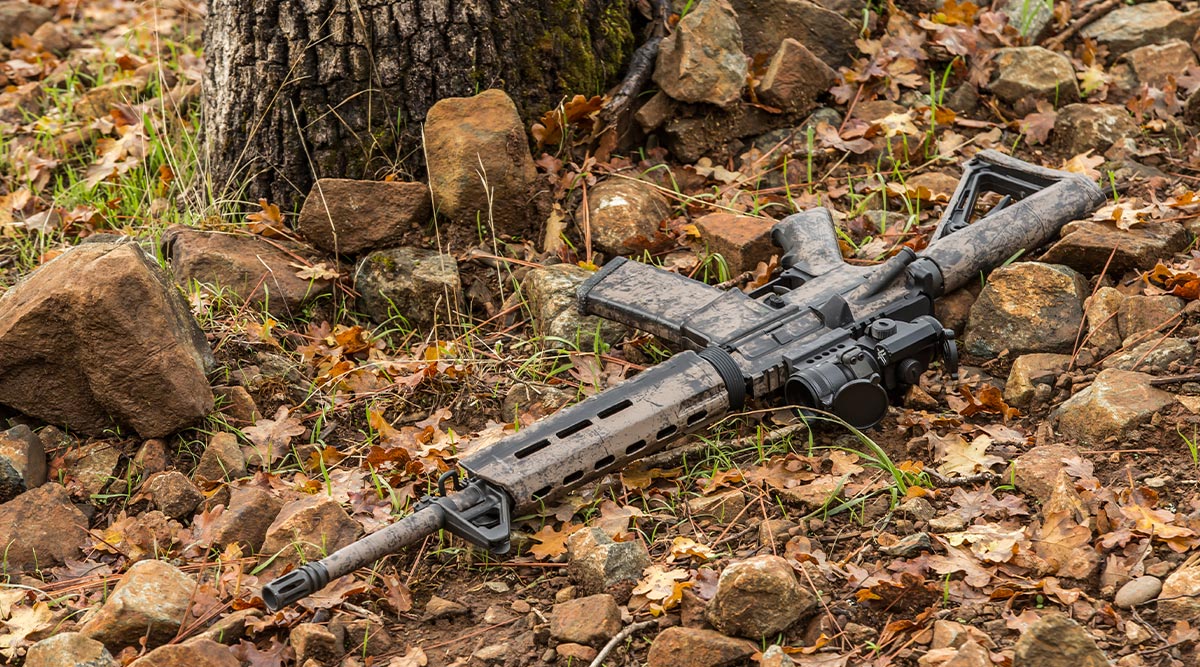 One of the key features of wrapping your rifle or pistol in GunSkins is the added protection to the surface of the gun. Many people ask us "How durable is it?". A question like that can't be answered using a number or measurement, but we'll do our best to give you a better perspective when we say Protection in Camouflage.
Technical Details
GunSkins camo wraps are made from premium vinyl. We guarantee that our product is going to be superior. Our kits are produced using the most adhesive, malleable, and durable 3M vinyl on the market. It's comparable to the material NASCAR uses to wrap their racecars with.
The vinyl is printed and laminated with a matte finish, measuring 0.6 mm thick. When installed successfully, the adhesion creates an air-tight seal along all edges, preserving the condition of the surface. GunSkins are 100% waterproof, non-porous, and can withstand temperatures up to 230 degrees Fahrenheit. We're not playing around. You can expect the vivid colors to last 5+ years, even in direct sunlight, and a lifetime warranty to boot!
Made for Regular Use
We like a sweet finish on a gun as much as the next guy, but when we started this company it wasn't for bling-factor. We needed something that could not only help with concealment, but could take a beating from a weeklong hunting trip, and then some! It's commonplace to have your gear (or person) get scratched, dinged, and dropped while chasing bucks.
There is no need for special handling or delicate maintenance procedures to keep your GunSkins vinyl wrap from working hard for you. The vinyl is so tough, you'll dull your hobby knife blade several times over just during the installation process. Rest assured, GunSkins will not peel up or tear off on its own or even during use.
To ensure this kind of protection, make sure the surface of your gun is as clean as possible prior to installation. The presence of gun oil, grime, or dust will impede adhesion. Nothing sticks to dirt! Follow along with our installation videos to maximize the protection and life of your GunSkins!
… and Abuse
Our friends at the Firearm Blog have gone one step further and wondered just how far could you push GunSkins in terms of durability. They went through hundreds of rounds using our AR-15 Mag Skin, left it in a bucket of water for two days, and finished it off by running it over with their Tacoma 4x4. If you want to find out how well it held up, you can see the results for yourself by reading their review.
When we say "Made in USA", you can expect a product that will meet or exceed your expectations. We don't subscribe to the notion of offering a cheap manufactured goods that require replacement every other year of use. We have shotguns and rifles wrapped in GunSkins still going strong after half a decade of use.
Years of regular use and abuse will indeed scuff and mark the surface, don't get us wrong. But the vinyl will not tear or rip off, compromising the protection to your gun. The only way the GunSkins will come off is if you take it off yourself. And when you do that, the surface will be in the same condition as it was prior to installation. Back to square one, the perfect time to wrap again in a new pattern!
GunSkins is designed to take a beating so your gun doesn't have to. Hide in the trees or stand out at the gun range! Either way, we are proud to offer a product that excels in both form and function. Protect that which protects you!