Complete Camo Job for Your Rifle with DIY Spray-Paint and GunSkins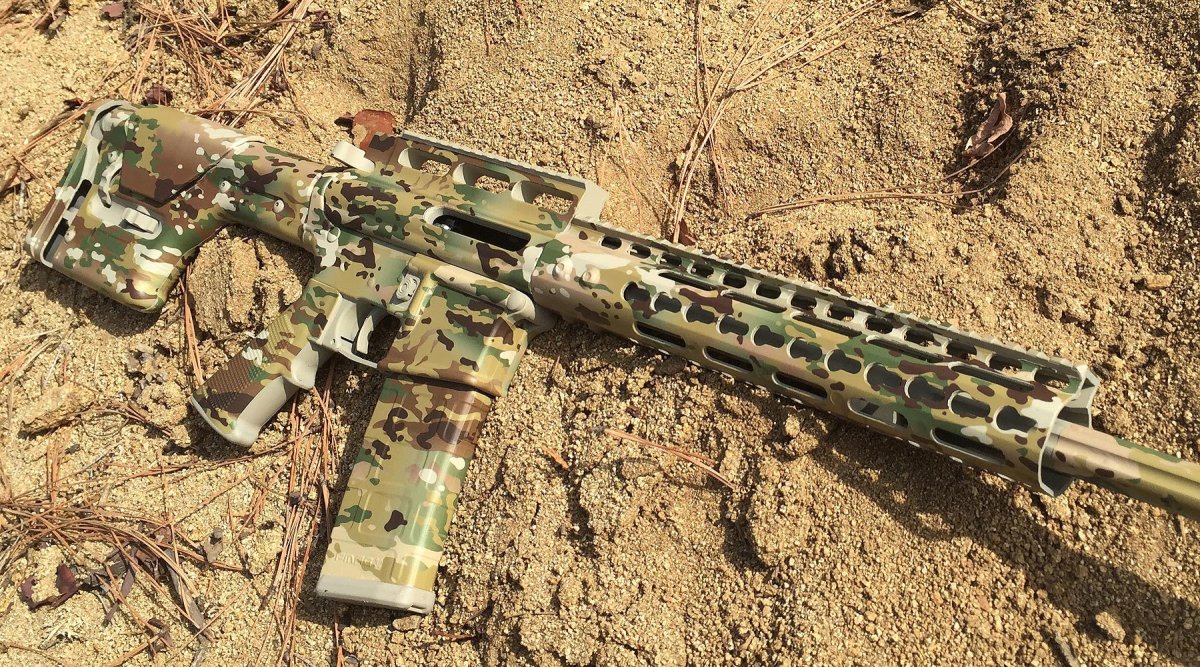 For many DIY gun owners, they know that there is something special about building a gun from parts and giving it flair with a fresh coat of paint. Likewise, It's remarkable how an old gun can also look brand new with a little splash of color or camouflage. It's becoming more and more popular for gun owners to finish their gun with camo instead of solid colors.
For some, hydro-dipping or cerakoting are worthy options for achieving a camo finish. However, a more economical method of adding camo to a gun includes spray-painting or vinyl wrapping. These two methods are as different as day and night. One is permanent and messy, while is other is removable and simple. However, allow me to make the argument that the best results can be achieved when using both options together to create a seamless finish!
Why Not Use a GunSkins Vinyl Wrap By Itself?
GunSkins vinyl wraps are easy to work with and can be trimmed to fit any gun. Most kits come with pre-cut pieces for peel and stick installation. However, it's not possible to wrap the entire surface without having some areas bare. For example, the trigger, safety selector, and mag release should remain unwrapped. Even with these areas exposed, a vinyl wrapped firearm in camouflage still provides effective concealment in the outdoors.
If you wrap a black gun with a dark pattern, such as Kryptek's Typhon, Proveil's Reaper Black, or A-TACS LE, the blend between camo and the gun surface will be almost non-detectable. On the other hand, using a pattern lighter in tone will result in black borders, lines, and noticeable gaps between vinyl pieces. For many, this isn't a problem. However, if you're looking for a more thorough and complete camo job, we recommend spray-painting the gun beforehand.
Spray-Paint the Firearm Before Applying GunSkins
By spray-painting the entire gun beforehand, it can help eliminate the contrast from vinyl and gun surface. If the color used to spray-paint the gun with matches the tone of the camouflage, the finished product can look just as clean and seamless as any other professionally finished camouflage job. And the best part is that using both GunSkins and spray-paint together is still less expensive than most other camouflage options. Plus, they are easy to install at home with standard garage equipment and tools.
For lighter toned patterns, such as A-TACS AU or Kryptek's Nomad Camo, spray-painting the gun in a desert tan or FDE will be recommended. Spray-painting a single color is very simple and doesn't require the use of stencils or fabrics. Once the gun is completely dry, wrapping it in GunSkins only takes a few hours and is ready to use immediately.
There is more than one way to add camouflage to a firearm. Spray-painting alone is the least expensive option, but it does require creativity and skill to match the quality of camouflage that professionals can offer. GunSkins are still affordable and easy to apply. Spay-paint and GunSkins together can achieve a seamless and perfect camouflage finish that won't break the bank but still impress your friends at the range.