CYBER MONDAY EXTENDED - Last Chance to save up to 35% OFF sitewide - Spend $75 to unlock additional 5% Savings! BROWSE GIFT GUIDE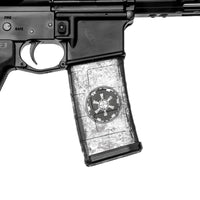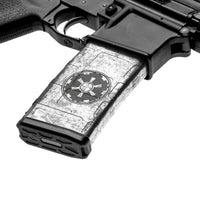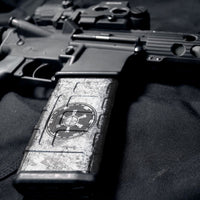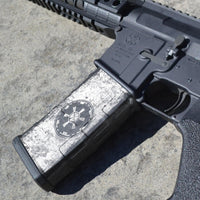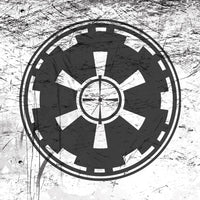 AR-15 Mag Skin (Battleworn Snow Trooper)
Regular Price

$ 11.99

Sale Price

$ 11.99

Regular Price

$ 14.99

Unit Price

per
🚚 FREE SHIPPING on all orders over $25 shipped within the US!
Description

Specifications

Install Video

F.A.Q
Snow Trooper is a premiere pattern from our exclusive BattleWorn series. This weathered texture exhibits the look of a snow-themed firearm that has come fresh from a battlefield. Color fade, scratches, and scuffs give a distressed appearance on the surface, all the while the skin actually does the opposite: protect the gun.
Snow Trooper makes your gun look like it came from a frozen alien planet. Hopefully your aim is better than the rest of the troops.
Do It Yourself: Easy to install high-performance vinyl
Compatible: Conforms to any shape, trim to fit
Removable: Leaves no residue behind
Durable: 100% Waterproof non-reflective matte finish
Warranty: Lifetime
Made in: USA
Product Type:

AR-15
Brand:

GunSkins
Weight:

2 oz
Why will the GunSkin not stick to my gun/accessory?
You must thoroughly clean the gun/accessory before installing the GunSkin. We use a gun-specific degreaser and a small brush. Make sure to scrub all the recessed areas to remove oil and dirt. Then wipe it off, or with some parts you can rinse with warm water and let dry. Newer guns tend to be more oily, so you might need to clean it twice. Before installing, you can use rubbing alcohol to wipe off any dust or debris. Also, make sure to use heat as your installing the GunSkin, it helps the material to conform.
Can the GunSkin be removed?
GunSkins are removable and have no effect on the finish. To remove the GunSkin, heat the material with a heat gun/blow dryer and peel off. If there is any residue left behind, use rubbing alcohol or Goo Gone to remove.
Will heat from the barrel melt the GunSkin?
The heat from the barrel will not effect the GunSkin. However, we do not recommend installing the GunSkin on the barrel, if you intend on using full auto.
FREE SHIPPING
Easy to install
100% Waterproof
non-reflective
lifetime warranty
made in the usa