Camo Spotlight: Reaper Black™ By Proveil Camo®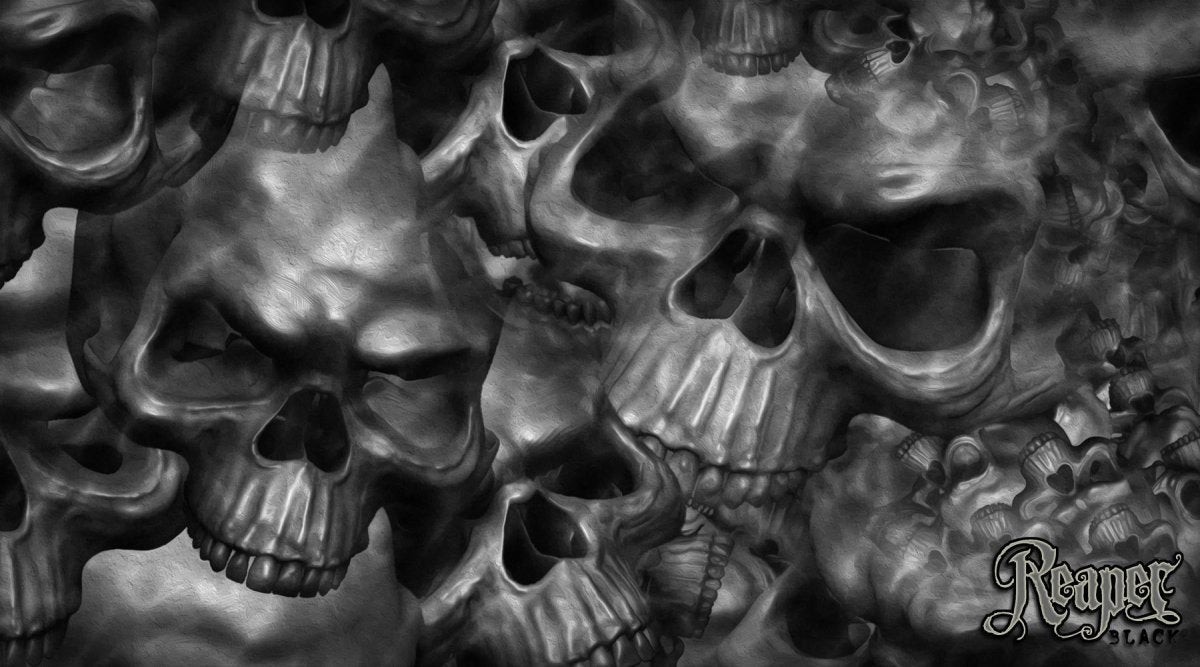 Camouflage can be used for more than concealment. What you wear and what you put on your firearm can also say a lot about you. That's the great thing about expression, it can be accomplished visually without words.
Our next featured camouflage pattern makes a bold statement. It's called Reaper Black™. It's one of more popular camouflage patterns we sell and it looks great in just about every kit we make (rifle, shotgun, pistol, etc). The pattern is very grim and it 's a great choice to consider for both the tactical and hunting gun owner. To discover the origin of this creepy camo, read on.
Reaper Black Pistol Skin
PROVEIL CAMOUFLAGE
One of the emerging camouflage producers that we're proud to partner with is Proveil Camo®. Founder Travis Fortner had a vision that camouflage was "more than just sticks and leaves". However, Proveil strives to make all of their patterns just as realistic as traditional camouflage. By developing HDZ (High Definition Z-Depth) they create patterns with an infinite depth and numerous layers that surpass the common foreground, mid-ground, and background method used by traditional creators.
By changing the way their images are made, Proveil has created new and unique camouflage patterns that provide not only the best blend and breakup in the industry, but they also create a thing of beauty. Again the emphasis of camouflage goes beyond hunting in the wilderness, they are making a statement that hunting is not just a hobby, but a lifestyle.
REAPER BLACK™
Proveil licenses their patterns for hydro dipping and vinyl production. They currently have two series of camouflage: Proveil 2.0 is a woodlands cover pattern while the Reaper Series adds the edge of using skeletons and skulls. Reaper Black™ is the most popular pattern in the Reaper Series. It's described as follows:
Reaper Black is the original Reaper Series pattern that started it all.   Let the other guys cover their gear in cartoon skulls, if you want a realistic three dimensional skull pattern get Reaper Black.   Reaper Black uses Proveil's proprietary technology, including Dynamic Depth of Field and High Definition Z Depth to create a hyper-realistic, three dimensional pattern of skulls floating in a cloud.  Reaper Black's high definition, depth and menacing skulls means that when you sport Reaper Black gear your sure to get a second look.
The Reaper Black™ camouflage might be considered the most hardcore pattern we have to offer. It's the first release by Proveil and it has since spawn many more patterns equally as awesome. The image of the skull may be viewed as a symbol of death but it can also be used to threaten the unjust with the goal of preserving life. It's a very fitting pattern to wrap any firearm with for self defense as well as hunting. For example, next time you go hunting and spot that monster buck, you can rightfully whisper before pulling the trigger "time to meet the Reaper".
"Don't Fear the Reaper"
A NEW KIND OF TACTICAL
Reaper Black™ is a tactical pattern which integrates skulls into a black smoke matrix. The detail is striking and the realism is unmatched in any other skull pattern. The infinite depth technique is clearly evident by the striking contrast in the larger skulls neighboring smaller ones, which at first glance are easy to miss. The skulls blend together seamlessly and the repeating nature of the pattern is hard to identify, an accomplishment for any repeating camouflage pattern.
This camouflage has been around for several years and has already become one of the fastest growing choices for hydro dipping hard goods. Now we're offering it in a high-performance vinyl material to wrap rifles, shotguns, pistols, and more. Reaper Black™ transforms your gun from something casual into something inspiring.
Wrap your gun with the Reaper Series if you want to "hide your body, not your soul". How's that for a bold statement?