What Are the 6 Best Rangefinders for Hunting?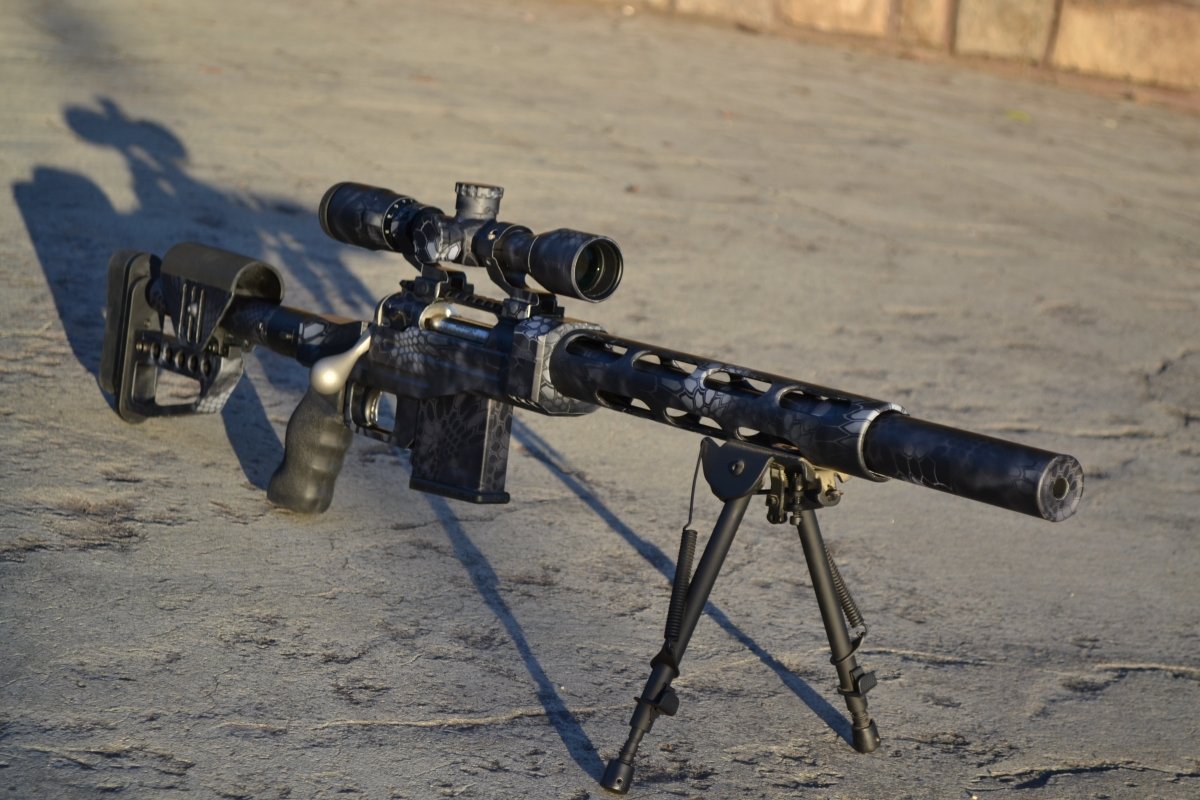 When chasing big game through rough terrain, distance can become skewed and hard to determine. This especially becomes difficult when looking downhill or uphill.
There are many rangefinders out there, but chances are, they may not serve your purposes in the slightest. Rangefinders are small yet complex devices that seem self-explanatory in their purpose, but no two are exactly alike. 
This is everything you need to know about rangefinders and what rangefinders are best for your hunting needs. 
What Is a Rangefinder? 
Rangefinders measure the distance between you and an object.
To measure distance, the rangefinder first sends out a pulsed laser which bounces off distant objects and makes its way back to the rangefinder. The rangefinder can accurately calculate how far the object is by calculating how fast the laser light moves. 
While the idea of range finders are similar, the slight differences in design have placed rangefinders into two primary categories:
Golf rangefinders

Hunting rangefinder
Golf Rangefinders 
Let's be honest: The terrain on a golf course is quite different from the terrain you'll be hunting. 
When golfing, your goal is to approach the green where a standing flag marks the whole. With this being your primary target, golf rangefinders are equipped with "flag lock" settings. This allows the rangefinder to find, lock on, and display the distance of the flag. 
Some golf rangefinders are designed with elevation and slope settings. This will tell you the elevation change between your current location and the target. Slope settings will tell you if the general slope of the ground is left to right, front to back, and by how much. This will especially help with your long game, understanding if a ball will bounce or roll to help aim towards the center of the fairway. 
While you only use a hunting rangefinder when you're chasing a target, professional and serious golfers hit the course daily in the pursuit of an increased (well decreased) score. With this in mind, golf rangefinders are built using high-quality components to last for years to come, which of course, comes with a cost. 
Large batteries are used to last all day, while the components are most likely not going to be waterproof. Most golfers aren't sitting outside in a rainstorm. 
Hunting Rangefinders 
When chasing big game, the range of your shot is essential. You're not aiming at just anywhere on the animal--you're aiming at the lungs and heart or the sweet spot just behind the shoulder. Accuracy is everything. 
Since hunting rangefinders are used just a couple of times per year, they are typically created with lower quality parts, keeping the prices down allowing them to be more available for hunters. These rangefinders will be sealed from the elements, protecting the internals from rain, snow, and damage. 
While these rangefinders are more simplified, they provide the hunter with accurate distance and elevation change, allowing you to take the perfect shot. 
Some rangefinders have internal illumination designed to help you see the reticles and internal data. While this could be beneficial in some situations, hunting in low light situations such as early mornings could mess with your physical night vision. 
A Range of Rangefinders 
Some hunters may find a need for a more durable product or something that holds up to more beating and abuse. 
It's important to buy a rangefinder at the quality and price level to meet your expectations. 
No matter which rangefinder you choose, it's important to camouflage your gear. Whether you want your rangefinder to blend into your surroundings or match your gun, you can sheathe any of your gear with our Gear Skins wraps. 
These wraps can also help protect your rangefinder from scratches and scuffs, so you can get the most out of your investment.
1. Wildgame Innovations Halo XRT 
Built for the woodlands and mid-distance big game hunters, the Wildgame Innovations Halo XRT rangefinder accurately marks targets within one yard and up to 500 yards away. 
This pocket-sized rangefinder magnifies your images up to 4x, giving you a clear visual to review and make a clear decision on if the game in front of you is the game you're pursuing. 
Power saving modes allow the device to shut off automatically after just 20 seconds. This means you turn the rangefinder on, get your range, and simply set the device down.
The recent development of the Halo XR-700 has a range of up to 700 yards, with a visual of 6x to give you an up-close visual. Auto acquisition locks onto potential targets, giving you an accurate range even as a target moves through terrain.   
2. Sig Sauer Kilo2400 
Sig Sauer has remained a trusted name throughout the hunting market, which remains true with the Sig Sauer Kilo2400 7X25mm Ballistic System Rangefinder.
With a range of up to two miles, this is a great pocket-size option for any hunter. The range on the Sig Sauer includes 1400 yards on singular animals, 1800 yards on singular physical features, and 3400 yards on large features. This will allow you to mentally denote or physically map your field of view when in a blind. 
Sig Sauer has created a linked ballistics software, which is Bluetooth-linked to your phone. The app gives real-time data based on your rounds. 
3. Bushnell Prime 1700 
Bushnell has been known since the 1940s for their hunting optics such as: 
Binoculars

Red dots 

Rifle scopes

Game cameras 

Radar guns 
And now, rangefinders. 
The Bushnell Prime 1700 gives an accurate range up to 1760 yards, with high accuracy within one yard for up to 700 yards. The Bushnell's internal radical shows the range, chosen mode (rifle or bow), battery life, and the angle of your shot. 
While some optics use plastic lenses to save weight and cost, Bushnell's All-Glass Optics provide a crystal clear image. The large front glass allows increased light and color to enter the optic, giving you a better view. 
By choosing Brush Mode, the device will avoid grass and leaves and other close nature to help you catch the distance of your target, while Bullseye Mode takes note of the closer target, avoiding the terrain and differences in the background. 
4. Safran Vectronix Terrapin X 
This long-range rangefinder has been created and designed for hunting big game across vast distances. With an accuracy of 5.46 yards with a range of up to 3,280 yards, or 1.86 miles.  
The Terrapin X is more than just a rangefinder--it's a bidirectional piece of advanced technology that connects to a mobile app, giving you complete control. This rangefinder connects to mobile weather stations and a ballistics database to give you more than enough information to pinpoint accuracy. 
Safran Vectronix is a company building military, battle-tested devices tested and proven worldwide. They make some of the most technologically advanced and durable devices on the planet. 
This rangefinder is designed to withstand rain, sand, snow, and wind. 
5. Vortex Ranger 1800 
With a range of up to 1800 yards, and the ability to measure a deer within three yards at up to 900 yards, the Vortex Ranger 1800 is a great option for any hunter. 
The small size and side clip make this a great choice for in your pocket or even clipped to your bag or belt loop for quick, easy access. This rangefinder also comes with optional attachments such as a tripod or neck lanyard, allowing you to customize it to your use. 
The rubberized outer shell protects the device from scratches and provides a good grip. 
The one downfall with this device is the delay in process time. It can take up to one entire second for this rangefinder to determine a distance, which could be difficult on a moving animal. 
6. Leupold RX-1600I TBR/W
For some hunters, a simple rangefinder that remains customizable and quality is a must. When Leupold set out to create the RX-1600I TBR/W, this was their goal. 
A rangefinder with the ability to mark targets up to 1600 yards and deer up to 1000 yards with an accuracy of .5% or ½ a yard is a must-have for long-range big game hunters. 
With a 6x view and red display, hunters are less likely to affect their night vision negatively. TBR/W refers to Leupold's True Ballistics Range with Wind System, which measures the moisture in the air, and how the laser is being affected by these moving particles to measure wind speed. 
Not only does this system measure crosswinds, but it can measure vertical air movements based on the angle being measured by the rangefinder. 
The Right Rangefinder 
Rangefinders are about taking technology to the hunt. Understanding your distance and weather conditions, you'll be able to take more accurate shots and avoid the risk of injuring the animal. 
Rangefinders are a great tool to mark landmarks as moving. This will give you a better idea of movement and help keep track of your location. 
Customizing your gear will help you blend in and even protect it. GunSkins vinyl wraps have partnered with the top camo manufacturers in the industry to bring you the best camo on the market. 
These wraps seal and protect your gear, creating a scratch-resistant surface that can be applied and removed in the convenience of your home. 
It's time to take your hunt to the next level with a quality rangefinder. 
Sources:
Laser rangefinders – How do they work? Which one should you choose?. 
How To Use A Golf Rangefinder? And The Benefits It Will Bring!.
How to Use a Rangefinder for Hunting