GunSkins vs. Rattlecan vs. Cerakote: What Finish is Right for Your Firearm?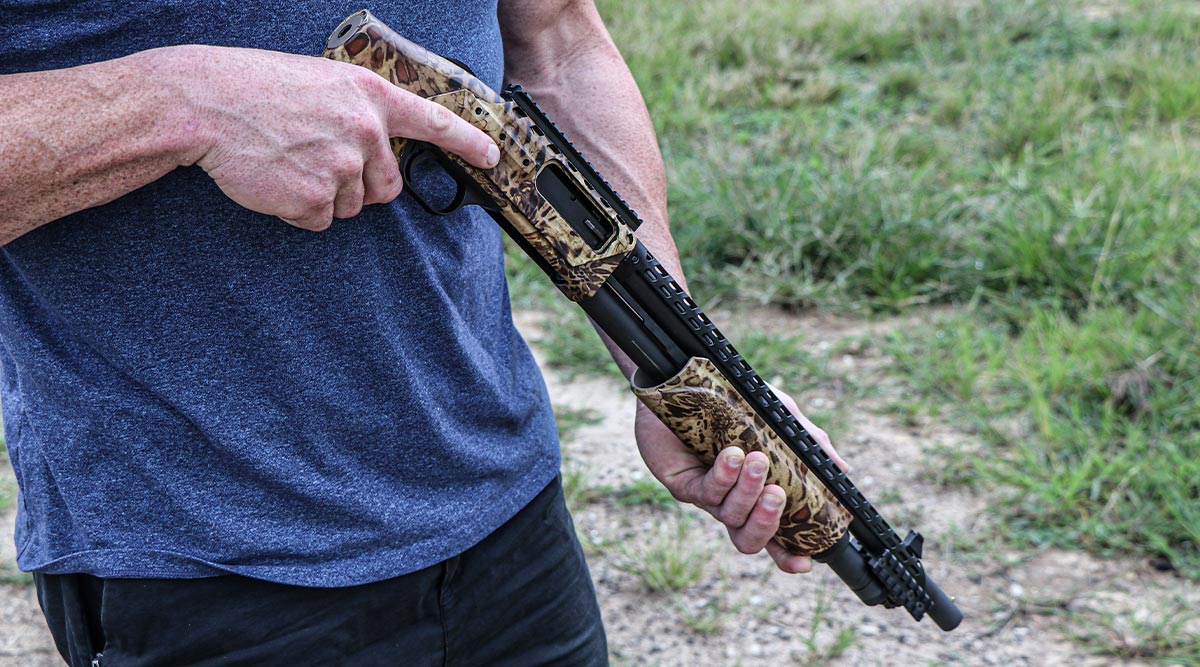 Getting ready to put that amazing palette on your rifle, and then noticed how many choices were in the application department? With Cerakote, GunSkins, and any number of rattlecan paints out there, what works best for the money? There's a lot of options out there, let's take a look at the ins and outs.
Cerakote
When it first came on the market, Cerakote was an alternative to bluing, and the options were pretty limited as far as colors and patterns. So much has changed. Just in the last few years, more people are being trained to apply Cerakote in the proper way for that legendary finish that resists weather, chemicals, abrasion, and neglect. Colors have flooded the market, and the artistry of the work has caught up to the best paint jobs out there.
In short, the durability of a Cerakote finish is what drives its high price point, upwards of $400 in some cases and that doesn't include shipping and the time your firearm isn't available to you. It can't be applied in your backyard, and most Cerakote finishes require very specific curing conditions.
Just like sifting through the best pistol sights, high-end lasers, and enhanced triggers to outfit your barbecue pistol, Cerakote for most of us is an expensive option for safe queens that only see sunny range days. It's both tough and durable, but hardly a necessity if you just want to add some looks to your pistol or rifle.
Rust-O and Rattlecan Paint
The alternative for most of us is to go with conventional paint or bluing. Since bluing doesn't allow much in the way of customization, we won't go into detail on that. Rattlecan paint is the poor man's gun decoration, and depending on your skill with a paint can, you can actually get some pretty solid finishes. With the right prep work and a dedicated masking plan, your gun can look as good or better than any of your friends on Instagram.
You can match the pattern to the rest of your range gear, or put a truly custom look on your favorite Glock. Just like Cerakote, the better the prep work, the better the finish. Surfaces need to be degreased and scrubbed with fine sandpaper or emery cloth to make the paint adhere better. A primer specific for the material you are working with is also essential, especially on polymer stocks as most paints won't stick to plastics very well.
The firearm needs to be disassembled, masked, and several coats applied. It's a lot of work, but when done well can turn out gorgeous. Paint can get pretty rugged too if you are using the right stuff. Hard enamels for appliances work well, and there are several available in a can.
GunSkins
GunSkins are a newer form of vinyl decal that can add superior styling without the need to mask off tiny areas and apply umpteen paint layers. Anyone who has done a lot of custom masking will tell you that each new layer of paint adds another chance to ruin the entire finish with one scratch or bleed out. Vinyl decals are printed to an exceptional degree of accuracy, and this issue with the rattlecan technique is totally eliminated, allowing you to easily get truly amazing designs.
Add a heat gun, and GunSkins heat-shrink themselves onto the surface, giving you a finished product that won't peel or blister. At the same time, they can be removed quite easily if you want to change your design later on down the road. There is one caveat, and that rests with the spaces that the GunSkins won't cover. Decals are applied separately over different areas of the firearm, and if the background color of your GunSkins doesn't match the firearm, then you will have some obvious places where it looks like, well, a sticker.
This too can be solved though. By combining a base color on your weapon with either Cerakote or rattlecanning, you can match the vinyl color. This gives you ultimate customization without masking, but there's still a little "painting" involved.
Which is Best for You?
If you are pretty handy with a paint can and sandpaper, then you can get an amazing finish with nearly unlimited creativity using a combination of GunSkins and paint.
With a dark background, GunSkins can do the job themselves with no underlayment of color. If you want an exotic solid color, then by all means go with the rattlecan. If you plan on storing your weapon in battery acid, we'd recommend springing for the Cerakote.
---
Guest Author Bio

Richard Douglas

writes on firearms, defense and security issues. He is the founder and editor of

Scopes Field

, and a columnist at The National Interest, 1945, Daily Caller and other publications.