A Technical Understanding of GunSkins High Performance Vinyl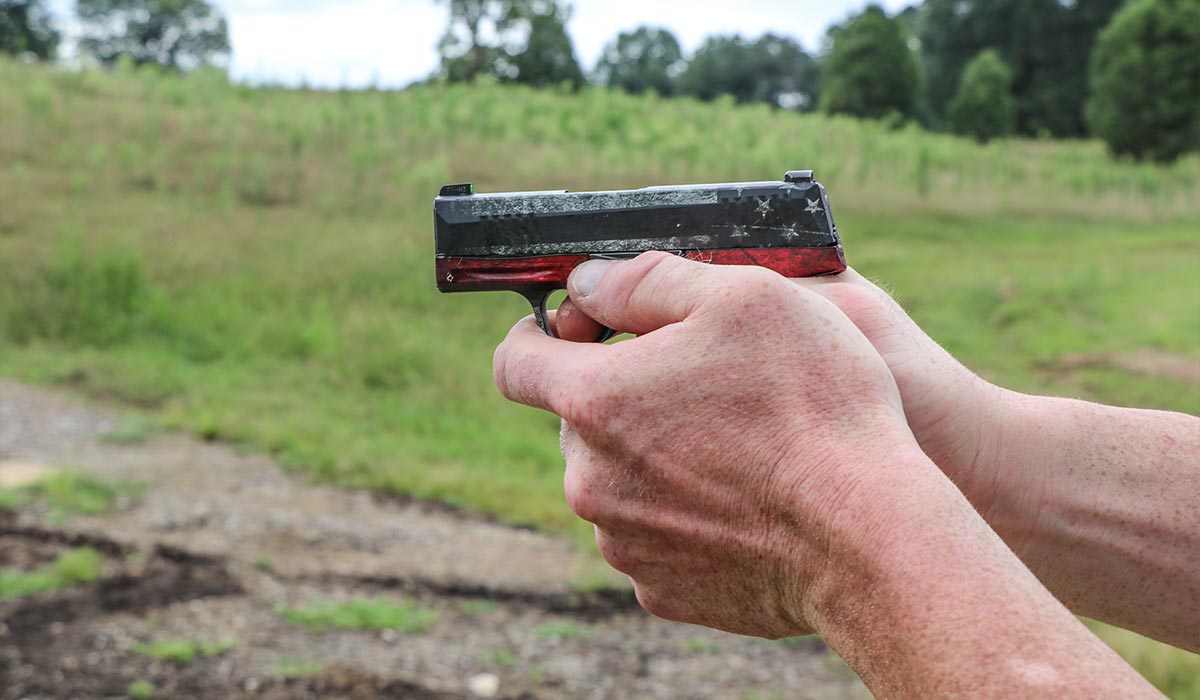 This one is for all of you who love to lookup the data and tech specs of a product before deciding which one is right for you. It's not always necessary to completely understand the technical reasons why a product works in order to properly use it. For example, you don't need to be an auto mechanic in order to operate a motor vehicle safely. It does, however, help to have a good understanding in order to maximize efficiency and adhere to best practices.
When it comes to the high performance vinyl that GunSkins is made from, there can be a lot of confusion or assumptions about what it can or cannot do. For instance, it would be an over simplification to simply call our product a sticker or decal for your gun. Doing so gives the impression our wraps are made from cheap material, can't withstand the elements, or will peel off after firing a few rounds.
Let's take a look at some of the specifications of the material and then we'll dive into the how and why it performs as well as it does and finally we'll conclude with some best practices for getting the most out of your GunSkins.
Technical Specifications
The following list describes in detail the performance you should expect from GunSkins:
HIGH PERFORMANCE 3M VINYL - This is the best stuff on the market today.
ADHESIVE BACKING - Peel off, stick on, re-position as many times as necessary.
MATTE LAMINATED - Non-glossy, non-reflective finish for outdoor use.
MEASURES 6/10 MM - 3/10 mm thickness in printed vinyl and 3/10 mm in lamination.
HEAT ACTIVATED - Rated up to 230 degrees Fahrenheit.
100% WATERPROOF - Completely sealed edges and seams, no moisture seeps underneath.
NON-POROUS - Stop oxidation in its tracks. Prevent rust.
CONFORMABILITY - Molds to any shape and texture. Wrap edges, notches, buttons, pins, adjustment knobs, etc.
COLOR QUALITY - We guarantee color from fading as part of our Lifetime Warranty.
REMOVABLE - Add a little heat and peel it off with no residue left behind.
Tacky to the Touch
A misconception with our product is that if the backing doesn't feel tacky to the touch, it won't stick on the surface and stay on for an extended period of time. Again, GunSkins are not like paper stickers or window clings. The lack of initial tack of an adhesive does not mean the holding power is absent. The adhesive in the vinyl builds bond over time to an engineered level. The combined use of both heat and pressure repeatedly during the installation process is one of the key factors to a lasting wrap. Post heating and letting the vinyl cool for good will cause it will harden and retain shape like a protective shell.
Heat Activated
There's a lot going on when we simply say that our vinyl is "heat activated". While still pliable if used at room temperature, the material becomes much easier to use when warm. The heat causes a separation between the print layer and the lamination on top, allowing for it to be manipulated. Applying heat reaching up to 200 - 225 degrees slowly across the surface will reduce the internal stress of the vinyl and allow it to be pulled, stretched, and pressed down to conform to whatever shape necessary.
Internal Memory
Stretching too far, especially around an edge to create an overlap, may cause problems down the road. If you encounter some areas where the vinyl is peeling back, the likely culprit is because the material was spread too far. Lifting and separation occur because the vinyl has internal memory, just like a piece of elastic. It will always attempt to return to its original state once stretched.
The truth is, the vinyl's internal memory can be destroyed and reset when heated and stretched within acceptable limits. You can tell you're pulling too far because it causes the print to thin out, turning the color white the farther you go. It also looses tactile strength in the adhesive because the piece is covering more surface area than it was intended for.
Adhesive Contamination
It's not expected for the end user to work in a hospital-sterile environment when installing GunSkins, but the cleaner the area, gun, and hands are the better. While working with the vinyl it may be possible for sweat and skin oils to get on the adhesive from your hands. This is especially so when grabbing the material to stretch it into place. This contamination reduces the ultimate adhesion level of the backing.
It is advised to wash your hands and even wipe them with a cloth using isopropyl alcohol to remove any remaining moisture, oil, and debris to reduce the possibility of contamination. Another alternative is to wear a pair of forming fitting latex or vinyl gloves. A simple solution like this can go a long way in ensuring the success of your GunSkins installation.
Do It Yourself
Don't let the technical jargon leave you with the impression you need to be a professional in order to wrap your everyday carry. We've done our best to make GunSkins as accessible as possible, something that anybody can complete in the comfort of their garage. We offer many more helpful articles and installation videos to make it as easy as possible for the end user.
On average, a first time installer can expect 1-2 hours for a Pistol Skin and maybe another hour for a complete AR-15 or Rifle Skin. Mag Skins can be installed in a matter of minutes and its a good place to start for those looking to dip their toe before taking a deep dive. Whether you're a beginner or a seasoned pro, we've got the tips and tricks you need to know so your gun looks great and lasts as long as possible!