Product Feature: AR-15 Rifle & M4 Carbine Camouflage Kit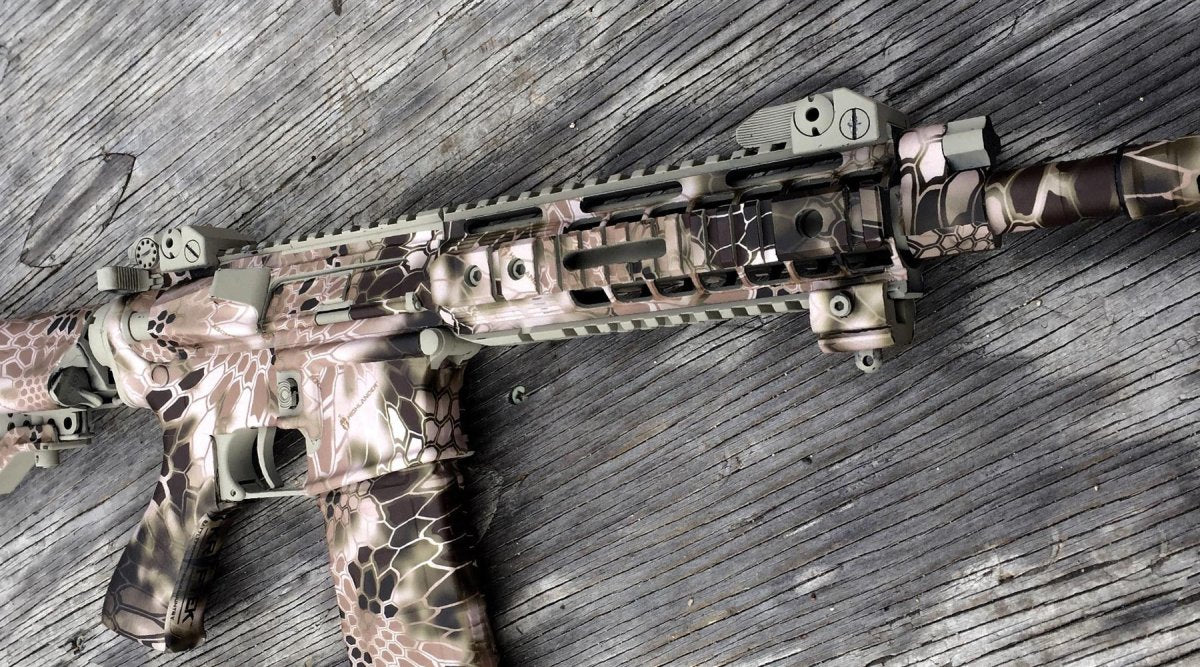 Our top seller is without a doubt the AR-15 & M4 Carbine Camouflage Skin Kit. We may not be the only producer of rifle or shotgun camouflage wraps, but we are the first to design and sell DIY kits specifically for AR-15 Rifles and M4 Carbines. We've tested and tried our template to make it as easy as possible to install on such a complex firearm. It's one-of-a-kind and we have the complete feature right here.
THE FIREARM
"AR" stands for ArmaLite, which is the name of the company that first produced these tactical rifles. ArmaLite was founded in the early 1950s and they focused on making weapons smaller, lighter, and more efficient. The AR-15 was not the first firearm they've released, as there have been AR-5, AR-7, and AR-10 models previously. The AR-15 was designed in 1957, an improvement on the previous (and larger) AR-10.
Eventually, ArmaLite sold the design of the AR-15 to Colt. The new company modified the specs and re-released the firearm as the M16. The current M4 Carbine is derived from the M16. The military heavily uses M4 carbines for combat. It has grown to be one of America's most popular firearms.
AR-15 rifles are still in production, and there are many variations and customizations that can be applied to them. Although they were originally designed as semi-automatic, they can be altered and fitted for full auto. M4 rifles are also quite customizable. Because the M4 has roots to the AR-15, they share many similarities. That's why our kits work perfectly for both models.
THE KIT
Our AR-15 & M4 Camouflage Kit is truly unique. We are the first to offer pre-cut vinyl kits for these weapons. This makes installation much easier than using generic camouflage tape or a gear skin. The pre-cut pieces include:
Upper Receiver (both sides)
Lower Receiver (both sides)
Mag Well (both sides)
Dust Cover
Forward Assist
Picatinny Rail
Mag (both sides)
Grip (both sides)
There are a total of 17 individual pre-cut pieces to peel and stick right on your AR-15 Rifle or M4 Carbine. The largest piece, labeled 'other', is generic enough to cover the barrel and/or any other surface area not addressed by the other pre-cut pieces. If your rifle happens to have more than one set of rails, it's possible to use the extra material to cover them with. Having a sharp hobby knife makes a world of difference!
Our AR-15/M4 Skin Kit is designed for a right-handed firearm. As a result, some of the pre-cut pieces may not fit correctly. In cases like these, we've seen customers simply discard the unusable pre-cut pieces and cut their own using the extra material. Additionally, AR-10 rifles are larger than AR-15s, and it may also require extra work to complete the install.
We can't make kit templates to accommodate every unique type of AR and M4 firearms. If our kit template doesn't match your rifle, we recommend using a Gear Skin instead. You can wrap just about anything with a gear skin, including custom and non-standard AR and M4 rifles.
Watch our Installation Video to see how easy it is to install an AR-15/M4 Skin Kit


TESTIMONIALS
We've had great response from spectators and customers alike. America's favorite rifle inspired us to create America's new favorite gun skin kit. Below are a few of the reviews left for our AR-15/M4 Skin Camouflage Kit.
This is the greatest product to customize your AR. Very easy to install and just pops. I can't say anything bad about this product... Read more
~ Brian Rastatter
One thing I know, if you don't take your time on any project you won't like it! I used this on my AR and it looks just as good if not better then the paint kits you can buy... Read more
~Richard Vellone
I bought this for my AR15.I thought it was a little pricey and hesitated purchasing. However, I am thrilled I chose this product. Much cheaper than cerakote... Read More
~ Cheri Cragi
It's great to see how an amazing piece of equipment can become even more amazing! Some of these rifles are used for hunting, others for special operations, and still some build paintball guns modeled after AR-15s and M4s. Whatever the application may be, there's an AR-15/M4 Skin Kit made just for it. It will protect your firearm while your firearm protects you.