A-TACS AUX Tactical Camouflage for Arid and Urban Concealment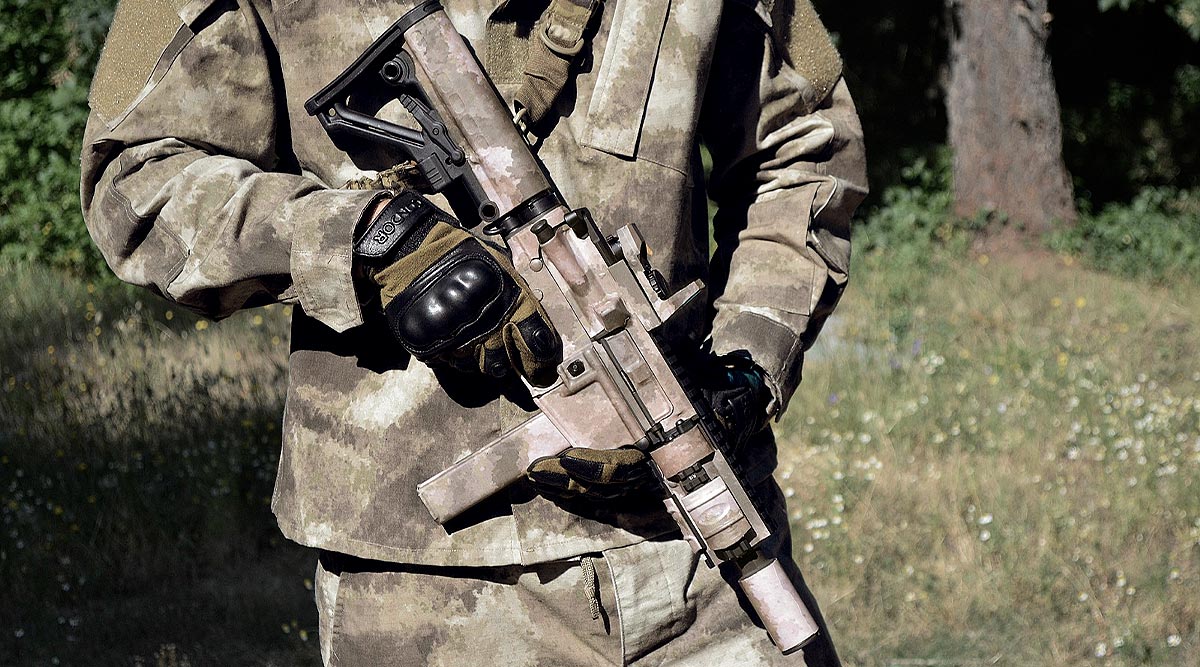 A-TACS stands for Advanced Tactical Concealment System. We currently offer five patterns in this series of camouflage, all produced by Digital Concealment Systems, LLC. This kind of camouflage is produced for tactical applications, which include use in the military, law enforcement, and special operations. The patterns have seen huge success in a relatively short period of time. That's because they work!
These patterns designed by A-TACS can be found on virtually any type of tactical gear and apparel. Bags, vests, shirts, helmets, gloves, and even vehicles have been manufactured featuring these unique camouflage patterns. Their mission statement is as follows:
Our goal from day one has been and continues to be Total Concealment and protection for the operator. From head to toe. We work continuously to help develop and bring to market, products and ideas to meet that goal. From weapon coatings to fully camouflaged footwear and accessories, we strive to deliver A Total Concealment Solution.
APPLICATION
A-TACS AUX was designed for urban and arid environments. The unique feature about this camo is that the colors blend in to a wide range of environments. While some patterns are exclusively designed for specialized locations, the A-TACS AUX pattern can blend in successfully against rock, sand, bark, and brush. The majority of the color pallet used in the AUX pattern contain hues of brown and tan with hints of green throughout. It's amazing to see how the colors morph and alter in appearance when set against different backdrops. It's never the same appearance in two difference environments. That's the power of concealment.
DESIGN
While A-TACS AUX may not be the first digital tactical camouflage pattern to hit the market, it's set apart from any other pattern because of the fluidity in design. Digital camouflage is characterized by the use of square pixels. In contrast the designers at A-TACS took inspiration from nature itself to create a more organic and geographically accurate design. The pattern is able to give the illusion of shape, depth, shadow, and form. These blend in to the environment much better than hard lines and sharp color breaks.
The use of color in this pattern is not at all artificial. The pallet was carefully constructed using photographs of on-location tactical environments. Better yet, A-TACS use of micro and macro patterns gives the camouflage the upper hand when viewed up close and at a distance. The organic shapes are created digitally using mathematical algorithms. The color shapes are so fine and distributed in such a way that there is variety virtually everywhere. This again replicates nature in that any one color in appearance is really comprised of many color samples on a small scale. The Arid/Urban (AUX) was the first pattern designed using this technology.
WHY A-TACS AUX?
We've been using the A-TACS AUX pattern for quite some time before deciding to make a gun skin out of it. All of A-TACS' patterns have been made popular through apparel and gear. It only made sense to match the firearm also. We love how diverse the application can be. You can be standing against the side of an abandoned concrete building, on the desert floor, or on a high mountain, you will be concealed and protected in camouflage. It's one of our personal favorite patterns and most popular sold.
There was a period of trial and error getting the gun skin just right because color on fabric will differ in appearance when compared to vinyl. Rest assured, however, that our A-TACS AUX gunskins kits are officially licensed by Advanced Tactical Concealment Systems and will match the rest of your gear/apparel. This is a great pattern to camouflage your firearm or accessory with.
When it comes to tactical camouflage, we've seen amazing results using this pattern from A-TACS. The thing about camouflage is simple: Blend in to your environment. Without a doubt, the Arid/Urban camo is successful every time. Advanced Tactical Concealment System makes winning camouflage patterns and we are proud to offer them alongside all of the other patterns available for our gun and gear skin kits. You can't go wrong with A-TACS AUX.