Show Some Decal Attitude with a Magwell Skin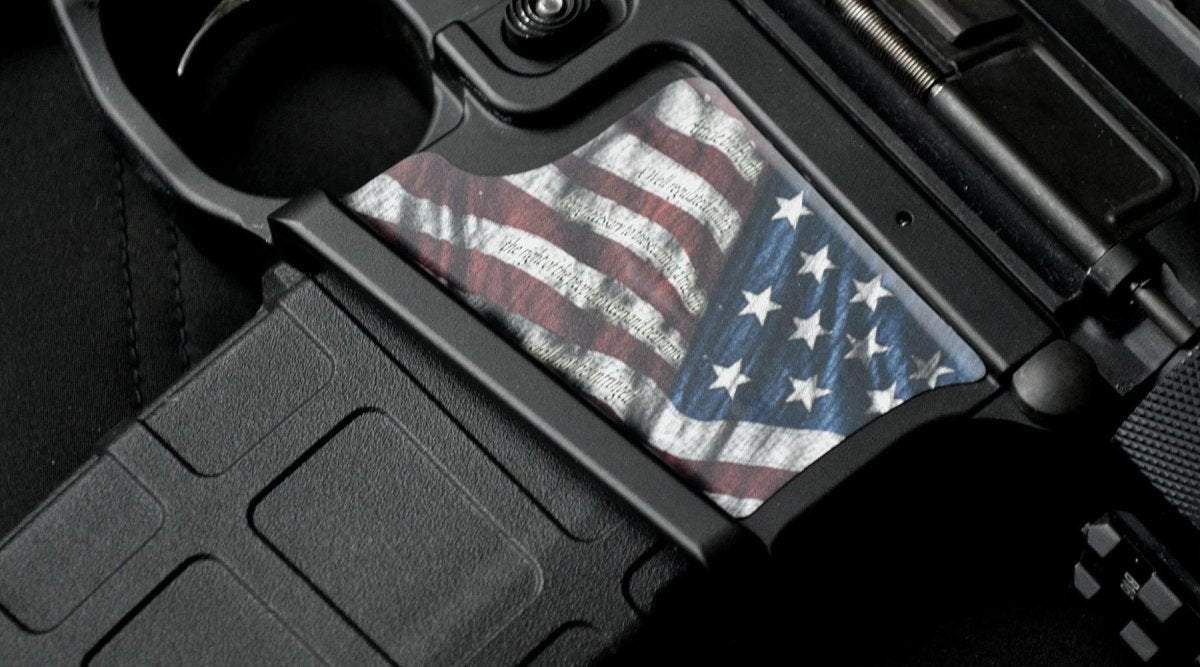 AR-15 lower receivers offer the perfect real estate space for decals, etching, and other forms of decorative imagery. The most recognizable part of the lower receiver, the magwell, is located below the ejection port and is the entry point for the magazine. Magwells remain visibly at all times, even when gripping the gun in the midst of action. For this reason, having a Magwell Skin adhered to the sides of the gun can set your firearm apart from the competition and give it some attitude at the same time.
Magwell Skins come in a variety of specialty patterns, including the popular Skull, American Flag, Molon Labe, and the Rebel Flag. Although we love having our guns wrapped in camouflage, sometimes it speaks volumes to dress an AR-15 in nothing more than a Magwell Skin. It may only cover a small portion of the gun, but the effectiveness is anything but small.
COVER BOTH SIDES
One advantage that GunSkins Magwell Skins have over the competition is that our kit contains pre-cut pieces for both sides of the magwell. They currently retail for $10.99 each, which is a killer deal considering there are two decals per kit. Our templates are designed to fit lower receivers that are sized to military spec.
Most of the specialty patterns that we offer for Magwell Skins were designed exclusively for our product and look great by themselves or when matched with identical Mag Skins. You won't find these unique images anywhere else. All Magwell Skins are proudly made in the USA and they come with the same lifetime warranty that our other GunSkins kits offer.
EASY TO INSTALL
Magwell Skins are DIY (do it yourself) kits that require the user to install. One of the most important steps before installing any GunSkins kit is to thoroughly clean and prep the firearm. A clean gun makes for a clean install. We recommend using a gun-specific degreaser, such as Froglube Solvent, and scrub the surface with a brush. Next, hit the gun with rubbing alcohol to ensure that all moisture and debris are gone. Wipe with a lint-free cloth and you're ready to go!
Installing a Magwell Skin is as simple as peeling the decal, placing it on the surface, and pressing down with your fingers. If you need to re-position the piece, peel it off and try again. The vinyl is very forgiving and easy to work with. Use your fingers to set the material in place and work your way from one end to the other. Having a hand squeegee is recommended when getting the material to conform to small areas. Lastly, hit the magwell with a heat gun or blow dryer to set the material for good.
Because Magwell Skins can be easily removed without any effect on the finish, it's so easy to swap one out for a new favorite. With more than a dozen options to choose from, there's guaranteed to be something for everyone. What kind of decal attitude will you put on display on your AR-15 Rifle? With Magwell Skins, you can show your patriotism, become a zombie slayer, or declare Molon Labe (Come and Take It!).