Best EDC Flashlight To Light Up any Situation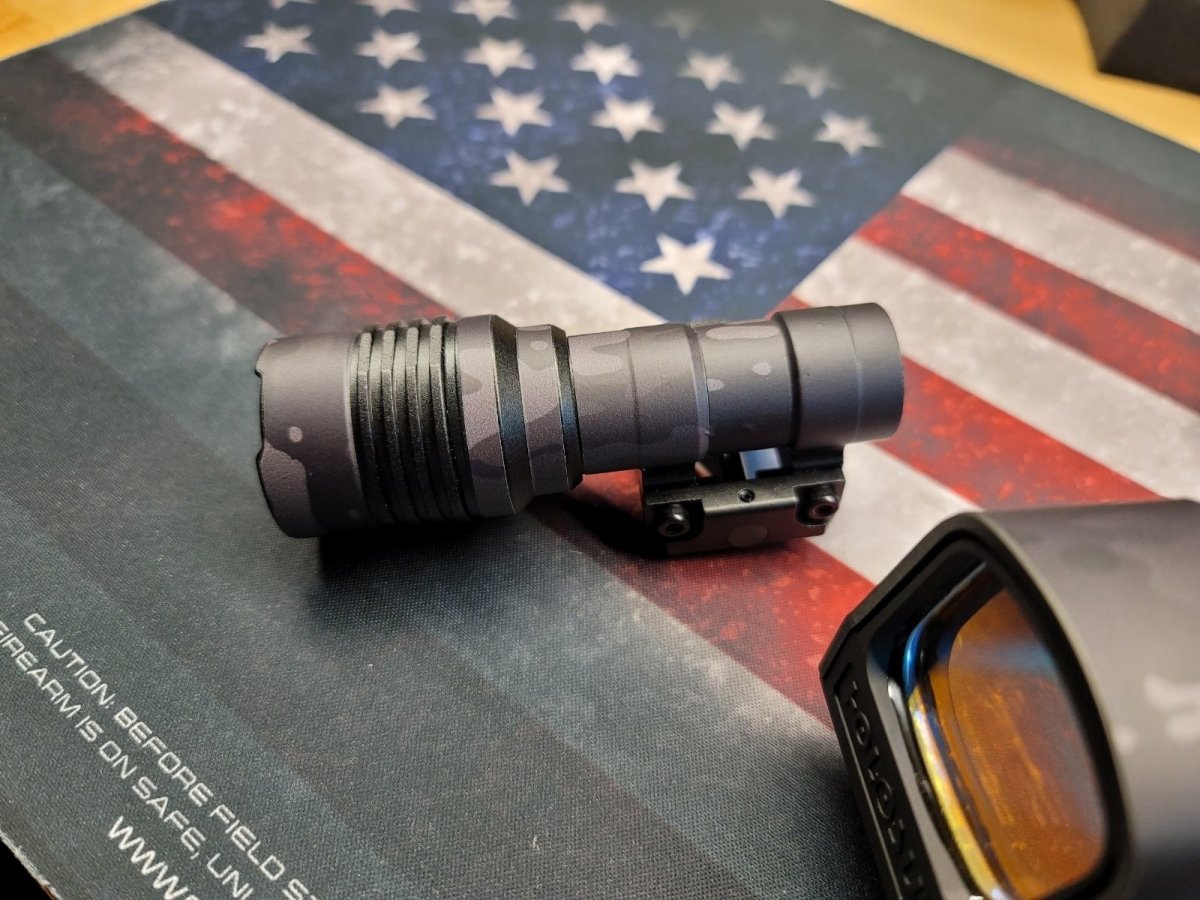 Flashlights are a tried and true method of illuminating the path ahead whenever it starts to get dark out, and there are a ton of options. EDC, or everyday carry, provides extra options and functions for users that make them even more useful than just an additional light source. 
EDC flashlights often come with USB charging these days to avoid throwing batteries away in the trash and are great for a wide variety of scenarios like camping, being out on the range, looking for something in the car, or just going for a walk. 
EDC flashlights need to be functional and lightweight so that anyone can hold on to them all day easily without worrying about weight or losing track of it, so finding the right balance of size is important. 
Different Types of EDC Flashlight
Flashlights come in all shapes and sizes these days, from powerful torches to very small keychain size lights. Anyone of these different types would likely be a great addition to your equipment list, and you likely will be interested in a combination of at least two of these. 
Tactical
EDC flashlights tend to have some features packed in that offer extra functionality in casual circumstances, but if you're in a combat situation and time is of the essence, these miscellaneous add-ons can actually hinder your performance by getting in the way. 
Tactical-based flashlights are built for two main purposes only: to light up the way, and blind potential threats. No frills, no fluff. You don't want to be fumbling around with mode settings when all you need is sudden bright light. 
While a powerful tactical flashlight can cover most of your needs when it comes to illumination, it is nice to have those extra features if you have the time. Assess your intentions with the flashlight and when you might need it to determine whether a tactical light fits you best. 
Penlight
Penlights are similar to tactical lights in that they don't include too many unnecessary features, but for a different reason. Penlights are designed for easy, everyday use and don't need to be cluttered. 
Not as small as keychain lights, penlights provide ample light for a lot of situations, but you likely won't blind anyone with them. They also aren't typically as rugged as tactical flashlights and aren't good as defensive tools. 
The penlight really shines when it comes to shining a moderately bright light when you need it and not taking up too much room when you don't.
Keychain
As you might be able to tell by the name, keychain flashlights are small enough to fit right onto your key ring. They aren't usually your primary flashlight but can come in handy when you just need some quick illumination. 
You won't get the same power as a tactical flashlight or even a penlight from a keychain, but the convenience of their size makes them hard to beat in certain situations like digging through a backpack or finding your shoes in a dark tent. 
What To Consider When Shopping
There are a lot of things to think about when looking for the right flashlight. What you plan on using it for and where, how bright you need it to be, and where you plan on storing it all come up. 
Above all else, it's incredibly important to get a flashlight that is rugged and durable. Some of the lights on our list aren't incredibly cheap, but you don't want to be skimping on a flashlight when you might end up needing it in a life or death situation. 
Battery Life
Long battery life typically means the battery or batteries for the flashlight is larger. A larger battery may add to the overall weight of the flashlight. If you don't need five full days' worth of battery, then odds are you won't really want the flashlight big enough for that much power. 
If you aren't sure how to read milliamps per hour, or mAh as you'll see listed, you can generally count on 5000mAh lasting around four or five hours of continuous use, depending on what mode you have the flashlight on. Of course, this also depends on the brightness of the flashlight's light source, which is typically LED these days. Most flashlight manufacturers will include a fairly reliable estimate for how long a single charge will last.
Charging Options
Charging ports come in all shapes and sizes. A popular option is the micro USB, which works great because they can plug into any USB type C receiver (the classic kind that you think of when someone says USB), and odds are you already have a few spares lying around the house. 
There are flashlights with proprietary charging ports like magnet connections or unique cables, and these work fine—as long as you never lose the specific cord that charges the flashlight. Otherwise, you'll have to order a new one or be stuck with a stylish paperweight. 
Brightness
Just like the battery life, you'll want to think about what you need your flashlight for and how bright you'll need it. It might seem pretty obvious, but the brighter the flashlight, the higher the wattage and the more energy it will need and either die faster or need a bigger battery. 
Brightness is measured in lumens, and you'll see numbers on flashlights that range from 50 to 100 and even over a few thousand. Fifty lumens is going to be something like a mini-flashlight on a keychain, useful for reading a book in low to no light. The flashlights that are 150 are headlamp territory; they're great for seeing what's right in front of you when you need to be hands-free and mobile. 
With 1000 lumens, you'd be able to see your friend waving at you from the other side of a football field in the middle of the night, so it's pretty bright. Keep in mind that wattage is the number to look for in relation to how much battery the flashlight will need. LEDs will have higher lumens and lower wattage than traditional incandescent light bulbs.
Size
Do you need a flashlight that will fit in your pocket? Or perhaps one that will comfortably slide into the water bottle pocket of your backpack? Maybe something that doesn't take up too much room on your keychain. 
The size of the flashlight can be just as important as how bright it gets, and luckily getting a smaller flashlight doesn't always mean getting a weak one. High-quality, bright lights are getting smaller and smaller, meaning that you'll likely find something that fits all of your needs. 
The Best EDC Flashlights
Our favorite flashlights include a variety of different types and strengths because we know that there are different needs people have when it comes to flashlights. While the ultra-bright, tactical flashlights might be appealing, a penlight might better suit your needs. 
Or perhaps a keychain flashlight would supplement your backpack rig best with its convenience and small size. Whatever type of flashlight you're looking for to light the path, these are our favorites. 
Olight S2R II
Starting off our list strong is the Olight S2R II, a fantastic combination of ruggedness and functionality. It's lightweight and can clip onto your back pocket or backpack and can stand a drop from one and a half meters. The type III hard anodized 6061-T6 aluminum protects it from just about anything, even being submerged for up to 30 minutes. You can also add an extra layer of protection by properly applying a killer vinyl design to the S2R II.
Not only is this thing a pocket-sized tank, but it's also extremely bright. At its strongest mode, aptly titled Turbo, the Olight shoots out 1150 lumens for a 135-meter range. But that's just one of its five power modes, not including the strobe. 
It's got a good grip texture and USB charging with a three-color power system that tells you roughly how much you have left. 
Fenix PD35 V2
Another lightweight powerhouse is the Fenix PD35 V2. The second generation of the original PD35 can take either CR123A batteries or micro USB to recharge an internal lithium-ion battery. With 1000 lumen max the PD35 V2 has a 273-yard range of light at its brightest, but it also has more commonly usable settings like its 150-lumen mid mode and 50 lumen low mode. 
The PD35 V2 has an IP68 durability rating which means that no matter where you take it or what you put it through the flashlight will be able to keep up, and as with the Olight S2R, it's the perfect size for a pocket or small backpack pocket. 
SureFire E2T-MV
If you want an EDC flashlight that takes some notes from more tactical options then the SureFire E2T-MV is your best bet. The powerful 800 lumens are designed with defense in mind with a wide beam providing ample opportunities to blind an attacker if one were to come at you. 
It's activated by a tail-cap switch that rotates between modes and the whole structure is IPX7 rated which will survive as much as you can give it. The E2T-MV runs on CR123A batteries and will keep lighting up your way from anywhere between an hour and a half on high or 95 hours on low, which would be extremely useful on long hunting trips out in Montana.
The flashlight has a sleek black finish for a tactical appearance and the belt clip assures that it'll stay secured wherever you decide to place it, but if you want a more reliable camouflage finish you can always apply your favorite vinyl wrap design to the flashlight which will provide a strong sense of style and protection. 
Olight i1R 2 EOS
If the 1000 lumen options seem like overkill for your needs then the Olight i1R 2 EOS that makes our list might be a good fit for you. The i1R 2 EOS is keychain size but doesn't compromise on power. It has an output of 150 lumens which is fantastic for a flashlight that's only 1.75 inches long and barely half an inch wide. 
It has a simple design, no buttons or fancy switches, just a classic rotation activation that runs from 5 lumens up to its max 150. It's got a micro USB for charging and enough water protection to take a short dip in the pool. 
While the i1R EOS isn't necessarily a good choice as a primary flashlight, it would definitely be an amazing choice for a backpack attachment or casual keyring accessory. 
Streamlight Microstream
Wanting something that splits the difference between the i1R EOS and the S2R? Take a look at the Streamlight Microstream Pocket Light, a fantastically compact yet powerful penlight. Penlights get a bit of a bad wrap for being flimsy but believe us when we say that this one breaks the stereotype. 
Built from anodized aluminum the Microstream is barely four inches long and weighs in at a whopping 1.2 ounces, so bring the truck when you go to pick one up. Jokes aside, the Microstream packs 250 lumens that reach the 65-meter range easily making it a serious contender for your lightweight needs. Micro USB charging fills up the battery fast and will last a total of an hour and a half on full brightness mode, three and a half on low.
Lumintop FW3A
The Lumintop FW3A is not a flashlight to casually play with. It's easily the most compact, yet most powerful flashlight on our list. Maxing out at a stunning 2800 lumen the FW3A is one of the brightest flashlights you can get in its size range, if not the brightest. It takes one 18650 battery and isn't much longer than a AA battery at three and a half inches, perfect for belt clips. 
It's got a great build and a simple-to-use bottom button for power modes. We don't really have a lot to say about this one, it's honestly just such a small, powerful flashlight that any flashlight user would enjoy. 
Wrapping It Up
Now you have plenty of options to choose from when it comes to flashlights. These will take you from task to task each day, and keep you safe when it gets dark out. 
Sources:
What is EDC? A Beginner's Guide to Everyday Carry 2021 | The Manual 
Tactical Flashlights: How to Use Them for Self-Defense | Art of Manliness 
Best EDC Flashlight | EDC Ninja  
Olight S2r Baton II | OlightWorld.com
Fenix PD35 v2 0 LED Flashlight 1000 Lumens | Fenix-Store.com
Surefire E2T MV Tactician | Kellac.com
Olight Rechargeable Keychain Battery | Amazon