Best Hunting Boots To Get Out in the Muck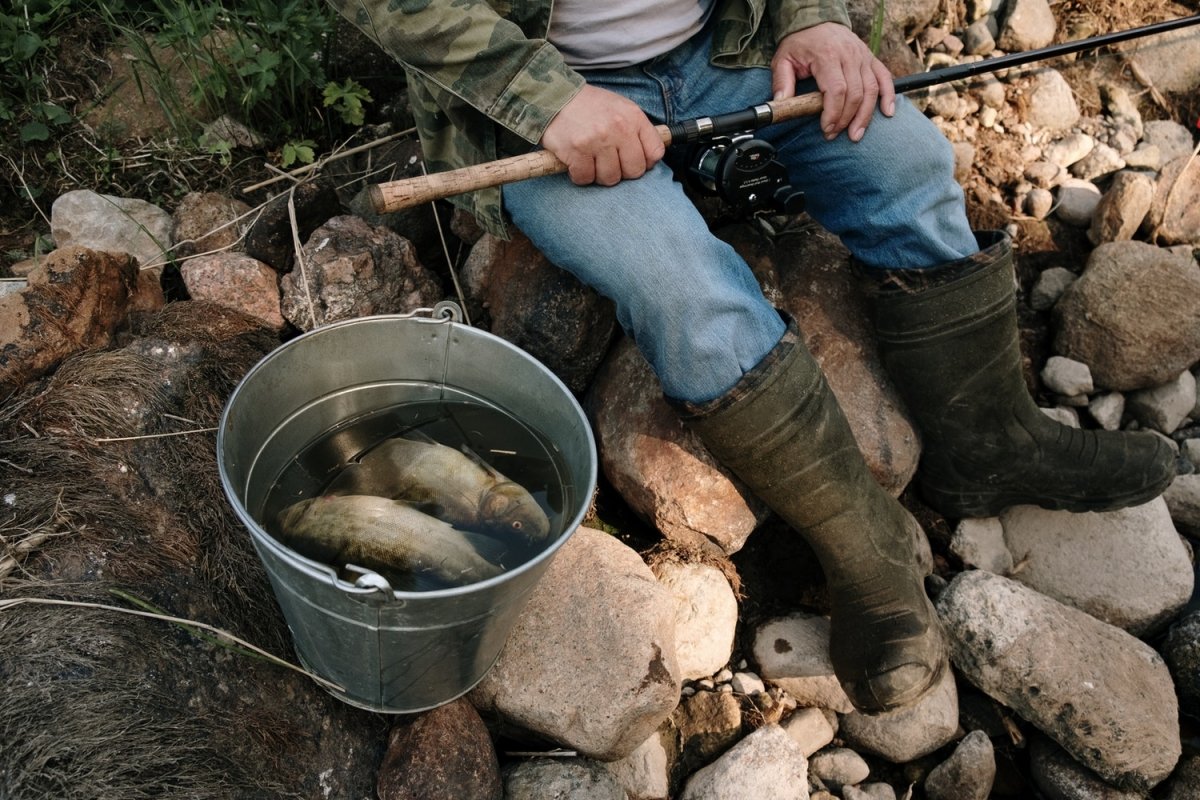 Any hunter that's been out in less than perfect conditions will know that the experience of their trip depends a lot on the gear that they bring, from their rifle to their jacket and even the perfect hunting knife. But one in particular that can really make or break a trip is the boots they strap their feet into. 
Whether you're planning a day in the blind or a week-long backpacking trip, your hunting boots need to be there to provide support and protection so that you can carry on through the conditions. But with so many options available, it can be difficult to be confident in finding the right pair. 
That's why we put together this list of the best hunting boots for getting out into nature, without getting your feet wet. 
What Makes the Perfect Pair of Boots?
Finding the perfect boots might seem a little difficult. There are so many great options out there. The important things to keep in mind while shopping is what your budget is, how long you want them to last, and what you plan on doing with them. 
Some boots will have either leather or synthetic materials on the outside. Leather is a great choice for the hunter looking to hunt their prey from a deer blind, do some on-foot stalking, or plan on wearing the boots for other occasions since leather is a particularly stylish material. 
The synthetic options will still look good but won't have that classic appearance; however, they provide some qualities that leather will struggle to keep up with like advanced waterproofing in deep water situations. 
If you plan on doing more on-foot hunting then a boot with a comfortable sole will be critical to keeping your stamina up over the course of a trip. Memory foam and other insole technologies are good to keep an eye out for. 
And if you are planning a multi-day trek in the wild, a form of scent protection is a great addition to look for. While there are sprays that you can find that will get the job done, it's best to find a boot specifically designed to keep your feet dry, clean, and fresh.  
Top Picks for Boots
We've put together a list of our top 13 picks for boots that won't disappoint you. They cover a wide variety of needs, so whatever kind of trip you're looking to make there's a boot here for you. 
Irish Setter VaprTrek
Our first Irish Setter boot on this list, VaprTreks is for the hunter that anticipates a lot of water on their trip. Leather looks great and is certainly a great choice for most hunting environments, but sometimes the synthetic material stands out. This is one of those times. 
From the inside to the outside these boots are filled with over 100 years of boot technology and design, offering top-tier comfort and protection. A waterproof exterior and eight inches of room for your leg protects your feet in the deepest of puddles, and breathable interior fabric and a specially designed material that protects against unwanted scents will keep your feet undetected by your prey (or fellow hunters.) 
Throw in the ArmaTec Toe Protection that keeps your toes safe in the case of impact, similar to a steel toe but significantly lighter, and the VaprTrek becomes an excellent choice for a hunter who isn't afraid to get into the muck. 
Chippewa Bolville Nano Comp Toe
Going back all the way to 1901, Chippewa is one of the country's oldest boot companies, developing high-quality techniques and only using the finest materials to make solid boots for over a century. 
The Bolville Nano Comp Toe boots are great for beginner hunters, providing excellent comfort and protection against the elements. With 400 grams of Thinsulate and Dri-Lex Dri-Freeze support, these boots are perfect in midseason, offering a good amount of comfort and style while keeping your feet dry and warm.
Lowa Tibet GTX
Lowa Tibet GTX boots are one of the best boot options when it comes to just about any situation. Manufactured in Germany, these boots deliver excellence in every category.
Built with a high-quality cattle leather that's been buffed on the grain called Nubuck, the Tibet GTX is about as durable as they come. Adding in a layer of Gore-Tex for advanced protection against any water without adding too much weight or warmth, you can be confident that these boots will last you quite a while. 
But these boots aren't just great on the outside, they also take care of your feet on the inside. The Merrel Air Cushion Midsole is an air chamber within the sole that gives the boots excellent shock absorption and stability, providing some much-needed comfort and control out in the wild.  
Baffin Impact
For hunters that take the cold seriously, the Baffin Impact boots are a no-brainer. These bulletproof boots are designed with several layers of insulation and waterproofing that will keep you warm even in below-zero conditions. 
They aren't exactly intended for tours of the wild and don't have as much arch support as some of the other options here, but if you're looking for something that you could literally hunt in tundra with, look no further. 
Columbia Newton Ridge Plus II
Columbia has a long line of excellent hunting products, from jackets to hats to boots. Our favorite in their boot selection is the Newton Ridge Plus II. With zero compromises, these boots are the total package. 
A perfect blend of leather and synthetic materials, the Newton Ridge Plus IIs provide extra comfort for your heels while keeping your entire foot warm and dry. Outdry technology keeps the water away from your feet and the Omni-Grip outsole keeps you firmly planted wherever you stand. 
These boots are an excellent choice for the hunter looking to get out in the wild for longer periods of time, with the protection and comfort you need to come back home without any worries of achy feet. 
Irish Setter Elk Tracker
Our second pair of Irish Setter boots, the Elk Trackers stand as a testament to the company's versatility and consistency in quality. The Elk Trackers aren't Irish Setters' top-shelf options; however, they make our list because of their high-quality build for a great value. 
With 1000g Thinsulate Ultra Insulation, the Elk Trackers keep your feet warm no matter what conditions you're hunting in, and the Gore-Tex lining and high shaft design keep you dry when walking through even the deepest of puddles. 
Memory foam ensures that every step you take is soft and comfortable, making these boots a great fit for hunters that stalk their prey over long periods of time. 
Kenetrek Mountain Extreme
When Kenetrek designed these boots and named them Mountain Extremes, they weren't taking the term "extreme" lightly. Built to last years and years, the leather and rubber combination provides reliable traction in the worst conditions and durability without question. 
While a little care should be taken with any leather product, these boots offer high-quality, U.S.-made materials that a hunter can depend on. These are the type of boots you spend the money on once every decade, not every season. 
Scarpa Fuego
If your hunt includes time out in the alpine then the Scarpa Fuego will be a great match. They're designed for wildland firefighters and are extremely heavy-duty—yet still exceptionally comfortable. With an eight-inch reach the Fuego's fight off any water or snow trying to get in, and the vibram M4 Tech sole will keep your feet comfortable for as long as you're out on the hunt. 
Scarpa put extra ankle support into the reach for hunters that need additional support, allowing hunters to cross just about any type of terrain imaginable. 
Bogs Blaze II
When it comes to boots that can handle the cold, wet climates of the wild in the Fall, the Bogs Blaze II is a classic design with a modern twist to keep them in the running. A fan favorite amongst hunters, the Bowman takes the classic rain boot construction and mixes in Neo-Tech technology that keeps your feet warm, without getting sweaty. 
Completely waterproof, these simple yet durable boots are a hunter's best friend out in the range. The long stretch of boot coming up from where the tongue would be reaches up for 16 inches, so no matter what muck you're traveling through you can be confident your feet will stay dry and clean.  
Xpeti Thermator
The Xpeti Thermator boots are the perfect choice for a hunter searching for an adventure. Durable and lightweight, the Thermators have multiple levels of protection against moisture including a Hydroshield membrane, a waterproof mesh shield, and moisture managing lining that prevent your feet from getting wet from the inside and outside of the boot. 
The aggressive treads underneath provide top-tier traction, and even on the coldest of hunts, the 200 grams of Thinsulate insulation will keep your toes nice and warm. 
To keep your feet balanced and comfortable the boots also have an EVA midsole for shock absorption and a molded TPU for ankle support. Xpeti put together a pair of boots that can handle just about any conditions for the hunter that likes to get out there. 
Rocky Broadhead 800G
For the hunter that does a lot of standing and creeping, the Rocky Broadhead 800G's are a great pair of boots. Constructed out of a combination of high quality and lightweight material like Dual-Density EVA rubber, Realtree Xtra, and ripstop nylon, these boots are 33% lighter than the average leading boot. 
But don't let the lightweight nature of these boots push you away, because they definitely don't sacrifice any durability or protection. Multiple layers of waterproof and moisture management technology keep your feet dry from both the inside and outside of the boot. 
The Rocky Broadheads also boast the Energy Bed memory foam, so no matter how long you're out hunting you can depend on these boots to keep your feet comfortable out in the wild. 
Meindl Vakuum
If you're a hunter with high expectations and none of the boots we've talked about thus far seem to meet your standards, the Meindl Vakuum might be the right fit for you. While certainly not the cheapest pair on the list, the Vakuums are extremely difficult to beat when it comes to quality. 
Constructed with lightweight Nubuck leather that holds up even after years of wear and tear, these boots are built to handle harsh conditions. A custom vibram sole offers excellent comfort control and the tread is designed to maintain stability on any surface nature can throw at you. 
Gore-Tex lining keeps the water out and cork insoles keep the interior moisture under control, so you can depend on these boots from dusk till dawn. They are a bit of an investment, but certainly a worthwhile one. 
Gokey The Supreme
Gokey has been a go-to for hunters looking for high-quality upland boots. The Supreme boots are just that- Supreme. Undeniable build quality provides protection and support for years to come, and the 10 inches of extra ride these boots have keep your feet dry and protected from the brush. 
While they may look like moccasins on steroids, these boots are anything but indoor slippers on the outside with a rugged bull hide construction. However on the inside, with the amount of comfort they offer your feet, you might forget you're out in the wild and not at home strolling towards a warm fire pit. 
Wolverine Bobwhite
Wolverine sets a standard for high-quality, high-value boots. Their Bobwhites are no exception. With a half-and-half mix of leather with synthetic Cordura nylon, these offer a strong exterior with plenty of flexibility and comfort. 
Waterproof on the outside and moisture-controlling on the inside, the Bobwhites are a great fit for any hunting trip you could plan, all for a great price. 
Salomon Quest 4 GTX
For the hunter that likes to get out and go after any type of prey, the Salomon Quest 4 GTX are a great choice due to their flexibility. They're lightweight yet extremely durable, and the tread design will keep you upright no matter what path you take. 
The design is based on Salomon's running shoes, which means that they took the form-fitting, ergonomic base runners depend on and put it into a sturdy construction. This gives the boots amazing comfort and support when you're out in the field, whether you're out for a day or a long haul. 
Under Armour Valsetz
Under Armour might not seem like the company to make durable and rugged boots for the outdoors, but they stepped up to the plate and knocked it out of the park with the Valsetz Military and Tactical boots. 
Completely synthetic materials mean that there's no break-in period, and they'll be lightweight without compromising their strength. They've implemented a Clutch Fit ankle support system that molds to your foot and provides a high level of support and comfort, all while fighting off the external conditions with a welded PU film. An Ultralight Micro G EVA midsole reduces shock and impact on your feet, making it easier to trek for long periods of time. Not to mention, they look pretty sleek. 
Advice for Finding the Perfect Pair of Boots
For Early Season Hunting
When preparing for early season hunting, one of the most important factors to consider is breathability and comfort. Since the moisture levels might be lower in the late Summer or early Fall, the extreme waterproof qualities some boots have aren't quite as essential, though a fair amount of waterproofness never hurt anyone. 
You also likely won't need too much insulation like some boots offer because it won't be all that cold, so look for boots that focus on comfort and scent protection over resistance to harsh conditions that you might not face. 
For Midseason Hunting
Midseason is when the insulation really starts to make a difference. As it starts to get colder you'll want to have more protection against the elements than you need, instead of the other way around. 
Comfort is still important, but start to look out for rugged waterproof abilities and insulation. Granted you don't need the heavy-duty coverage until late season, but it's better to be safe than sorry. 
For Late Season Hunting
As we get further into winter and snowy conditions, you'll want more protection on your feet. Comfort and support are important, but insulation and strength will make a huge difference in your late-season hunting experience. Protecting your gear from the cold is critical, and especially for your feet. No one wants cold, wet feet walking through the snow. 
Look for boots with a high reach that will keep the snow out of your socks and consider the synthetic materials as they might hold up a little stronger soaking in the harsh conditions than leather will. 
What You'll Need for Walking
If your hunt involves stalking and following your prey for longer times instead of camping out in a deer blind you'll want to focus on comfort and support. Hours of carrying heavy equipment through the wild can really add up on your feet, so the more your shoes can cushion the blow the better. 
Look for vibram soles and midsole inserts that provide extra comfort, as well as scent protection and moisture control. Accumulating odors can give away your position to your target, not to mention make for some unwanted comments from your fellow hunters.
Where You're Going Makes a Difference
Whether you're hunting in a flat field, through a winding forest, or facing rocky paths, you'll want boots to match where you're going. 
For fields, you don't need to be as concerned about tread or advanced stability features since you'll be mostly walking on flat ground. However, those rugged outsoles will make a huge difference if you're essentially climbing up muddy mountains and your ankles will thank you. 
To Size up, or Not to Size up
It's an old saying that, when buying boots, you should consider a pair that's a size larger than you would normally buy your shoes. This is due to swelling that can occur after long days on your feet, as well as extra room for sturdy socks that provide extra support and insulation. 
However, buying boots too big for your foot can be a major problem as even the smallest amount of sliding can cause painful blisters on your feet that can put an end to an enjoyable hunting trip pretty quickly. 
We recommend trying on your boots at the end of a day full of walking so that your feet are in their primed condition and have a few different socks available. The manufacturer will provide information regarding their sizing, but buying boots a little too big for the sake of it isn't suggested. 
Pros and Cons of High Reaching Boots
Some of the boots on our list are ankle height, others reach up a little further, and a few pairs reach up nearly 12" past the ankle. These boots have different positive and negative qualities and it completely depends on what your objective is which you should go for. 
High-reaching boots are great for snow and wet conditions because they allow hunters to travel through more harsh conditions without getting their socks wet. However, they do reduce your mobility and increase the weight of the boot, making long adventures a bit more difficult. 
Ankle-high boots significantly reduce the weight and offer more versatility, but if you walk in just about any amount of snow or water you're bound to get some leaking into your socks. 
Get Your Boots and Get Hunting 
Whether you're tracking alligators in a swamp or trekking through muddy tundra to bag an elk, hunting boots are key to staying warm, comfortable, and ready for anything. The list we have here is a great starting point, but you know your preferences better than we do. Do your research and don't be too stubborn to try something new. You may find your new favorite boots in the process.
Sources:
Choose The Perfect Hunting Boot: The 8 Rules of Fit | Petersen Hunting 
Best Hunting Boots For Any Weather Conditions | Outdoor Life
7 Steps For Late-Season Whitetails | North American Whitetail