Top 4 Gun Accessory Gifts for the Gun Operator in Your Life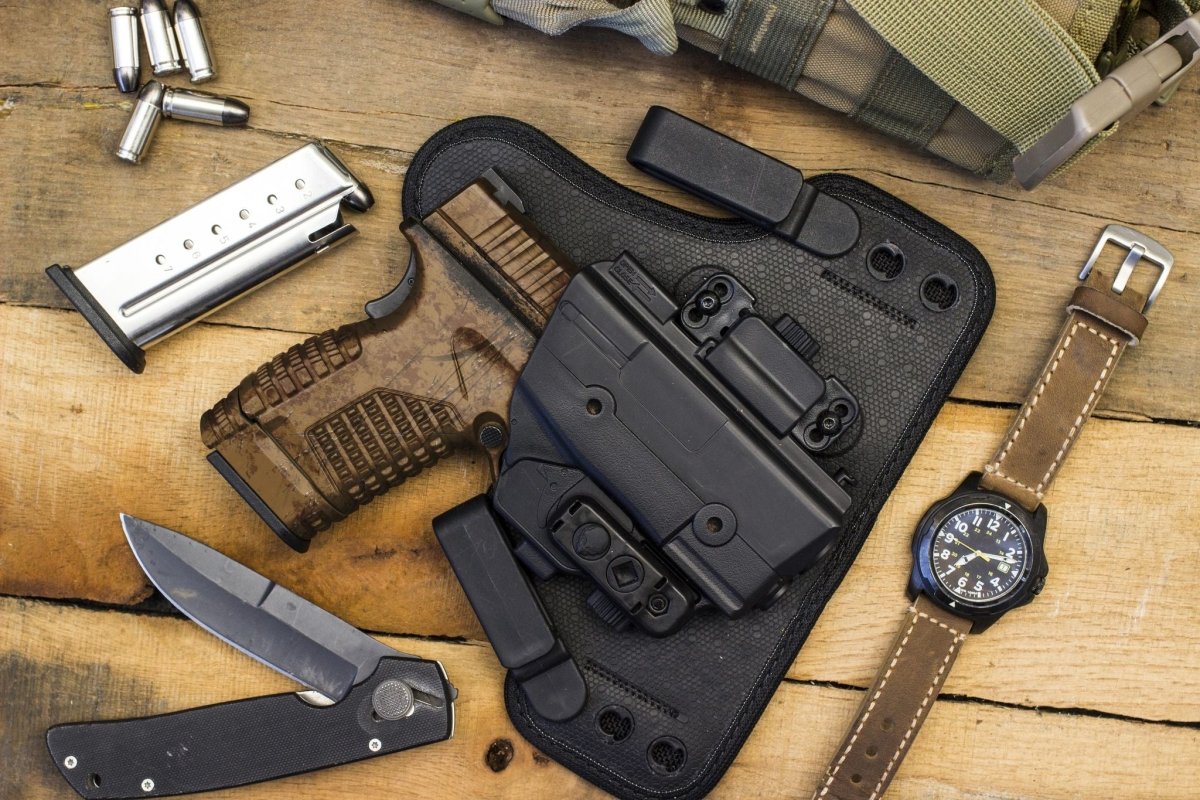 Whether it's for a birthday or the holiday season, giving the perfect gift can be simple. You know someone who operates guns, and there's no better time to give them a gift they'll remember forever.
If you're stuck on what to find for this particular person, look no further: We have four great accessories for gun enthusiasts that are sure to make them want to get out on the range. 
The Best Accessories for People Who Love Guns 
Gun enthusiasts can be a particular bunch. While one gun owner might love one type of accessory, another may find it useless. It can be doubly challenging to find a great accessory if you don't know much about guns in the first place.

Don't worry. There's more out there than you think.
Practical Gun Accessories 
You need a practical gift for a practical gun owner who is no-frills and doesn't abide fluff. Some of the best practical accessories include concealed carry clothing, hearing protection, ammo boxes, gun cleaning kits, and anything they can actually use for their gun. If they can take it out of the box and use it, they'll love it.

Stylish Gun Accessories 
Your gun enthusiast is all about flair and fashion. There are plenty of great gifts for them, too. From Second Amendment-themed house decor and clothing to artsy prints that speak to their inner sharpshooter, there's something for gun owners of every size and style.

Fun Gun Accessories 
Some of the best gun accessories are just something fun, silly, and unique that your gun enthusiast can show off. If they're a coffee evangelist, you could get them a handgun mug. Or if they're a drinker of a different ilk, you could get them a decanter shaped like a pistol. Guns are serious business, but expressing just how much you like them is half the fun. 
5 Gun Accessories for Every Gun Enthusiast 
Whether the gun enthusiast in your life is practical, stylish, fun, or all of these, guaranteed one of these five gifts will bring on the holiday cheer and impress them with your know-how. 
1. Gun-Themed House Decor
Aside from posters and wall signs, there are plenty of other patriotic tangible items that your favorite gun enthusiast will adore receiving during the holidays – or any day. 
Check out these 12-gauge coasters. These coasters are a great way to protect furniture. You could spoil your gun enthusiast and throw in a pistol-forming ice tray for good measure. They could use their new 12-gauge coasters by placing drinks with ice in the shape of a pistol. This also falls under the category of very fun and thoughtful while serving a terrific purpose in possibly improving the quality of your recipients' drink taste and appearance.
This would be an excellent gift for a gun enthusiast that thoroughly enjoys drinking alcohol on the rocks. It might seem like a very simple idea, but gifts like these can go a long way based on the personalization and thought that goes into it. 
Our final idea going off this drinking theme is a set of 12-gauge themed shot glasses. These exquisite glasses from Thin Blue Line are the perfect idea for a gun-enthusiast recipient who prefers their liquor in shot-form or maybe somebody of the younger variety versus the pistol ice tray. All three of these gun-related alcohol gifts could be combined into a trio of one that your recipient will truly enjoy.
2. Concealed Carry Clothing
Following a similar notion to purchasing your recipient a gun-based wall decor, clothing that flaunts firearms are also widely respected and represented by the same community. Make sure to have your recipient's proper shirt or pants size before purchasing a piece of clothing that matches their ideals when it comes to the 2nd amendment, hunting, or some other gun-related clothing idea.
Like the wall decor, there are also numerous amount of gun-related t-shirts, sweatshirts, hats, and more that are specifically designed to adhere to the likes of gun enthusiasts and are never a bad gift idea whatsoever. Be sure to also not purchase your recipient a piece of gun-related clothing that they already own. This can be simply checked by asking another family member or significant other if that person owns the clothing or not.
3. Gifts for the Range 
One of the more common ways to practice one's aim on the shooting range or somewhere on a hunting property is by shooting empty bottles from a distance.
Some shatterproof bottle targets are great for target practice. They come in different sizes and colors. The best part about these is that you don't have to replace the bottles after shooting them. Just prop them up again once you've knocked them down or finished your practice round.
4. GunSkins Premium Vinyl Wraps
GunSkins premium vinyl wraps are the best accessories money can buy for the practical gun owner who also happens to be stylish. These vinyl wraps are designed for a variety of different firearms, including handguns and pistols, shotguns, and rifles. They can be easily removed and customized to fit any shape and size firearm. They also come in various designs, including patriotic, military, and tactical designs (and a handful of fun ones, like Marvel's Punisher). 
Not only do these slickly designed skins cover your weapon and give a new spice to their appearance, but they also provide an extra layer of protection to keep your gun from potentially getting damaged while it's in use. To put it frankly, by buying your recipient a vinyl wrap from GunSkins, you will drastically improve the appearance of their firearm while simultaneously prolonging its condition over time.
GunSkins also sells an array of apparel, including sweatshirts, shirts, and hats. If you're undecided on what your gun-loving recipient specifically might want for the holiday season, you can also find answers here.
A great fallback option could be to purchase your recipient a GunSkins gift card. This way, you can guarantee that your gift recipient will spend their holiday funds on a gun-related item that they know they'll enjoy. This idea can apply to people buying gifts for gun lovers that might not know anything about the industry and are therefore stumped to know what items are more desirable than others.
Gift cards for any gun-related store (e.g., Cabelas, Bass Pro Shops, etc.) can be extremely helpful for holiday shoppers who tend to procrastinate their gift shopping routine as close as possible to December 25. Not only will your recipient love their present, but it will also be seen as a very thoughtful idea even if you might have put off your holiday shopping until later in the season as you would've liked to.
Important Takeaways to Remember
After garnering a set of potential gift ideas for that fun-loving person in your life, hopefully you were able to identify a few things to apply to your checklist. From 12-gauge shot glasses to something as simple as a store gift card to a gun-related place, there is a large number of ideas you can look to find for that specific recipient.
Sources:
31 Straight Shooting Gift Ideas for Gun Lovers | Gift Lab
25 Gift Ideas for Gun Lovers | Concealed Carry Society
GoSports Outdoors Blast Bottles - 6 Pack Shatterproof Shooting Targets | Overstock