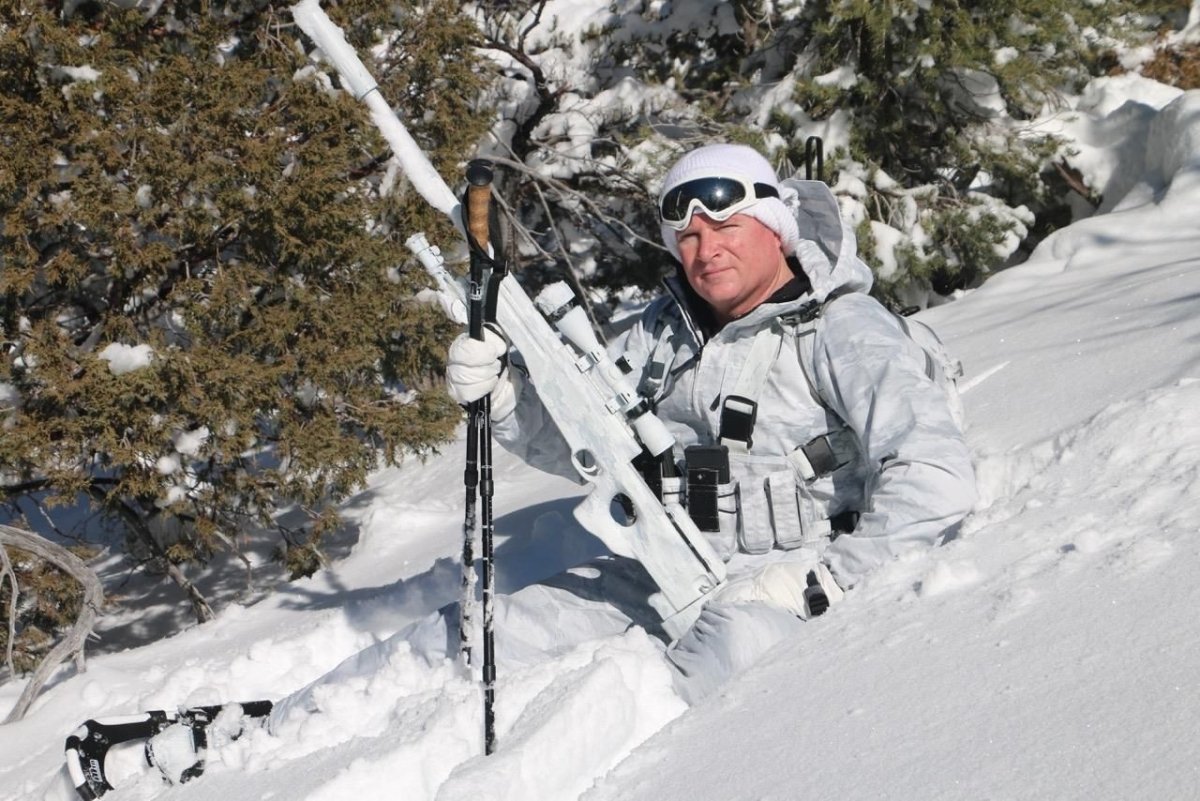 The end of 2021 is upon us. This obviously includes the holiday season and the changing of the new year, but it's also one of the best times of year for a unique and exciting hunting expedition. Once the snow is on the ground, it's time to switch out your forest and muddy water camo for some snow camo.
Luckily, snow camo has been around for a while now, and it comes in many different designs and applications. Let's identify what type of snow camo you need for primo winter hunting. 
Why Do People Use Camouflage in the First Place?
In brief terms, camouflage is intended to blend humans into their surrounding environments so that they can avoid detection. It's utilized by the military to avoid detection from enemy troops and surveillance, and hunters use it to make it harder for animals to notice them.
Realtree Xtra is one of the most commonly recognized patterns, and for a good reason. The camouflage designer Realtree Camo has been around for decades—since 1986 to be exact. Realtree is iconic, but Realtree Xtra Snow takes it up a notch. The Xtra variation comes from years of design practice and study. This new pattern can mimic multitudes of environments and is as stealthy as you are. 
The Realtree Xtra's methodology is mimicry. Each pattern is utilized for different cases across the board. Realtree Xtra tends to be the primary hunting camo usually posted in one spot and attempting to conceal themselves from animals. 
What Will You Use It For?
To figure out exactly what you want to use your snow camo for, determine the type of hunting you'll be doing – whether goose, ice fishing, or late-season deer hunting. If you're relatively new to hunting and camo, remember a very important rule: You shouldn't be using the same camo for every type of sport.
In short terms, your camo should never be generalized and used for all aspects of hunting. You should own specifically fitted camo for the hunting and scenery. Sometimes these patterns can overlap, but it's important to analyze what type of environment you will hunt in.
What Is Snow Camouflage?
In case you didn't know already, there are a wide variety of camouflage patterns and a vast array of snow designs as well. Like the winter environments that change from specific areas to others, camo has to represent this notion as well. Here are some of the different types of snow camouflage and some directions on what aspects of the environment to note when choosing yours.
Analyzing Your Environment
The type of clothing you're wearing during a hunt depends on the animal you're tracking and the conditions around you. As we all know, the weather is probably the least predictable thing there can be, so there are different types of snowy environments you might find yourself in.
Early and Late Winter
There is always a bit of overlap when seasons change, and camouflage should also need to be adjusted accordingly. When there is some snow covering the ground but not the entirety of the surrounding scenery, a great combination could be the M05 snow camo pants and M05 winter camo or M05 woodland camo jacket.
By adjusting to the woodland-styled camo due to the green of the trees and other objects in your background, this camouflage will better help you blend into the horizon. For example, when in a forest at the edge of a clearing, your pants will blend into the ground while your upper body will look identical to the treeline.
When you're creating a mixed outfit like described above, it is assumed that the forest is darker than the white-covered ground. The subsequent upper body gear and face camo should blend into this background. You will successfully do this by using either the M05 woodland or green combat camo. You could also add further towards your camo with spruce twigs if necessary.
Heart of Winter
When the winter season is fully upon us and snow is everywhere, a wonderful camo choice would be the M05 snow camo outfit. It tends to be a little more difficult to camouflage the remainder of your gear because of the green or woodland camo pattern. As a result, very few people will carry snow camo gear as an option.
However, fear not – a little work on your own accord can easily fix this issue! Simply attach white fabric strips to your gear and connect them to the PALS webbing or other points. When properly made, the white camo material should blend very well over a dark background which emulates the M05 snow camo.
As a result, this gear should allow you to blend properly into the surrounding environment very effectively. Also, when completing your do-it-yourself snow camouflage, be sure to pick a material suited for the cold weather. Try to test your gear before the real thing, as freezing temperatures can cause certain materials to stick together. You want to make sure you avoid any sort of blocker that might prevent your access to the cling on your gun or your pockets.
Don't Forget These Things Too!
You might assume that camouflaging your upper and lower body will suffice. Your face and firearm matter too. As much as possible, every part of your body should be covered. 
A balaclava is the easiest way to camouflage your face in snowy conditions. You could also paint your face black and white to make your facial features less distinguishable. As long as there isn't any moisture between the face paint and your skin, you shouldn't have to worry about frostbite. 
It makes the most sense to match your gear camo to your gun when it comes to covering your gear and gun in snow camo. For a wide selection of gun wraps, check out the products over at GunSkins.
When we go hunting, we take our cues from nature. The polar bear is a successful predator because he blends perfectly with the snowy environment. A black or starkly colored gun sticks out, alerting game nearby to your presence before you even have a chance. To be as successful as the polar bear, your gear must blend as well as the apex predators of the arctic.
GunSkins provides an answer to gun and gear concealment that includes easy-to-remove vinyl wrap products. Not only will your firearm have properly adequate camo that matches the rest of your gear, but the vinyl material provides an extra layer of protection.
Sources:
Mountain snow distribution governed by elevation and terrain roughness | Research Gate
Frostbite - Symptoms and causes | Mayo Clinic
What kind of camouflage do you use with snow? | The North Plate Telegraph