Best Things to Put in a Gun Lover's Gift Basket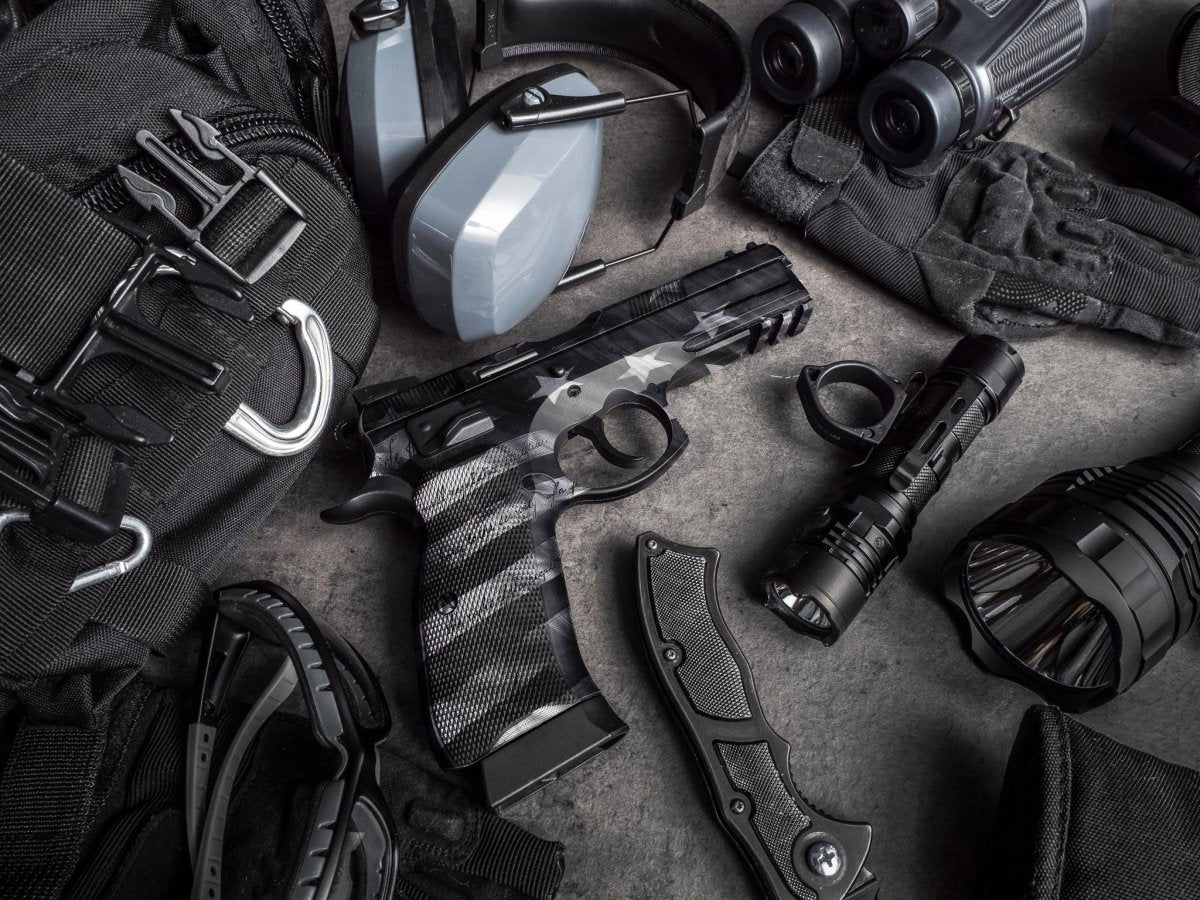 When holidays, birthdays, and anniversaries are fast approaching, are you looking for things to get for that special, gun-loving someone in your life? Read on to find plenty of ideas to fill a stocking or gift basket for anyone who appreciates firearms and hunting!
New Safety Gear
When going to the shooting range or preparing for a big hunt, every firearms enthusiast needs equipment to keep them safe, comfortable, and with their hearing intact.

Hearing Protection Devices (HPDs):

Guns are loud. Many firearm users forgo protective gear like ear muffs or earplugs when practicing, and hunters are especially prone to not wearing HDPs so they can hear the approaching game. But prolonged exposure to the sounds of gunshots can lead to

severe hearing loss

and impairment, so we recommend including a nice set of earmuffs or box of earplugs in your gun lover's gift basket.

Eye Protection:

While shooting guns, debris and smoke are likely to kick up into the air, and fragments of shrapnel can bounce back toward the shooter. To prevent damage to your gun lover's eyes, a handsome pair of glasses can make for a great gift. Plus, being out in the sun all day can wear down our eyes, so tinted glasses can increase visibility and accuracy!

First-Aid Kit:

It's better to be safe than sorry, and it's better to have something and not need it than to need it and not have it. First-aid is one of those things that you should always have on hand, especially when handling firearms and their accessories. 
Essential Cold Weather Gear
With the weather getting colder and those early morning hunts, it's important to keep those trigger fingers warm and fully functioning.
Gloves:

While sitting out in the elements for extended periods, our hands are liable to get chilly and even numb, which decreases accuracy and makes accidents more likely. To avoid this, a nice

pair of gloves

can keep your shooter's hands warm and accurate, especially if they are designed with firearm use in mind.

Coats.

Cold weather can be uncomfortable, and sitting out at a gun range or in a hunting stand for a long time can make for an unpleasant experience. Keep your gun lover warm this winter with a good, solid jacket or coat.

Hand Warmers.

Perfect to slip into a pocket, hand warmers use basic chemistry to generate heat without electricity to keep trigger fingers operating at their maximum capacity.
Cosmetic Skins for Firearms
When you've been using firearms as long as we have, you might start to feel like your firearms' basic gun steel appearance is old and staid. GunSkins has a massive variety of easy-to-apply DIY skins to make your guns stand out from the pack and make you the envy of the whole shooting range.
Here are some of our favorite pattern categories:

Realtree Camo.

These patterns come in a large variety of realistic-looking forest camouflage, with plenty of leaves and wood and some more vibrant and colorful options.

Prym1 Camo.

Designed with the intent to utilize "the colors and textures of nature with the organic patterns of wildlife," these patterns will harness your inner predator.



Flags.

For the patriotic gun lovers out there, GunSkins has a huge assortment of designs based on the American flag and patterns based on individual state flags to represent your homeland truly.



Muddy Girl Camo.

To make your camo-wrapped gun a true statement piece, the Muddy Girl designs are a great option, featuring shades of pink and purple with contrasting neutral colors to show off your firearm.



Specialty Designs.

In addition to traditional camo and the more abstract camo options, there are several fun patterns, like the skull from Marvel's Punisher, the symbol of the Star Wars bounty hunter Boba Fett, and a fun parody of the Nintendo SNES game system.

GunSkins Mag of the Month:

If the gun lover in question believes that variety is the spice of life, a subscription to Mag of the Month might be your best bet. Choose from pre-paid three or six-month options that deliver new MagSkins, free delivery, limited edition patterns, and customizable options. 
Firearm Maintenance Tools
Proper gun maintenance is one of the first steps in gun safety and in avoiding unwanted and dangerous mishaps. Properly cared for guns are essential for anyone serious about keeping and using guns over a long period of time.
However, the supplies to maintain your guns can easily start to run low. It's not hard to forget that the screwdriver you need to disassemble your favorite rifle or that your steel brush has worn down to the point of being unusable.
These are some ideas to replenish your enthusiast's supplies:

Screwdrivers:

Many guns like the AR-15 are easy enough to disassemble via removing a few pins, but many require finer instruments for disassembly. If your gun lover has a variety of guns, getting them a new set of screwdrivers exclusively for disassembly can be a great option.

Brushes and Cloths:

To clean residue and buildup from the inner regions of a firearm, steel brushes and some rags are essential to keep things running smoothly.

Lubrication:

To ensure that a gun continues operating as it should, the moving parts are properly lubricated with oils specially designed for that purpose. These can run low after a while of regular use.

A Full Kit:

In addition to the individual tools of firearm maintenance, many companies sell kits that come with

just about everything you need

to keep your guns in tip-top condition.
Practice Targets
What gun lover doesn't love the gun range? Everybody needs to keep their skills sharp, and targets to shoot at can go a long way to maintain your accuracy in between hunts or just to have a good time.
Practice targets come in a great many forms, from basic round targets to human and animal silhouettes, not to mention clay pigeons. Plus, even something as simple as a pack of balloons can make for great target practice, especially when blowing in the wind.
Thematic Decor
While many of the items mentioned so far have some practical use for your dear gun lover, they're also sure to love some decorations for their space that show off their passion.

Wall Art.

Paintings of historical battles are popular among gun lovers. Countless posters depict the progression of early to modern firearms and blueprints of the inner workings of your gun lover's favorite rifle.

Bumper Stickers.

When traveling around town, your gun lover can show the world their love for firearms with a bumper sticker of their favorite gun or one that supports their second amendment right to carry one.

Desk Ornaments.

Perfect for the surface of a desk or placed on a shelf, many items can highlight a passion for guns, like statues made from bullet casings and prop guns mounted on stands. 
Drinking Accessories
While we don't recommend drinking while operating firearms, drinking paraphernalia can be the perfect way to show off a love of guns.

Glassware:

Gun-themed drinking glasses are in no short supply. There are mugs with a pistol grip for a handle, whiskey glasses with bullets stylishly embedded in their side as if just shot, and shot glasses that look like bullet casings. There are even coasters that look like the base and primer of huge shells.

Corkscrews and Bottle Openers:

Perfect for cracking open a cold one on the porch, there are many gun-themed devices out there for opening your beverage of choice. It's far easier to have a corkscrew than to resort to

opening a bottle without one

.

Whiskey Stones:

There are even whiskey stones shaped like bullets to keep your liquor cold.
Tactical Gear
Numerous supplies can help gun users go about their hobby with greater efficiency, and these items can make great options for gifts.

Holsters.

A fun way to make your firearms stand out is by giving them a

fancy holster

to rest comfortably in, which can be designed to rest in various positions on the body, from the chest to the thigh to the traditional hip holster. Plus, you can wrap your new holster in a custom vinyl skin from GunSkins to give it an added layer of customization.




Flashlights:

It can be essential for hunters to see in the dark, and

a solid flashlight

is the best place to start.

Bags, Pouches, and Belts:

Anybody who's gone to a firing range or gone hunting knows how much you need to schlep to wherever you're setting up. Ammunition, safety gear like earmuffs and glasses, food and plenty of drinking water, first-aid kits, and other gear.
Providing your gun lover with more efficient (and stylish) ways of carrying all their gear will be much appreciated, whether in the form of duffel bags, backpacks, belt pouches, or tactical vests full of pouches, clips, and pockets.
Gun-Themed Apparel and Merch
Much like bumper stickers and wall art, it can be fun for fun lovers to flaunt their passion and what better way to do so than to wear it? Some great options are hats and tee-shirts. More subtle options like socks and undergarments can be fun to gift as well, not to mention colorful, gun-themed sweaters and scarves for colder weather.
Ammunition
Ammunition can sometimes be hard to come by and can be used up fast. Including some of your gun lover's favorite ammunition can make for a great inclusion in any gift basket or stocking.

Fill That Basket!
There's no lack of options when choosing gifts for a gun lover. Some are more practical, like hearing protection, practice targets, and gun cleaning supplies, but many can be fun and cosmetic, like apparel, decor, and vinyl skins to make their firearms truly unique.
You can't go wrong with any of the options on this list, and your gun lover is sure to appreciate your thoughtful basket full of goodies, so get out there and fill it up!
Sources: 
Recreational Firearm Noise Exposure | American Speech-Language-Hearing Association
Deluxe Gun Cleaning Kit | Hoppes 
Best Whiskey Stones for Chilling Liquor Better Than Ice | Esquire
10 Ways to Open A Wine Bottle Without a Corkscrew | Family Hand Man