Accept the Challenge Outdoors with Raider Concealment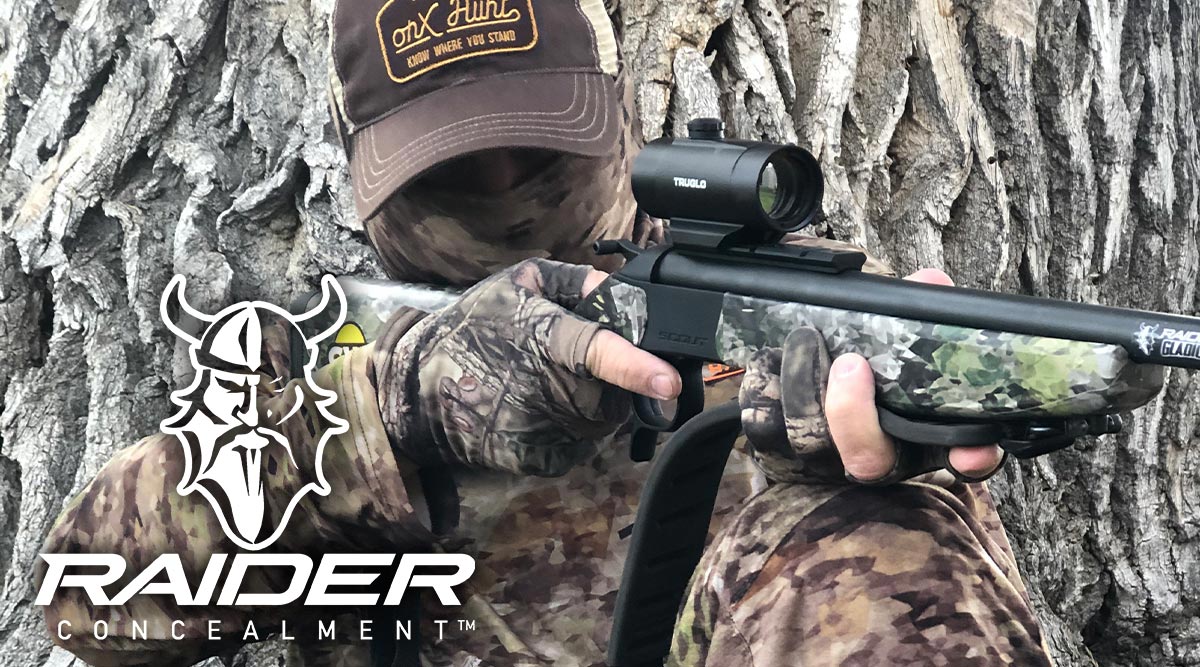 It can become a real challenge balancing life with a family at home, a day job, and the love of hunting in the great outdoors. There is no such thing as a quick and easy hunting trip. There are schedules to plan around, equipment to purchase, and hope the right weather comes around when you finally hit the road. That did not stop lifelong friends, Scott Carroll and Brad Frost, from perusing their passion, even as far as filming it!
Their documented adventures in 2004 was the beginning of a new program series they called Accept the Challenge. This locally aired television program would eventually be broadcast on national TV as a fully realized hunting and outdoor show. Fast forward more than fifteen years later and the series has grown and re-braded itself as The Challenge Outdoors. What has not changed after all those years, however, is the grounded approach in documenting life before, during, and after the hunt.
Scott and Brad still run the show, but they have made many acquaintances, friends, and partners along the way. The Challenge Outdoors is an example of a coming together not only of two good friends, but also of companies and products that exemplify a passion for the outdoors and the thrill of the hunt. GunSkins and Raider Concealment have partnered together to make the latest season of The Challenge Outdoors its best one yet!
GunSkins is no stranger to giving hunters the upper hand with adding the necessary camouflage to their rifles, scopes, shotguns, and other gear. Having the right pattern on your person and your equipment to match is vital when holding down your position among the foliage of the terrain around you. Raider Concealment is a new kind of super-effective camouflage, created by Scott and Brad in partnerships with the team over at A-TACS Camo.
Clint Hoover and Phil Duke from A-TACS bring more than 25 years of military expertise and camouflage design experience while Scott and Brad offer their wisdom gained from the years of hunting, on and off the show. Raider Concealment is considered a hybrid camouflage, crafted as an abstract pattern to break up the human form and allow them to blend into almost any environment. Raider's patterns were designed by military tactical experts for use in (but not limited to) any hunting application.
Raider Concealment launched with a series of six patterns, ranging from your all-purpose forest camo, winter options, all the way to marine-specific blue patterns and even fiery orange tones for those who need to stand out, rather than blend in. The lineup of patterns featured on the show include Broadsword, Gladius, and Sabre. These are the go-to Raider camouflage choices for the efficient hunter.
Raider Broadsword is perhaps the flagship pattern for this new and upcoming camouflage line. Broadsword contains the essential earth tones you would expect but features segments of warmer colors which make it ideal for late season hunting, specifically the Fall and early Winter. Because this pattern contains the most variance in reds, browns, and even greens, Broadsword is the best option for maximizing your concealability in the most environments possible.
The next pattern is Raider Gladius, which trades all of the reds and orange colors for more greens, making this the most lush and saturated of the three. Gladius was designed for use in the Spring and early Fall where you would expect the foliage to be at its peak bloom. Gladius and Broadsword complement each other as season camouflage for different times of the year.
The last camouflage pattern to bring to your attention is Raider Sabre. This camo is not restricted to use during a specific season or time of year, but rather, the location or environment for use. Gladius is the most neutral of the three, containing just a hint of green but focusing more on the brown and tan colors of the earth. This makes it a worthy candidate if your hunting in dry grass, rocky terrain, or wetlands.
GunSkins is excited to offer Raider Broadsword, Gladius, and Sabre for wrapping your hunting rifle, shotgun, scope, and other accessories. Scott and Brad, with the help of  A-TACS, and proving how effective their new Raider Concealment is on their show, The Challenge Outdoors. The series airs on Saturdays at 4:30 PM EST on the Pursuit Channel but can also be streamed via video on demand from Amazon Prime, Roku, and Vudo.