TrueTimber Joins GunSkins as a Partner in Camouflage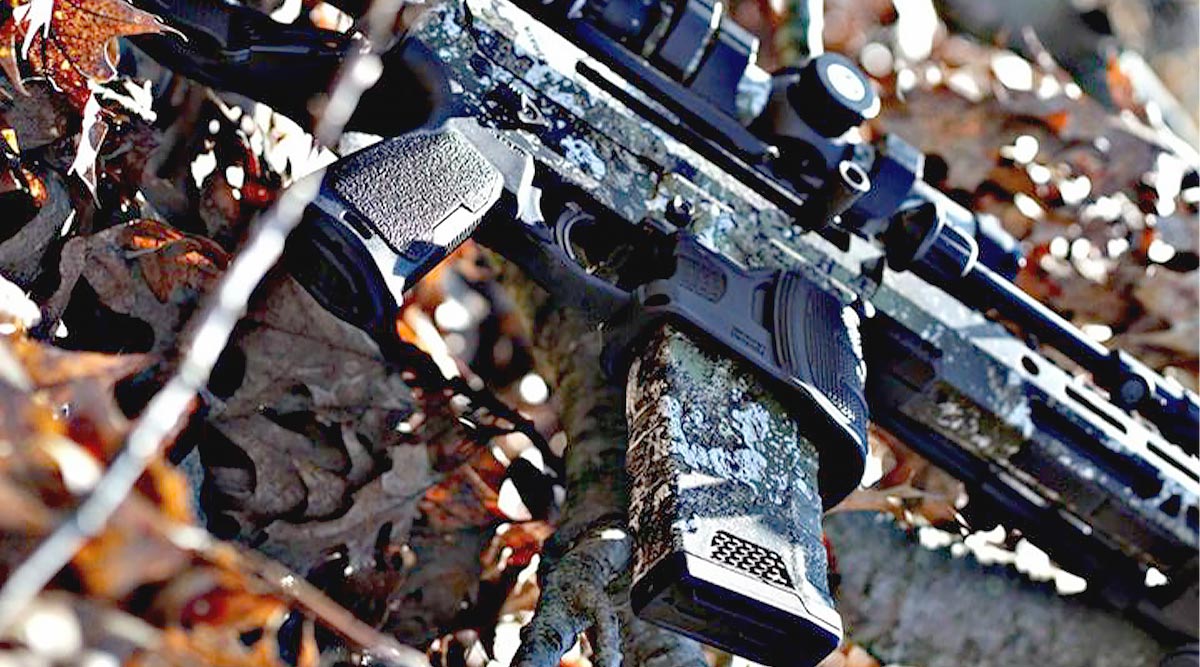 TrueTimber fans can now find GunSkins vinyl wraps available in multiple popular TrueTimber camo patterns. GunSkins protective vinyl wraps are designed as a do-it-yourself alternative to other coating solutions. GunSkins are offered in multiple configurations for any firearm including shotguns, hunting rifles, modern sporting rifles, pistols, magazines, rifle scopes and a multitude of other accessories. GunSkins products can be found in TrueTimber Strata, Prairie, Viper Western, DRT and HTC Green camo patterns.
"GunSkins has a great product here and we are really excited about our customers having the opportunity to customize their firearms and accessories in our patterns," said TrueTimber CEO Rusty Sellars. "We have incorporated our patterns on many firearms over the years for shooters to be able to take advantage of the concealment our camo offers. With GunSkins, users can do just that, but in a DIY system and that is hard to beat in terms of versatility."
-- Rusty Sellars, CEO TrueTimber
GunSkins feature a waterproof, non-reflective matte finish which acts as a layer of protection for any gun or accessory. The easy to install, high-performance vinyl conforms to any shape and is easily installed using a heat gun, hobby knife and squeegee. These products are just as easily removed and leave no residue behind. GunSkins are made in the U.S.A, feature a lifetime warranty and have a 60-day moneyback guarantee.
To learn more about the entire TrueTimber product line and see all available patterns, visit TrueTimber.com. Details about future product launches can be found on TrueTimber's Facebook, Instagram and Twitter pages.
About TrueTimber
Founded in 2005, TrueTimber is based in Inman, South Carolina and is the most realistic, performance-driven camouflage brand in the industry. TrueTimber offers a wide variety of clothing items and accessories, featuring 27 distinct camo patterns that perfectly blend with their surroundings. The company spends countless hours researching, testing and seeking new technology to produce the most effective and lifelike camouflage patterns possible. TrueTimber products can be found in retailers across the United States and Canada, and it continues to be one of the fastest growing camouflage companies in the world. For more information about TrueTimber, visit TrueTimber.com.
About GunSkins
GunSkins has been leading the DIY camouflage wrap movement since 2013. Easy to install pre-cut vinyl templates, GunSkins are an affordable aftermarket finish for guns and gear. GunSkins customers are highly satisfied with both the products and service, with thousands of 5-star reviews from verified purchases. No other brand matches GunSkins in quality or variety of patterns to choose from.
Partner of the Month
Every month we highlight one of our partners in camouflage by giving away one of their GunSkins patterns. This month features, you guessed it, TrueTimber! All you have to do is enter your name and email address and you are entered, no purchase necessary.
If you are the winner, you get to pick any one of our GunSkins products featuring one of TrueTimber patterns. This is a monthly contest and in order to be entered you must enter your name and email address every month. Previous entries will not carry over.