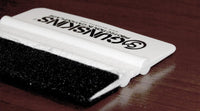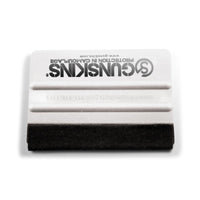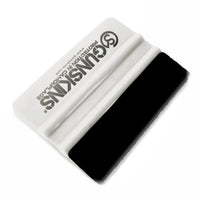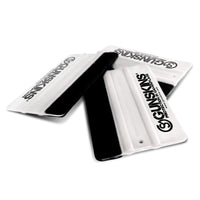 GunSkins Hand Squeegee
Regular Price

$ 5.09

Sale Price

$ 5.09

Regular Price

$ 5.99

Unit Price

per
🚚 FREE SHIPPING on all orders over $25 shipped within the US!
Description

Specifications

Install Video

Applications

F.A.Q.
This GunSkins Squeegee is a great tool to aid in GunSkins vinyl wrap installations. This 3" x 4" hand squeegee contains a unique combination of hard card firmness combined with a soft, smooth, supple industrial felt edge. This helps protect the vinyl wrap from marring and scratching. The squeegee can also be used to press out air bubbles during vinyl installations and smooth out the surface.
High Quality Felt Edge and last longer than ordinary squeegees
Felt strip eliminates scratching during applications
Allows you to work faster
Improves your work quality
Perfect for gun and vehicle wraps
Size: 3" x 4" x 0.2"
Product Type:

Tool
Brand:

GunSkins
Weight:

2.0 oz
GunSkins
Vehicle Wraps
Window Tinting
Paint Protection Film
Pinstriping
Other Decals
& More!
What kind of applications can I use the squeegee on?
The GunSkins squeegee is made for vinyl applications, but it may also be used in pad pasting, wallpaper pasting, glass cleaning and vehicles snow removal.
How to I refinish the edge of the squeegee?
Over time, the rough edge of the squeegee may become worn and uneven, which hinders performance. Refinishing the edge requires a second squeegee. Lay the rough edge of the worn squeegee along the inside groove of the second squeegee. Rub the squeegee up and down along this inside groove to sand the edge. There may be an accumliation of the material as it has been grinded off. Simply wipe off and continue. Flip it over and repeat. This will result in a nice smooth edge again.
How long will the squeegee last?
The servicable life of a single squeegee is 7-8 years.
What is the squeegee made of?
The GunSkins Squeegee is made from PP/ABS, with Soft Edge and Plastic Edge.
FREE SHIPPING
Easy to install
100% Waterproof
non-reflective
lifetime warranty
made in the usa