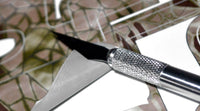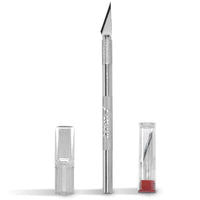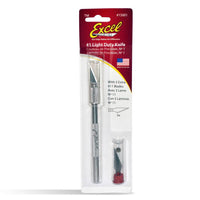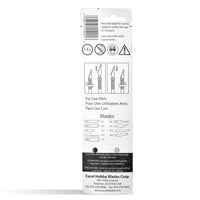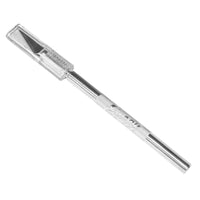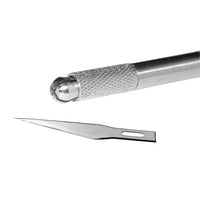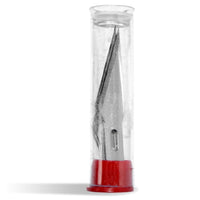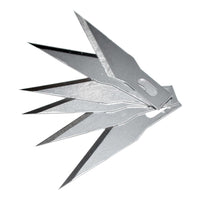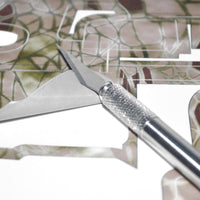 Excel Light Duty Knife
Regular Price

$ 8.49

Sale Price

$ 8.49

Regular Price

$ 9.99

Unit Price

per
🚚 FREE SHIPPING on all orders over $25 shipped within the US!
Description

Specifications

Install Video

Applications

F.A.Q
A sharp knife is a key component to a clean GunSkins installation. This round aluminum hobby knife with five extra #11 blades will ensure precise trimming through the entire DIY vinyl install process.
This Excel Light Duty Knife measures 5/16" x 4 3/4" and contains a jaw machined aluminum chuck for secure blade positioning and a snug fitting plastic safety cap or scabbard for your protection.
5 #11 Blades
Size - 5/16" x 4 3/4"
Blade protector and container for safe storage
Interchangeable blades held firm in sure-locking four jaw chuck
Comes with a lightweight handle
Replacement parts for extended use
Made in USA
Product Type:

Tool
Brand:

Excel Blades
Weight:

1.0 oz
Precision Cutting
Trimming
Stripping Paper
Plastic
Wood
Cloth
Film
etc
What material can this hobby knife be used on?
This knife is great for cutting and trimming the high performance vinyl material used for our camouflage wrap kits. Additionally it's also great for delicate, precision cutting, trimming, and stripping. You may cut tough material such as packages, ropes, canvas, plastic, carpet and wallpaper. On the other hand, it's also designed for precision cutting on paper, soft and lightweight materials, or even wood.
Can I use other replacement blades?
Yes, this hobby knife is universal and may accept different brand and/or shapes such as #5, #6, #10, #11, #12, #13, #15, #16, and #17 blades.
How many blades will I need for a GunSkins install?
5 blades will be more than enough for a single GunSkins Camouflage Wrap kit installation. The vinyl material is really durable and having maximum sharpness ensures the besting trimming from start to finish.
FREE SHIPPING
Easy to install
100% Waterproof
non-reflective
lifetime warranty
made in the usa