What You Need to Know About Pistol Skins and Holsters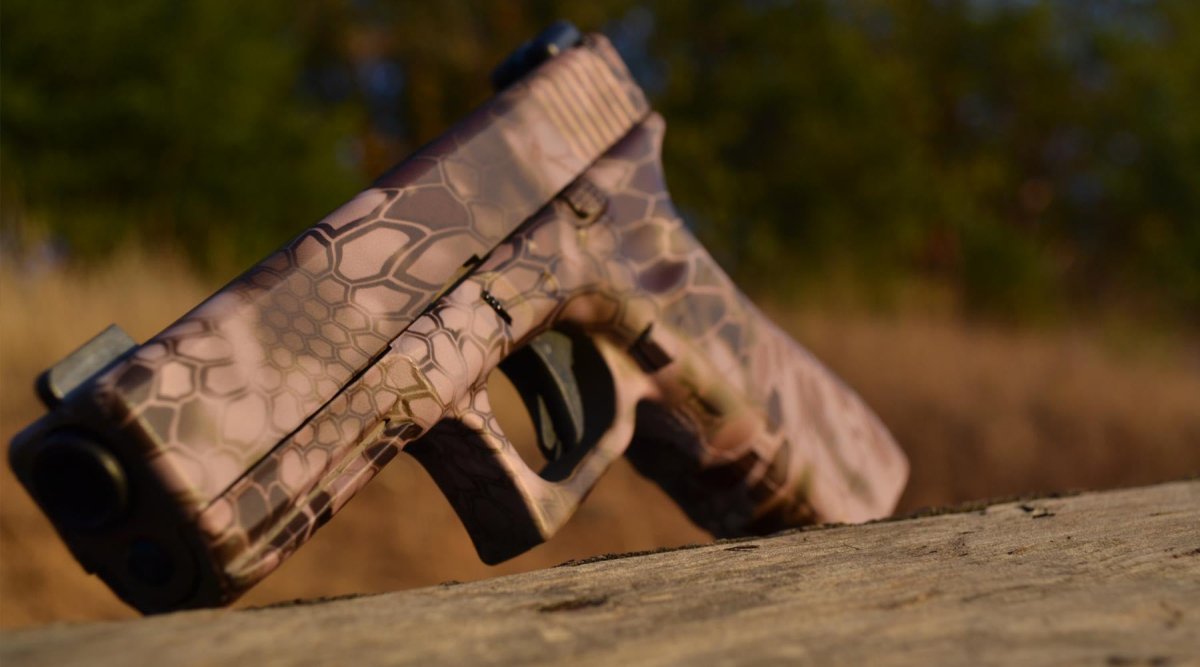 Pistol Skins are More Than Just Camouflage
Pistol Skins are a great way to add some color to your handgun, but they also take the damage from dings and scratches so your gun doesn't have to. The durability of the vinyl acts as a protective layer. It's even completely waterproof! It's a great investment and it can turn your gun into something of a novelty, a real one-of-a-kind.
I'm sure most of those who wrap their pistols don't intend to put them on display behind a glass case. It was our intention from the beginning that GunSkins were designed for day to day use in the field and at the range. The big question remains: How well do Pistol Skins hold up to being holstered?
Pistol Skins Protect the Gun, First and Foremost
The material used to produce Pistol Skins is a high performance vinyl with a matte finish. It is designed to take the wear from every day use. Once installed properly and allowed to cool, holstering your pistol will not cause the material to rip. Pistol Skins are very strong and will continue to protect the gun even when holstered frequently.
Pistol Skins will add 6/10 mm of thickness to your firearm on all sides. If your holster is adjustable, it would be a good idea to loosen it just a bit. However, if your holster is not adjustable, such as custom fitted holsters, you may want to take caution. Extremely tight fittings, as seen on molded Kydex Holsters, may cause early image fade and scuffing on the edges of the material. This is not a defect in the product, but rather friction doing what it does best: causing early wear.
A Realistic Expectation
Constant holstering will cause friction against the surface of the gun. You have the laws of physics to thank for that. The question becomes what do you want taking the friction, the surface of the gun or the surface of the Pistol Skin? Even in tight holsters, the worst that would ever happen to a Pistol Skin is early image fade and wear on the edges. The vinyl, however, will stay in tact and continue to protect the gun.
This is something that will vary from holster to holster, and there's no way to quantify the amount of friction that will occur from the constant drawing of the weapon. If you feel like your particular holster might cause an issue, considering wrapping it instead! We've had many customers wrap selective parts of their pistols, leaving the friction areas uncovered. This will give a seamless look when the pistol is properly holstered, and a "less is more" approach to the gun when drawn.
GunSkins offers a 60 Day Money Back Guarantee Policy. Within two months of use if you are unsatisfied with the quality of the product, we will give you your money back. We're confident you'll be impressed with using a Pistol Skin on your favorite firearm. If you have any questions or concerns regarding Pistol Skins, please contact us and we'll take care of the problem.