Product Preview: Grip Assist™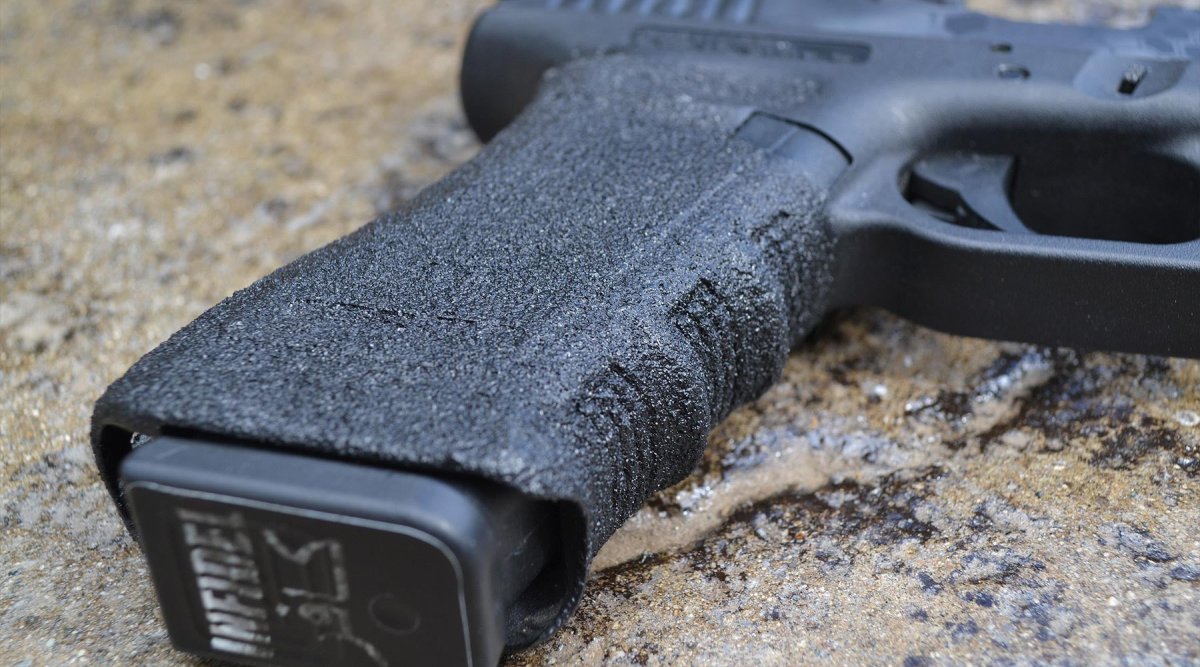 When it comes to shooting, a consistent solid grip leads to a safer more successful experience. Whether you are hunting, tearing up a tactical course, or protecting our freedom, efficiency is key. There is no substitute for practice and a definitive knowledge of the tools you operate. With practice also comes a better understanding of the challenges we face. For example, we add lights to combat darkness, better optics for quicker target acquisition, and high capacity magazines so we can fling more lead.  Fatigue, perspiration, and precipitation all pose challenges to a consistent, solid grip... Grip Assist offers the solution.
Skin it, then Grip it!
GunSkins Grip Assist™ is a liquid grip additive that can be applied over GunSkins or directly to the weapon, providing a safer, more efficient, shooting experience. From competition shooters to duck hunters, Grip Assist gives you a solid performance grip without the bulk or hassle of traditional tape. Grip Assist is a permanent grip finish that will not peel or crack. You control the grip texture by simply adding more or less to accommodate your grip performance needs.
Easy to Apply
This two-part application process takes 5 minutes to apply and 40 minutes to dry. Because Grip Assist is a water based grip additive it can be used on nearly any surface. It can be applied to vinyl, metal, plastic, wood, and more!
Grip Assist is applied in a 2 Step Process.
Step One
The Liquid bottle is used to coat the surface of the object. Application is simple using the included pump sprayer or brush.
Step Two
Apply the Grip over the liquid in a shaking motion similar to how you would use a salt shaker. This gives you the freedom to apply just the right amount of Grip depending on preference.
Grip Assist is made with long-lasting crushed recycled glass. This ultra clear grip surface allows the GunSkins camouflage pattern to remain highly visible while adding the advantage of a solid grip to any surface.
Grip Assist is a Stand Alone Application
It's not necessary to have a GunSkin on your firearm for Grip Assist to be an option. It can be used to add texture to just about anything. Grip tape can be bulky, overly abrasive, and have a tendency to lift or peel. Stippling is a great way to add grip to your potentially life saving hardware but is expensive and requires you to send the items to a specialist. Stippling is also limited to the polymer components of the weapon. Grip Assist gives you the freedom to add your preferred amount of grip to any surface.
Safety and success are our primary goals for the introduction of Grip Assist to our product line. Whether you are chasing ducks in soggy wet marsh or sweating it out on a tactical course in the desert, a consistent and solid grip is the key to success. Get a Grip and get it done!
Grip Assist is coming soon!
Be on the lookout and let us know what you think of this awesome new product?