Desert Shadow® by King's Camo® for High Desert Hunting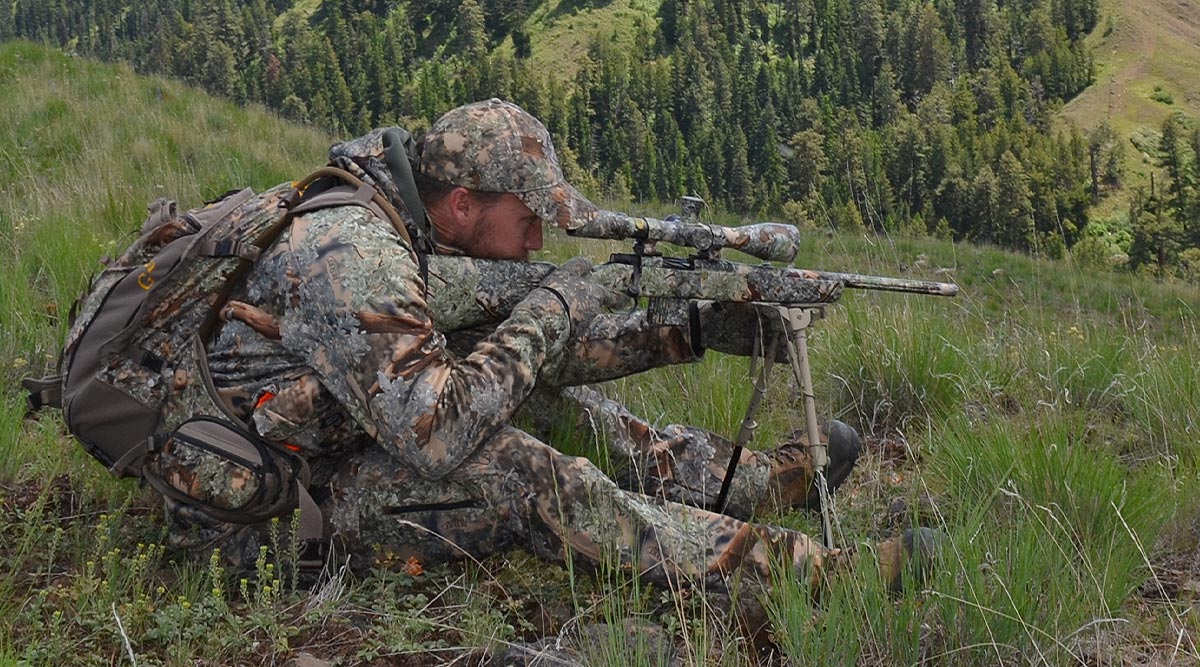 Hunting without camouflage is like playing in a symphony orchestra in your casual clothes. You have your instrument ready but your person sticks out like a sore thumb. Chances are you won't get the full experience because you might be missing something. Preparation is as important as having the right gear. You can hunt with a rifle, but you will hunt more efficiently with the right camouflage for you and your weapon.
Enter: Desert Shadow
Desert Shadow® Camo from King's Camo® is an innovative new camouflage option for all GunSkins Camouflage Wraps. This exclusive pattern was designed for hunting in Western Terrain. This "Desert" specific pattern offers a solution that few others provide, a perfect blend of desert sand, sage green, and natural break-up that makes hunting mule deer, elk, pronghorn, and coyote easier and safer.
King's Desert Shadow features total transition from light to dark along with realistic detail in color and shadows to provide ultimate depth and clarity to blend in with the open and arid surroundings. King's Camo's flagship pattern revolutionized the camouflage industry and changed the way people thought about colors, depth and design. Desert Shadow provides a broad depth of appeal both in the field and on the shelf.
Optimal locations to wear Desert Shadow include the deserts of Mexico and the open plains of Kansas. As a matter of fact, from Africa to Alberta, in the open sage brush flats to transition zones from grasses to brush, King's Desert Shadow have been proven effective throughout the world as one of the most effective hunting camouflage patterns on the market.
THE KING OF CAMO
King's Camo specializes in hunting camouflage. All of their camouflage designs boast diverse application and realistic colors blended with high definition designs. King's entire line of camouflage patterns offer concealment options to match any condition and any terrain on the planet. Their industry leading designs are high resolution and extremely detailed.
The market has already responded positively to King's Camo Patterns when applied to hunting apparel. King's Camo enhanced their designs to match the trends of the latest technology and demands of the modern hunter. The Performance line of King's offers hunting clothing and gear and look better, dry quicker, breath faster, wear longer and perform at a level you can only get from King's. When applied on GunSkins we're devoted to match the same quality and color you would expect from King's themselves.
KINGS WEAR GUNSKINS
Printing on fabric is very different than printing on vinyl. We're worked for many months testing and matching our GunSkins gun camo kits to the same color and quality as you expect from King's Performance line of hunting apparel. When displayed side by side in a natural setting, our GunSkins will match King's Camo and offer the same great concealment for your weapon as you experience on your person.
King's Camo looks great on the traditional hunting weapons, such as rifles and shotguns, but there's no reason to forget about any of the other popular firearms such as pistols and AR-15 Rifles. You don't need to hunt in the high desert to fall in love with Desert Shadow. It's a great way to give your gun a new look. We, like King's Camo, love the great outdoors. That's why Desert Shadow is so popular. It brings a little of the outdoors home to enjoy every day.