5 Good Reasons to Wrap Your Hunting Rifle in Camouflage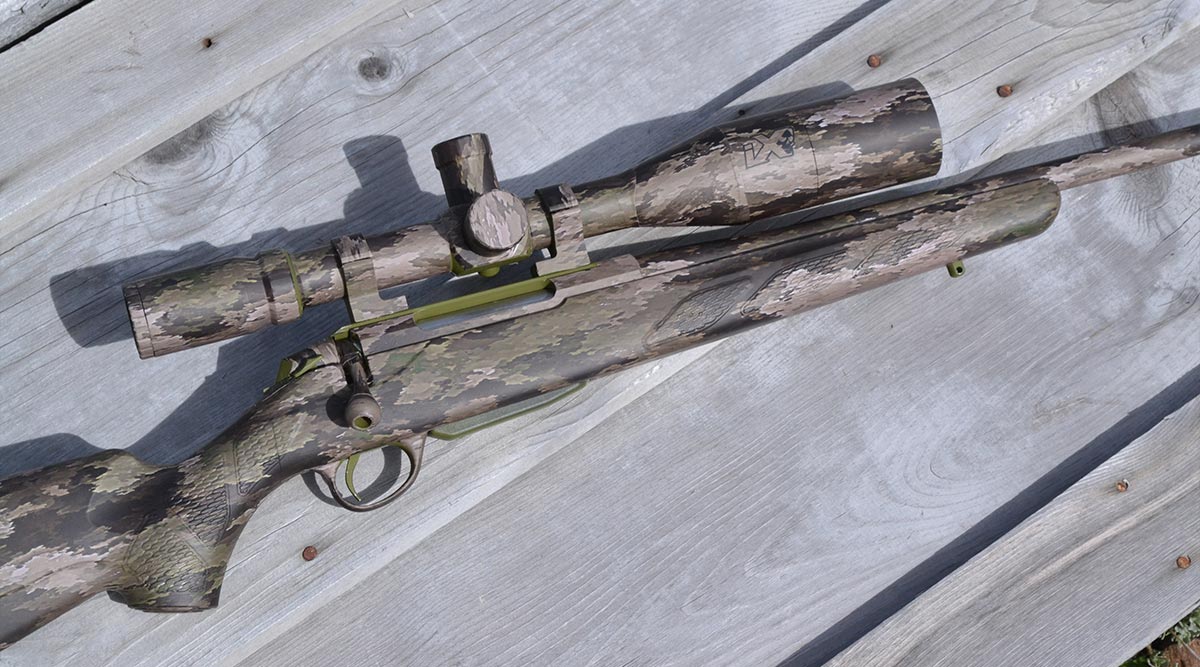 Gun owners are some of the most passionate people on the planet. You start talking gun-rights and it brings us together and unified in our advocacy. There are countless reasons to own firearms and can include competition shooting, home defense, and hunting. For the latter reason, I want to highlight why if you are a hunter, camouflage is essential. If your rifle is still naked, here are five good reasons why you need to dress it up with a camo wrap.
#1 - Protection for You
This one is a no-brainer. Take it from us, having your stainless steel barrel and scope reflect the sunlight and give away your position does not sound like a good time. You've got your person covered head to toe with the top-of-the-line sticks and leaves camouflage, why not your gun, too?
There is no such thing as the perfect camo. It's all circumstantial. If you're hunting in the snow, a white snow camo makes sense. In the high desert in the Northwest you might want something with some blue and green hues. Alternatively, hunting in Autumn calls for a dryer brown, red, and orange design. Use your best judgement and chose the right camouflage for your environment.
#2 - Protection for Your Gun
While the camouflage will protect you in the field, the gun finish will protect the surface of your rifle. There are several options for applying camouflage to your gun, including spray-paint, camo tape, hydro graphics, Cerakote, and vinyl wraps. Our personal favorite is the DIY vinyl wrap, like a decal made to cover your entire weapon.
Vinyl application will surprise you. The technology behind adhesive vinyl wraps has improved so much in the last decade. The material used for GunSkins camo wraps is 6/10 mm thick and can take a beating so your gun doesn't have to. You can expect 100% waterproof protection and because the installation creates an air-tight seal, you can also feel good knowing the condition of your gun is being preserved and safe from the elements, including oxidation.
#3 - Make it Personal
Not all camouflage is sticks and leaves. As a matter of fact, it's been proven that tactical patterns can serve as effective concealment solutions for hunting as well. We've been hunting using big names like A-TACS and Kryptek and have not come home empty handed. The US Army has been running Military OCP for years now and they wouldn't be on the front lines if the blobs and color breakup didn't give them an advantage over the competition.
Not all hunters are hardcore. Sometimes families hunt casually as a bonding experience or go shooting just for sport. Sometimes hunting is more about culture and lifestyle, rather than spending days in isolation in the woods and living off protein bars and energy drinks. Alternative camouflage patterns such as wicked skulls, hot pink, and the popular American Flag allow the firearm to match the identity and attitude of the gun-owner. It's your gun, make it yours by showing off with a some sweet camo design!
#4 - Easy to Install, Easy to Remove
Another advantage to using vinyl wraps to add camouflage to your guns is how easy it is to install for yourself. Other gun finishes require you to send your gun away to a professional, and it can require days or weeks for the job to be completed. Even if you attempt hydro graphics or ceramic coatings for yourself, the cure time means you still have to wait before being able to test out the new beauty.
On average, a typical rifle vinyl installation takes just a couple of hours, and the rifle is ready for shooting immediately after. No down time. The process is very simple. First and foremost, the rifle needs to be properly degreased and all oil and lubrication is removed. Next, peel the vinyl from the backing and lay on the surface, reposition as necessary. Use a heat gun to press the material into any recessed and detail edges. Wrap around and trim off any excess using an exacto knife.
Likewise, removal is just as easy. Hit the material with heat to loosen it up and peel off. The vinyl will come off clean and not leave any residue on the surface of your gun. Back to square one. This is great because it does not diminish the resale value of the firearm, and also allows you to switch out patterns on the fly to stay current with the seasons.
#5 - Makes a Great Gift
The hunting community loves to swap stories, share victories, give advice, and connect with one another. Guns make great gifts, without a doubt. But when you add a little extra flair to make that rifle stand out from the rest, it will always bring a smile to the recipient. Matte black is so common these days, a little color goes a long way. The best part is, you don't need to break the bank to get the job done.
Installing a camo wrap to a rifle costs a fraction of the price when compared to the other gun finishes. There is no compromise in durability and the finish looks just as good. As a matter of fact, the most common question we hear from people who see one of our GunSkins camo wraps in person is "was this gun painted or hydro-dipped?". If you're still hunting with a naked rifle, it's about time you skin it!
GunSkins has over 45 rifle patterns to choose from! Click here to check them out.
---
If you're interested in adding durability to a different firearm, click one of the links below!