Trim to Fit - Why Using a Sharp Hobby Knife Makes All the Difference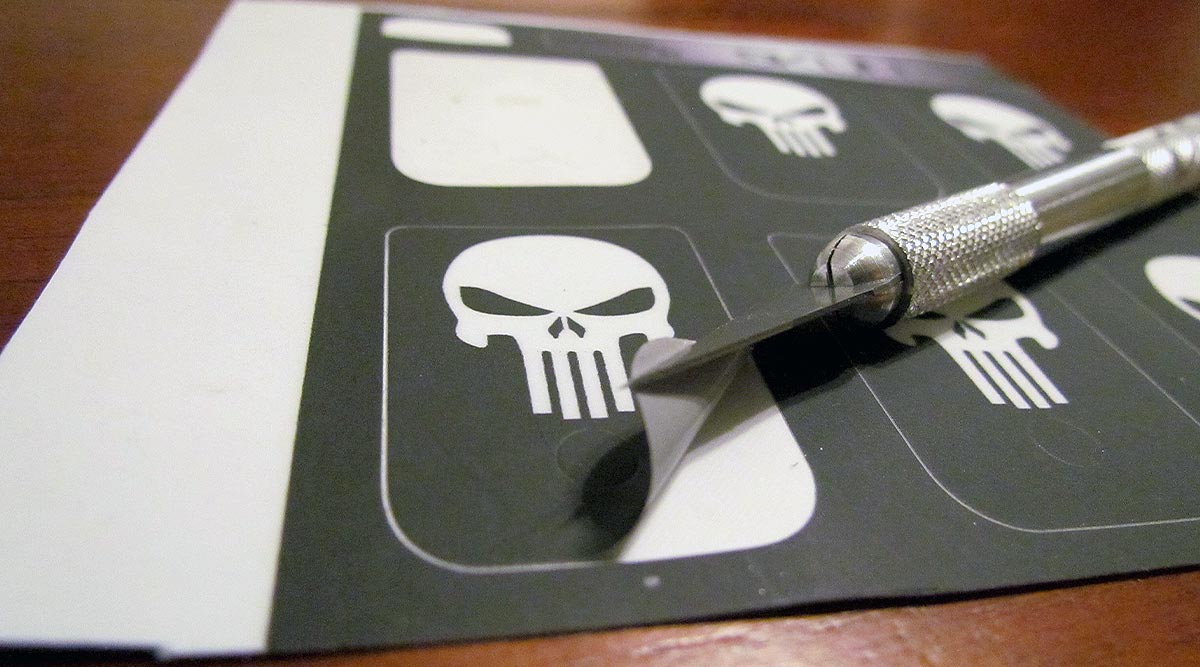 Any self-proclaimed craft hobbyist will have a dedicated workstation or container filled with essential items, including but not limited to: a hot glue gun, thread, cord, paint, paper, and more. Those of us who prefer to work on a project in the garage likely won't store any glitter in our toolboxes, but there are a few handheld instruments that can work for both the arts & crafts type as well as the hunting and tactical enthusiasts. Tools such as a heat gun or hobby knife will prove vital when it comes to applying a DIY custom finish to your favorite gun.
It is not necessary to have a license in craftsmanship in order to successfully install a vinyl wrap on a firearm. GunSkins are designed for the Do-it-Yourself, end user. You can be confident using our premium vinyl kits. Equipped with a standard issue heat gun, a hand squeegee, and a sharp hobby knife, you can get the job done at a fraction of the time and price when compared to alternative finishes.
A Hobby Knife Can be Used for the Following:
Handling the Vinyl. When peeling off pieces from the template backing or re-positioning them on the gun, it's helpful to use the dull edge of the blade tip to lift the material up enough to grab without creating any wrinkles. This is especially useful with small pieces, such as the picatinny rail notches.
Releasing Trapped Air. When laying the vinyl on the surface, particularly over a ridge, corner, or stud, it is possible that some air may be trapped. Pressing the vinyl with your fingers to conform to the shape of the gun will reveal any air bubbles. Use the tip of your knife to poke and let the air out. Follow up with heat and press to seal again.
Trimming to Fit. This is the most common use of a knife when installing GunSkins. Many of our kits come with precut pieces, but there will likely still require some modification to make it look just how you want it. Universal kits, such as the Pistol or Gear Skin, require every piece to be trimmed and the excess material removed.
Preserving Functionality. A new finish is worthless if the gun can't fire. If you wrap over the mag release, safety switch, or takedown pin, then you'll want to be sure to trim these out. Use the knife to trim these areas so that all components that require movement are not hindered.
Stay Sharp
Something that is easy to overlook while installing GunSkins is forgetting to change blades often. Cutting through the vinyl with a dull blade is not only more difficult, it requires more pressure to cut successfully and you run the risk of scratching the surface on the other side if you slip or press too hard. A sharp tip will glide through the vinyl like a hot knife through butter.
It is common to use up at least half a dozen blades during a single installation. If the handguard on your AR-15 forend contains holes for ventilation, it will be necessary to trim out each one. It's not difficult to run the knife against the inner edge of the hole and angle outward as you circle around. It's a repetitive and can be tedious (or therapeutic??), but doing so without changing the blade often can make the endeavor downright frustrating.
Consider trimming the vinyl after it has had a chance to cool. Rushing the job by cutting soon after using heat will cause it to stretch and pull, especially if the blade is wearing out. We suggest moving on to another area to give the first a chance to cool. This will harden the vinyl and make it easier to trim.
Creative Control
The advantage of GunSkins is that you can be selective about where and how much of the gun you want to wrap. Most customers wrap the entire gun, while some opt to only apply a few pieces to add a subtle accent to their personal carry. Because of the versatility of GunSkins vinyl wraps, you can wrap pretty much anything you want! As long as you apply heat to conform to shape and a sharp hobby knife to trim, the sky's the limit!