Will the Pistol Skin Fit My Gun? Do You Have One For My Exact Model?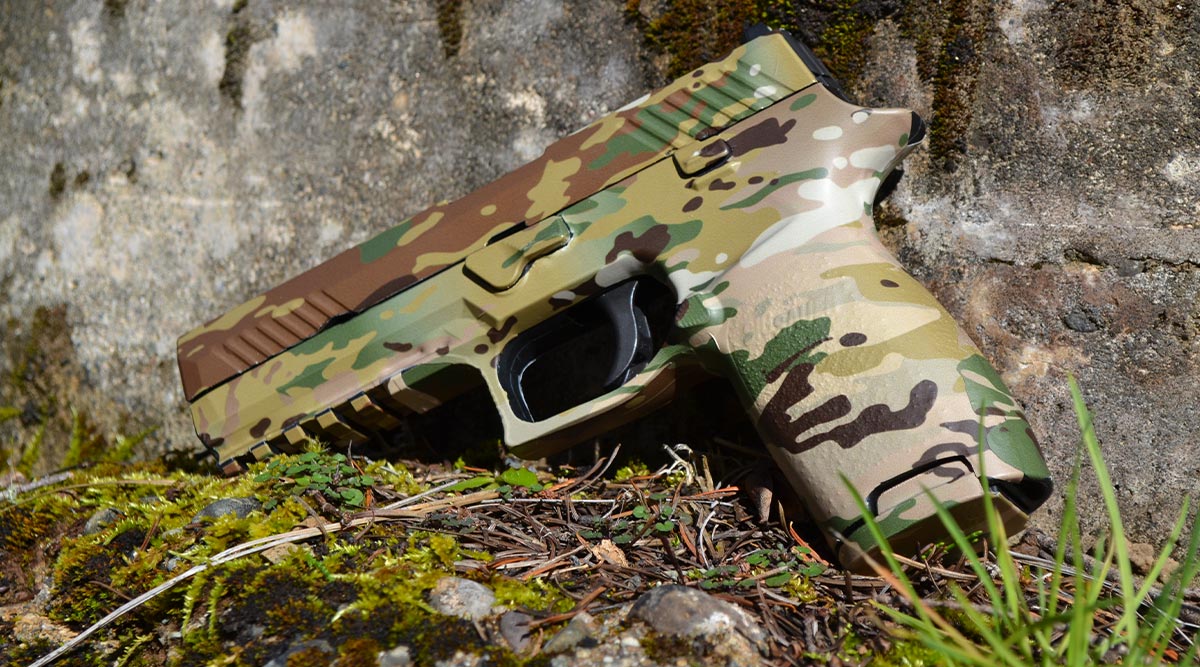 Some people brag about having the biggest and the loudest side piece in the neighborhood while others like to show off accessories and the latest tactical gadget. Having a custom pistol has never been as easy and affordable than with the help of GunSkins. Handguns come in all shapes and sizes, which begs the question: does GunSkins offer something that will fit your specific model?
This is hands down the most frequently asked question we receive. Our Pistol Skin product images and installation videos feature the popular Glock, but does that mean it will also work on the Springfield XD? Taurus PT92? Walther PK380? Sig Sauer P229? 1911? You get the idea. There are so many brands, models, and customization options that no two guns are exactly alike.
The Pistol Skin is a Universal Kit
Deep in our hearts, we wish that we could offer gun-specific kit templates for each and every popular model. The closest thing we have to offer is the Pistol Accent Skin, available in three different sizes. Unlike the accent skin, the tried and true Pistol Skin is designed to wrap the entire gun.
Virtually every semi-automatic pistol can be wrapped in just three pieces: two for both sides of the frame and one for the slide. Getting it to fit your specific model is where the DIY nature of GunSkins comes in. We won't go into full tutorial mode here, but suffice to say you will need a heat gun and a sharp hobby knife to get the job done. 
The Pistol Skin is intended for barrels or slides measuring 8" or less. That means for something like the Glock 35, which has a slide length of 8.81" (8.74" for the GEN 4) it might be necessary to use a larger sheet to get the job done. For revolvers, installation requires a bit more creativity. Since there is no slide, that piece can be used to wrap the cylinder instead.
You Decide How Much to Wrap
GunSkins is designed for the end user to install in the comfort of their home. But make no mistake, installing vinyl on a complex surface full of switches, pins, and levers isn't as simple as heating the material and calling it good. It's not about laying a single sheet over the gun and watching it heat shrink like a form fitting film. GunSkins is not magic. It will require planning, precision, and patience.
We recommend installing in pieces, cut oversized and trimmed to have the excess removed. Some prefer to cut out and remove the vinyl from the moving parts such as the mag release or slide catch, but that level of detail is up to the user. You can choose to have the entire surface wrapped, or just the slide, grip, or magazines. It's your gun, wrap it the way you want it!
Take Your Time
For first time installers, we'll be transparent and say wrapping a pistol may be more tedious than wrapping an AR-15, by comparison. It would be helpful to gain a little bit of experience with the material by first wrapping magazines or other small objects. A typical installation should take no less than 1-2 hours, even for a pro. A rushed finish won't look as good or last as long. Patience is key.
A lot of first time customers tell us about how surprised they were by how well their pistols turned out. They may not be perfect finishes, given a few minor wrinkles or bad cuts, but for the price it was definitely a good investment. There are also self-proclaimed perfections who give up halfway through and decide that it was just not for them. A valid point. DIY is not for everybody.
We believe in our product so much that we offer a 60-day money back guarantee on every purchase. We want to reduce as much risk as possible and encourage you to give it a try, with nothing to lose. If you take your time and follow along with our installation videos, we are confident that there is a GunSkins for every pistol under the sun!