GunSkins Available at Select U.S. Patriot Tactical Locations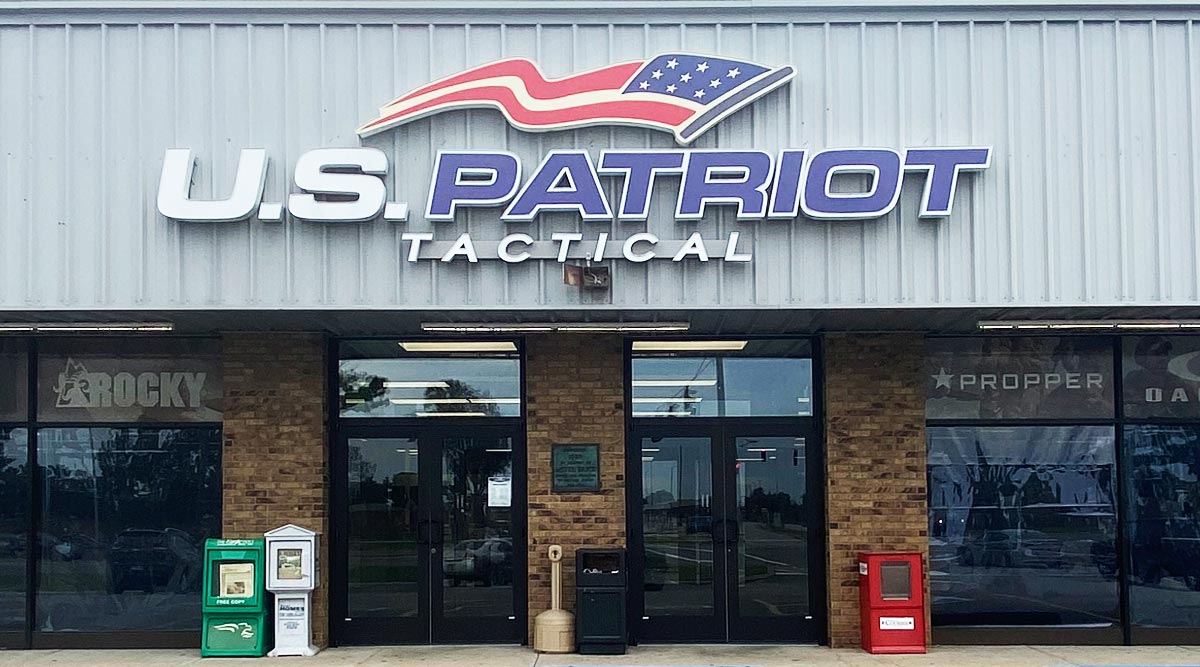 GunSkins is proud to announce an unprecedented partnership with US Patriot Tactical, giving both civilians and active military members access to premium vinyl wraps for their personal firearms and gear. Both companies make it their mission to offer quality products, personal customer service, and support for veterans and civilians alike.
In a time when consumer goods are often produced overseas and sold by hundreds of resellers online, US Patriot Tactical is proud to offer USA-Made products in physical brick-and-motar stores. That's not to say their website isn't full featured and capable of shipping products to your doorstep like any other online merchant. Sometimes seeing is believing, that's certainly the case with having GunSkins on display in store instead of on your mobile screen.
The first US Patriot Tactical store opened in 1999 in Fort Jackson, South Carolina. Although a private company, they have strong ties and support of the US Military. As a matter of fact, the majority of their employees are veterans, having served across all five branches of the US military. Many stores are located on-site at select US Military Bases for active-duty members to purchase from, while the rest are open to civilian customers as well. Regardless of service background or lack thereof, everybody is welcome and treated with respect and courtesy.
US Patriot Tactical, a veteran owned and managed military and law enforcement supplier, is the nation's largest off-post retailer of military and tactical goods, with over 72 locations worldwide.
GunSkins premium vinyl wraps can be seen on display at ten store locations, which can be accessed using our dealer map. Every display case features an AR-15 wrapped in either Proveil Victory or GS Military OCP (the rifle is airsoft, for security reasons). Seeing the skin installed in person is something that no photograph can match. It's not uncommon to mistake the finish as paint or hydro graphics at first glance.
Our DIY vinyl wraps don't require sending your weapon away to be installed for hundreds of dollars. GunSkins are a fraction the price when compared to other high-detail level finishes and will last for years. No harsh chemicals or expensive equipment necessary either, only a few items you likely already have in your home including a gun degreaser, a heat gun (or hair dryer), and a precision hobby knife.
It would be safe to expect patriotic patterns will be made available in these retail locations. These would include the best-selling Proveil Victory, as well as our greyscale GS American Flag, GS Military OCP, and even the Texas Flag! Other notable favorites such as Realtree Edge and Kryptek Highlander are worthy considerations as well. Selections may vary from store to store. If you're looking for something specific and not seeing it on display, a simple request goes a long way!
The staff at US Patriot Tactical are trained to answer common questions regarding GunSkins vinyl wraps. These include details regarding fitment, installation, and more. Additionally, they are well equipped to recommend only the only the best gear and accessories, many of which can be wrapped in GunSkins to match! It's easy enough to add a skin to a new holster, optics, binoculars, or knife, taking it to the next level!
Made in the USA doesn't necessarily require you to pay an arm or a leg for the best. US Patriot Tactical prides itself in offering the lowest prices they can afford so you can drive home satisfied that you've got great deals on quality products. Expect the top shelf offerings in apparel, gear, footwear, and the newly added GunSkins vinyl wraps to their catalog. Patriots and veterans, we salute you!